Growth Opportunities
The Emory Nursing Experience (ENE) invites practicing nurses to think outside—rather than merely checking—the box with their continuing nursing education. And ENE's world-class instructors from the Nell Hodgson Woodruff School of Nursing and pioneering practitioners at Emory Healthcare are the ones driving this innovative and collaborative approach to continuing nursing education.
---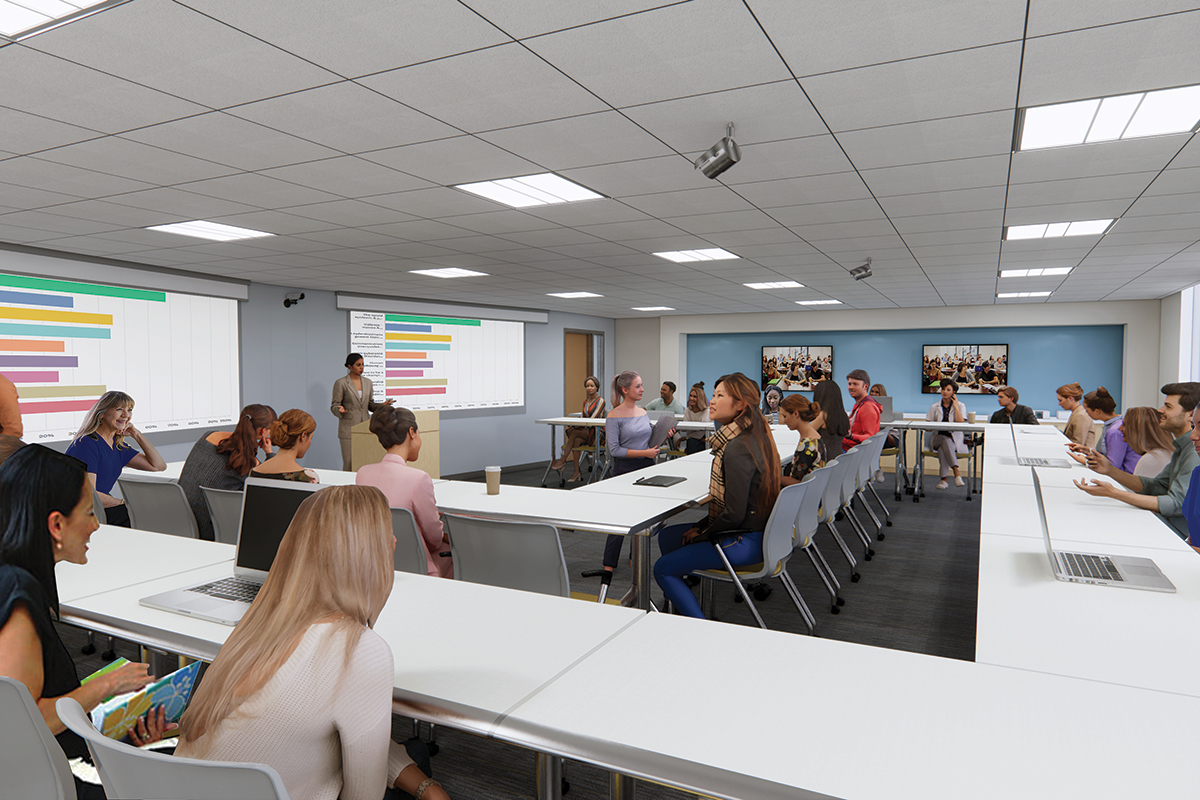 Nurses are now able to take certificate programs—like our wound, ostomy, and continence certification—that open up new career options for them.
ENE is taking what some might regard merely as a professional obligation and reframing it as a flexible, invaluable, and exciting opportunity for working nurses to improve patient care, develop new skills, and advance their careers in these challenging pandemic times.
The creation of a new state-of-the-art space dedicated strictly to the ENE reflects the energy and momentum of this growing program. Set to occupy the fourth floor of the new Emory Nursing Learning Center (ENLC) on Ponce de Leon Avenue in downtown Decatur, this new center of innovation will serve as the centralized learning hub for ENE's distinctive virtual and in-person instruction for nurses from the Atlanta area and far beyond.
"When we established the ENE in 2019, we wanted to build a platform of our own accredited content around the tremendous expertise of our Emory nurses, faculty, and staff and put it out there for practicing nurses anywhere to take advantage of the content in an engaging and flexible way," says Carolyn Clevenger, who oversees the ENE as associate dean for clinical and community partnerships at the
Nell Hodgson Woodruff School of Nursing. "Because of the Emory Nursing expertise, we can offer content that nurses are not able to get anywhere else."
For example, among its dozens of online class offerings, ENE offered a free overview course on COVID-19 that featured an expert from the National Emerging Special Pathogen Training and Education Center headquartered at Emory. ENE also offers an online version of the nursing school's in-demand and highly regarded wound, ostomy, and continence nursing certification program.
"At a university, academics often think that if you're going to get an education to set you up for your next career, it has to be a degree program," Clevenger says. "But more and more, nurses are now able to take certificate programs that open up new career options for them."
Since ENE's content went live online in July 2019, more than 3,500 nurses have enrolled in courses.
Demand naturally increased with the onset of the pandemic and is driving the very design of ENE's new facility. "Having this new space that we are able to adapt to our needs in the time of COVID and beyond—in terms of social distancing, online learning, and having the most up-to-date IT—is invaluable," says Tim Cunningham, vice president of practice and innovation for Emory Healthcare and Clevenger's counterpart in leading the ENE.
A distance-learning classroom will broadcast nursing grand rounds and other events that Emory Healthcare shares via video feed with its affiliated facilities. A state-of-the-art recording studio will enable instructors to create new course content. "Our content can be accessed remotely from anywhere in the world," Clevenger says. "We needed a space where we can produce courses professionally and put out the highest-quality content possible."
The recording studio also will be used to create new episodes of Nurse's Notes, ENE's podcast. "Right now, we're recording the podcast in a little closet, which is not the ideal space," says Laika Steiger, ENE's director of operations. The recording studio's debut should dovetail with the launch of the second season of Nurse's Notes, which will focus on the timely theme of innovation in health care.
ENE students also will be able to take advantage of other nursing resources in the building, particularly the Simulation and Skills Lab (page 9), which will be the largest in metro Atlanta. The lab will include a model of a high-rise senior apartment, a relevant setting for nurses in ENE's Wound, Ostomy, and Continence Certification program. "That specialty cares for patients in the community as well as acute care settings," Steiger explains. "To be able to teach that material in that setting makes it more likely to be retained."
Much consideration has gone into ease of access and use of the new ENE facility. The building is on the MARTA line from the airport and shares a parking lot with Emory's Long-Term Acute Care Center next door, providing easy access for both out-of-state students and local commuters.
Its location on Decatur Square puts students within walking distance of numerous restaurants and shops. The three open, spacious classrooms offer more room to spread out than crowded hospital conference rooms. And a number of thoughtfully designed "touchstone spaces" allow faculty and students alike to tend to both personal and work needs.
There's a breastfeeding station, secure internet stations for accessing electronic medical records and emails, and soundproof rooms for taking confidential work calls.
"Nursing is holistic," Cunningham says. "This new ENE space is too. We want to support not only our students' professional growth but personal growth as well."
Share This Story