Center of Attention
The state-of-the-art Emory Nursing Learning Center—with Phase 1 set to be complete in May 2021 in downtown Decatur—will give students and practicing nurses cutting-edge opportunities to hone their skills for the patient-care challenges of the future.
---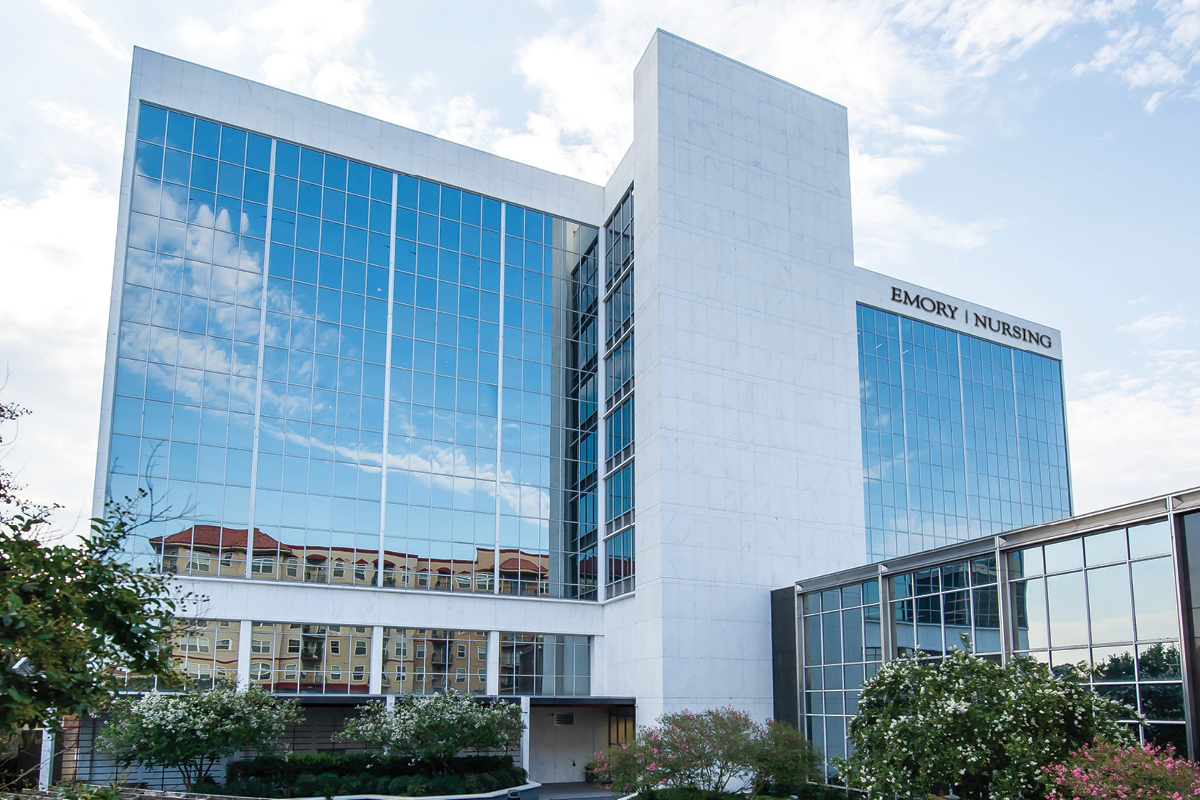 The Nell Hodgson Woodruff School of Nursing at Emory University already ranks as one of the nation's best in undergraduate, graduate, and professional education, but remaining on top—especially when facing new health care challenges and student enrollment that has more than doubled in the past six years—requires visionary thinking.
Enter the Emory Nursing Learning Center (ENLC), an innovative new facility designed to anticipate challenges in nursing education and embrace innovative technologies and advanced teaching methods. Starting in May 2021, nursing students of all levels, from undergraduates, to doctoral candidates, to working professionals within the Emory Healthcare (EHC) system, can take advantage of a host of state-of-the-art learning environments, including an expanded, cutting-edge simulation and skills lab (page 9), new telehealth and remote learning facilities, an Innovation Hub, and even a "home" lab that replicates a small apartment.
Located in nearby downtown Decatur, the ENLC will occupy four renovated floors at 250 E. Ponce, an existing eight-level office building two blocks from the city's main square. Architectural design is well underway, and when fully built out by March 2022, the facility will provide a total of 70,000 square feet dedicated to enhanced instruction.
Take a virtual tour of the ENLC
"The ENLC is Emory's first step in taking nursing education into the 21st century," says Dean Linda McCauley 79MN. "The new simulation center will be the largest of its kind in Georgia and will allow us to share our facilities, equipment, and programs with others across the state who need advanced training."
By design, in the ENLC traditional nursing students and alumni will rub elbows with practicing nurses taking classes through the Emory Nursing Experience, the continuing education program led by the School of Nursing in partnership with Emory Healthcare (EHC).
"Just imagine the conversation an undergraduate student and a midcareer nurse might have in the lobby or a hallway of the building," says Sharon Pappas, chief executive nurse for EHC. "Practicing nurses can make key aspects of nursing education more relevant to students, and meanwhile students can share new knowledge and innovation to practicing nurses. Having that continuum of learning in the same space will make the Emory Nursing Learning Center truly a special opportunity for collaboration and growth.
Meeting Growing Demands
The ENLC also will alleviate a problem that school leaders and faculty have wrestled with in recent years: providing more space to accommodate the needs of several hundred students.
By 2021, the School of Nursing building at 1520 Clifton Road on Emory's main campus will be 20 years old. When it opened, enrollment stood at 309 bachelor's, master's, and doctoral students. The four-level building provided 100,000 square feet of space. At the time, and for the first time, the school had a caring skills center that included open rooms with hospital beds, patient exam rooms, and simulation technology and equipment with low- and high-fidelity mannequins. Initially, the school had room to spare and leased the third floor to Rollins School of Public Health next door. But building space subsequently filled up as the number of students, faculty, administrative staff, and research and other programs grew. The school's reputation rose, consistently placing it among the top five nursing schools in the US.
Enrollment ballooned as new degree programs were added—accelerated bachelor's and master's degree programs, an accelerated distance learning program, a joint bachelor's program with Emory Healthcare, as well as a doctor of nursing practice, including a third track in nurse anesthesia. In the past six years, enrollment at the school has doubled, from 545 students to 1,151 students this fall. And it's projected to reach 1,400 students by 2025. Also, each year an average of 7,000 practicing nurses, primarily from Emory Healthcare and around the Southeast, take Emory Nursing Experience courses.
"Interest in nursing as a professional career has never been higher," McCauley says. "And now, the COVID-19 emergency has put a spotlight on the importance of nursing in health care and public health emergencies. Our enrollment has been growing steadily, but we could not have anticipated the class size we welcomed in fall 2020 in the midst of the pandemic."
Currently, the School of Nursing is spread across four locations: the 1520 Clifton Road building, where undergraduate students do simulation and clinical skills training; Emory Wesley Woods Campus, where graduate students do advanced simulation and clinical skills training; Emory School of Medicine, where nurse anesthesia students train in a simulated operating room; and Executive Park, where Emory Nursing Experience has a classroom and office space.
About 18 months ago, nursing leaders began to weigh space options to accommodate current and future growth. The school wanted to remain at 1520 Clifton Road. With no room to build or renovate on Emory's main campus, the school looked at purchase and leasing options around Atlanta. Then they toured 250 E. Ponce, a Dilweg Companies property, in Decatur.
Built in 1962, the office structure had previously housed two banks—each with strong ties to the local community. Nearby were the Emory Clinic at Decatur, on the same street, and Emory Long-Term Acute Care, just behind 250 E. Ponce. And Emory Decatur Hospital was just two miles away.
"The 250 E. Ponce building wasn't even on the market when we first looked at it," says Gina Critchet, associate dean for finance at the School of Nursing. "Decatur has become a natural extension of Emory, especially around Emory Healthcare. When you walk into the building, it just feels right."
School and EHC nursing leaders saw vast possibilities in adapting the space. "The building would bring the School of Nursing back together and provide a convenient base for continuing nursing education," says Critchet. "No one would have to go to Wesley Woods or Executive Park anymore."
The ENLC is set to go live in two phases. Emory Nursing Experience, located on the fourth floor, is scheduled to open first in May 2021. Three lower floors, one of which will house the Simulation and Skills Lab, are expected to open in March 2022.
Reimagining Nursing Education
The ENLC is being built with an eye toward completely rethinking nursing education at Emory.
"Right now, nursing simulation is very inorganic," says Beth Ann Swan, associate dean and vice president for academic partnerships. "Students come, they do an activity, and then they leave. The ENLC will allow us to create an academic practice that integrates education, research, and team-based practice. We're also creating a 'connected destination,' so that students feel connected to the school, whether they're at 1520 Clifton Road or 250 E. Ponce."
And when the ENLC opens, it will reflect the ideas of a diverse group of constituents: Emory nursing students, faculty, and staff; Emory Healthcare leaders in nursing and patient and family-centered care; Emory interior design planners; architects with the Beck Group; and audiovisual and IT experts with the Sextant Group. Students, for instance, have called for design features that will help them embrace the new space in Decatur such as lockers, bike storage, parking, and easy access to community areas.
The ENLC will live in a mid-20th-century building with what the architects describe as "good bones." The first-floor lobby has been envisioned as a welcoming space featuring a "social" staircase that connects the first and second floors, a reception area, collaboration space, open space for school and community events, and exhibit space for local artists.
On the terrace level below will be the Simulation and Clinical Skills Lab, with high-fidelity patient rooms, patient exam rooms, clinical skills labs, and debriefing rooms.
Before or after a simulation session, students will head up to the second floor for more learning in a large classroom (150 seats) or one of two small classrooms (45 seats each). The second floor also will feature an innovation hub, where students can develop ideas and test them in the open skills lab just steps away. Students can use the lab anytime to practice their skills, from taking blood pressure to inserting a urinary catheter or an IV. Also on the second floor: a home lab with data collection capability resembling a small apartment, conference rooms, and touchdown space for faculty.
Emory nursing school leaders and faculty looked to several peer schools to glean ideas for the ENLC including Columbia University, the University of Texas at Austin, and the University of South Florida (USF). The Beck Group, architects for the ENLC project, previously designed an expansion for the nursing simulation center at Baylor University and a new medical learning and simulation center at USF.
Challenges and Opportunities
One of the biggest challenges in planning the ENLC will be incorporating the technology that faculty need to run simulations and that Emory Nursing Experience instructors need to provide continuing education on the fourth floor. Amenities there will include a media room for recording webcasts and podcasts, a large classroom that can be divided in two, meeting rooms, and offices for staff who coordinate student clinical placements throughout EHC. A distance-learning classroom will be used to host and broadcast grand rounds for nurses at any or all of EHC's 11 hospitals.
The Beck Group's Ken Higga has a designer's appreciation for how the space will generate "intellectual collisions" among students, faculty, and professional nurses. He is also paying special attention to interior colors and materials that will link the building to the main Emory campus and elements that incorporate "flavors of Decatur" on the first floor.
"We've talked about using local art to evoke the feel of the surrounding community and looking at how space can be used for community programs on nutrition and diet, exercise, heart health, and other topics," says Higga. "Nursing academic programs are always looking for ways to serve and engage the local community through education. That goes both ways. It helps students understand what the needs are in the community and gives them an opportunity to work in the real world by talking to community members about issues that are important to them."
Decatur city leaders are eager to see the ENLC open its doors.
"Emory's School of Nursing has a real ability to integrate community health improvement with the workforce development of nursing students to provide a pathway to employment," says Angela Threadgill, Decatur's planning and economic development director. "We're excited about collaborating with the school on programs that promote health and expose middle and high school students to careers in health. Those efforts will mean a lot to the community."
Share This Story