Representing NPs at the table
By Martha McKenzie

---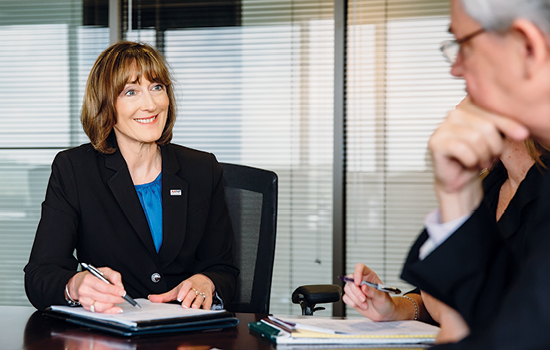 Diane Padden 94MN PhD RN has done it all. She's earned an associate nursing degree, a BSN, an MSN from Emory, and a PhD. She's practiced in a variety of clinical settings, including hospitals, a middle school, and private practice. And she taught graduate and PhD nursing students at the Uniformed Services University of the Health Sciences in Maryland for 13 years. 
Years in nursing: 37
Why nursing: When I was growing up, we rarely sought medical care unless we were very, very sick. When I was about 12 years old, I broke my leg. After a couple days, I begged my dad to take me to the doctor. The nurse who cared for me was empathetic and confident. It was the first time I was really around a nurse, and I remember thinking, 'I'd like to do that.' "
Something surprising: I grew up in Munich, North Dakota, and experienced life in rural America on the family farm, which included milking cows. There were only 13 in my high school graduating class, and about half of us went to college.
She is now an administrator, serving as vice president for research, education, and professional practice with the American Association of Nurse Practitioners (AANP), the largest full-service national professional membership organization for NPs of all specialties.
"You never know how things will turn out," says Padden. "My position at AANP is totally different from anything I've ever done, yet it provides an opportunity for me to use many of the skills I've acquired over the years."
 The scope of her current position is broad and includes overseeing research deemed important in moving the profession forward, including membership, practice, and compensation surveys. She also leads a GIS (geographic information system) mapping initiative using data from boards of nursing to show how NPs are caring for patients in underserved areas and mitigating the primary care workforce shortage. 
Padden ensures that educational activities are robust. For the three annual conference opportunities sponsored by AANP, she works closely with various committees to organize continuing educational offerings and procure expert clinicians as speakers. She also helps develop educational materials for NPs to use in the field.
Her professional practice work includes advocating for state and national legislation to allow NPs to practice to the full scope of their authority. Additionally, she works closely with industry and health care organizations and agencies to tout the role of nurse practitioners as leaders in improving access and quality of care.
"Many organizations want to have an NP representative at the table when they discuss issues that relate to quality of care and patient-centered medical care," says Padden. "The thing I enjoy most about my position is being able to represent AANP and advocate for NPs at these meetings."