From national to local
By Martha McKenzie

---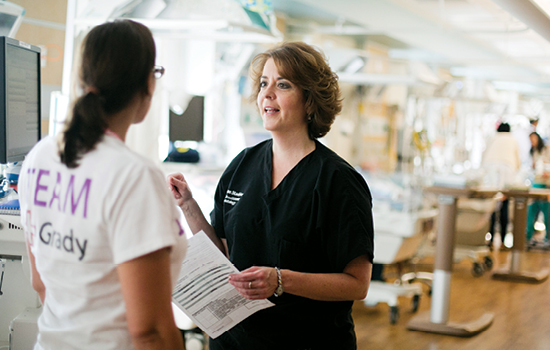 Last October, shortly after moving to Georgia to join Emory as the neonatal nurse practitioner specialty coordinator, Suzanne Staebler DPN APRN NNP-BC FAANP stepped up to be director of advanced practice for the Georgia Nurses Association (GNA).
Years in nursing: 27
How your association service benefits the school: In many ways, but currently I serve on the task force revising the standards for nurse practitioner education, so it allows us to stay on the cutting edge with our graduate programs.
Advice to aspiring nurse leaders: Start small. There are tons of organizations so pick one that best serves your passion. Make sure you understand what the time commitment is, and then just jump in.
Something suprising: In 2007, I was part of the first neonatal nursing delegation to the People's Republic of China. It was a life-changing trip. From the heartbreak of the practice in big cities of not resuscitating babies who are less than 26 weeks to the inspiration of what the rural nurses and doctors were able to do with so little, it was an amazing experience.
It was a fairly easy step. Although it is her first statewide position, she has held national posts for the past 20 years with the National Association of Neonatal Nurse Practitioners (NANNP) and the National Association of Neonatal Nurses (NANN). 
"In my first job out of nurse practitioner school, I worked under a director who was a member of the board of NANN," says Staebler. "She said I needed to get involved, and I've been involved ever since."
Staebler has served on conference planning and practice committees, as treasurer during NAANP's Chapter 11 reorganization, and most recently as the governing council chair for NANNP. She was asked to be the neonatal representative at all of the national Advanced Practice Registered Nurse (APRN) consensus meetings when the group was hammering out the specialty areas. 
"When we first started, there were only going to be three populations—family, adult/gerontology, and pediatrics," says Staebler. "So if you wanted to specialize in neonatal care, you'd have to subspecialize, going through another 10 months to
two years of training. I said, 'Absolutely not!' "
Neonatal thus was added to the list of  populations, in addition to women's health and psych/mental health.
Now, in her Georgia post, Staebler is imposing some much-needed structure so that different groups of APRNs work together cohesively. In the past, nurse-midwives might lobby for one change while clinical nurse specialists might advocate for another. Staebler is bringing everyone to the same table.
"In May, I convened the GNA's first APRN roundtable and held another session in July," she says. "I modeled it after the national organization, so we had nurse-midwives, nurse practitioners, nurse anesthetists, and the board of nursing all represented. We are going to have the same messaging and the same agenda. That's the only way our organization is going to make a difference."
Related Stories
"Nursing educator receives neonatal nurse practitioner excellence award" (7/23/2015)
"Suzanne Staebler selected for 2015 Faculty Policy Intensive Program" (2/12/2015)
"School of Nursing professors named American Association of Nurse Practitioners Fellows" (8/13/2014)