Roy L. Simpson
Clinical Professor, Nell Hodgson Woodruff School of Nursing, and Vice President of Nursing, Cerner Corporation, Kansas City, Missouri
By Laura Raines

---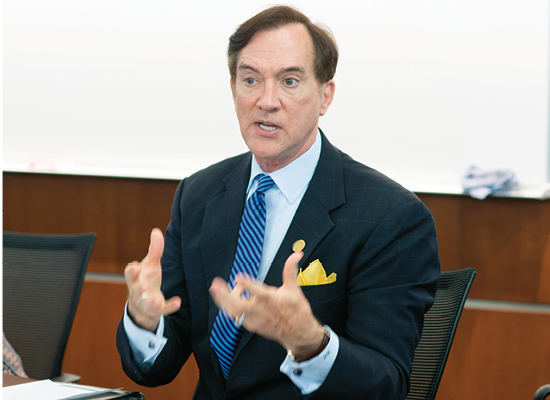 Roy L. Simpson DNP RN DPNAP FAAN almost didn't become a nurse. 
Years in nursing: 38
Major influences: Virginia Saba, Harriet Werley, and Norma Lang, who were among the first researchers to drive the science of nursing and got me into informatics. Colleen Conway Welch and Catherine Garner, who helped me understand that to change day-to-day practice, you need a bigger perspective.
Greatest accomplishment: Finishing my doctorate at 63.
Advice to aspiring nurse leaders: Keep the patient at the center of your desire to transform health care. When I sit on boards, I don't talk about nursing care in the context of patient care. I argue for the safety and quality of patient care.
Something surprising: I raise Gouldian birds. I have had two Westminster grand champion canines (wire fox terriers), and I have an extensive collection of American art from the 1920s.  
Recent honor: Virginia K. Saba Nursing Informatics Leadership Award, Sigma Theta Tau International, and teaching DNP students at Emory, thanks to Linda McCauley and Susan Grant.
"I was turned down by other schools before being accepted as a pioneering male into Grady Memorial Hospital's training program in 1974," he says. "Director Mary Woody made me promise that if she let me in, I'd stay in and stay active in nursing."
Simpson kept that promise in spades. He practiced nursing at Piedmont Hospital and held leadership roles at Shallowford Hospital and Emory University Hospital. In 1979, he joined Hospital Corporation of America (HCA) as the corporate representative in nursing for industry and practice and went on to direct the clinical information processing systems for HCA's 492 hospitals. 
"That's where I fell into information systems technology. Fortunately, both my parents were math oriented," he says. In automating hospital data, Simpson saw that companies only compared nursing hours as an indicator of care. 
Knowing that nurses make a far greater impact on health care, he began analyzing patient data related to nursing care [such as cost per patient and quality and safety] and worked with Harriet Werley and Norma Lang to fund and develop what would become the Werley and Lang Nursing Minimum Data Set in 1982. Approved by the American Nurses Association (ANA), these 17 elements "established the unique contribution of nursing practice as an independent vehicle and raised the level of the profession," Simpson says. "They are a core component of every electronic health record today." 
In 1986, he co-wrote the scope of practice to establish nursing informatics as a specialty and continue the petition for ANA certification, awarded in 1992. He has published more than 500 books and articles in the field.
Today, as vice president of nursing for Cerner Corporation, Simpson travels extensively (5 million frequent-flyer miles) and consults with more than 3,200 hospital clients on ways to use data, technology, and social media to advance innovation and improve health care. He also teaches nursing informatics leadership in Emory's DNP program, believing that this education specialty will help nurses transform health care. He's often called a pioneer of nursing informatics.
"I don't think of myself as a pioneer," he says. "I was just doing my job. I see nursing informatics as a clinical discipline. At its core, nursing always revolves around better care for patients."