Marilyn Margolis
Chief Executive Officer, Emory Johns Creek Hospital, Atlanta, Georgia
By Laura Raines

---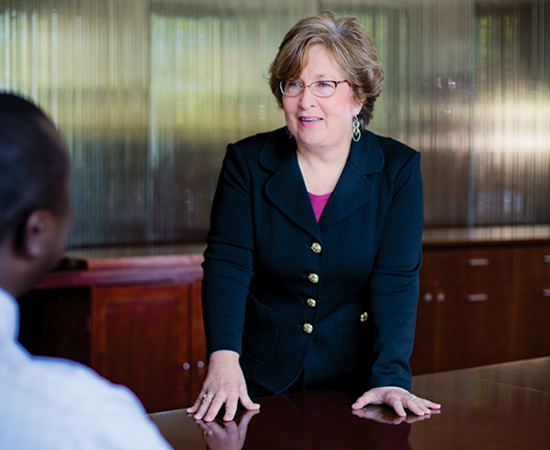 Her father's death when she was 10 years old was life shaping for Marilyn Margolis 89MN RN NEA-BC. She knew she was meant to help people and find the positive in that caring.
Years in nursing: 36
Major influences: Carolyn Sullivan, head nurse when I was a candy striper, taught me how to be a true professional. Susan Grant, chief nurse executive and chief patient services officer for Emory Healthcare, brought a remarkable patient/family-centered culture to Emory. Physician Douglas Lowery-North taught me everything I know about caring for patients in an ER.
Greatest challenge: Moving from a university hospital to lead a young (2007) community hospital as it transitioned into the Emory system. 
Advice to aspiring nurse leaders: Find what you love to do and do it. It takes time and commitment to become a leader and you need to know where you're heading. If you stay in heads-down mode working 24/7, you won't have time for vision. Take time to strategically plan.  
Something surprising: I love to kayak. Being out on the lake helps me stay centered. 
Recent honor: Lifetime Heroic Achievement Award, Georgia Hospital Association.
 "I volunteered as a candy striper and then a ward clerk to learn how a hospital ran. I saw what nurses did and decided to become a nurse," Margolis says. 
She practiced first in the ICU, then in the CCU at Emory University Hospital before becoming director of the Emergency Department in 1999, where she developed initiatives to improve care and patient satisfaction.  
Margolis moved on to become director of nursing operations at Emory University Hospital until asked, in 2011, to become interim CNO at Emory Johns Creek, a 110-bed acute care community hospital 45 minutes north of Atlanta. Reluctantly, she said yes—she had always worked in an academic setting—but was soon impressed with the warm and phenomenal patient care she saw. 
"My office window overlooked the front door. Watching the staff interact with patients as they were discharged, seeing how much they really cared, I realized that this was a place where I wanted to work," she says. "When nurses move into leadership, they broaden their ability to influence what happens at the bedside. Our job is to provide the best tools and environment that allows clinicians to do their best work." 
For Margolis that means leading at the "point of touch." She never forgets what happens when a caregiver meets the needs of a patient and what a difference it can make. Her picture and cell phone number are in every patient room, and she rounds with clinicians frequently to share organizational news and get feedback from patients and staff. When time allows, she walks outside to think and plan. 
Assuming her CEO responsibilities in January has required expanding her focus even more. 
"Now I serve as the face of the hospital in the community. As part of Leadership Johns Creek and other organizations, I work with community leaders to promote the health and wellness of our whole population," she says. "Our hospital is growing and adding advanced levels of care to meet growing community needs. Our quality metrics and outcomes are excellent. Emory Johns Creek Hospital is the perfect place to receive care and caring for all your health needs."