Nancy H. Agee
President and Chief Executive Officer Carillon Clinic, Roanoke, Virginia
By Laura Raines

---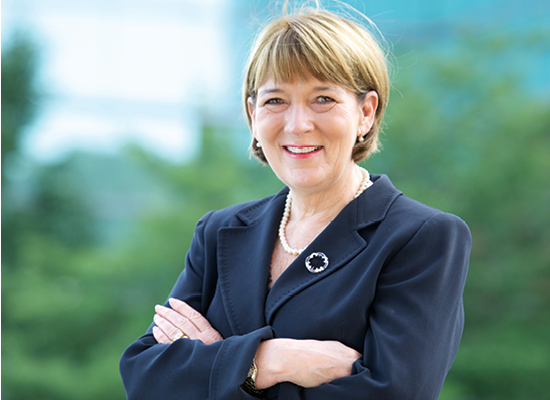 Nancy Agee 80MN RN received a puppy and a nursing kit simultaneously when she was 5. The puppy submitted to being examined and bandaged with good grace, which led to a lifelong love of dogs and nursing. 
Years in nursing: 42
Major influences: My grandmother, a widow who worked and raised four children alone. She was fearless, loved life, and had a great work ethic. Physician Charles Crockett was the PI on my NIH grants and gave me the credit. He was a stickler for good writing, and I'm a better writer as a result. He was smart and generous and had such joy in his heart for supporting others.
Greatest career challenge: Seeing what lies ahead in health care in this incredibly challenging time and helping people change to get there in a timely way.   
Advice to aspiring nurse leaders: Learn everything you can and seek out opportunities to lead, but stay true to your values.
Something surprising: My husband and I love traveling to exotic locations and learning about the people there. Morocco is a favorite.  
Recent honor: Invited to serve on the American Hospital Association Board of Trustees.
Her move away from the bedside came early when she was asked to teach a new computer system to other nurses. "I loved taking care of patients, but I liked the innovation and the teaching," says Agee. "I saw that I could affect more change for patients and nursing through this broader role."  
She rose through the ranks at Carilion Health System/Carilion Clinic in Western Virginia. As chief operating officer (2001-2011), she was the key architect in moving the organization from a hospital network to a patient-focused specialty clinic system. She promoted the effort to attain Magnet status for the Roanoke campus. "Health care is a team sport today, and the Magnet journey puts nurses and organizations on the road to continual improvement," she says. 
 In 2011, Agee became president and CEO of Carilion Clinic, a $1.7 billion organization that includes eight hospitals and serves nearly 1 million Virginians. Her nursing background allows her to speak the language and understand the challenges of their care.
"Health care is evolving and changing, but every decision I make is to create a better environment for patient care," she says of her role. "My job is to make sure we have the right people in place and give them the resources that will help them do their jobs well."
Agee's days are filled with meetings with staff, physicians, and numerous boards, including the board of trustees for the American Hospital Association (AHA).
"This is my first year on the AHA board, and I'm grateful to be a nursing voice and add my administrative perspectives to the thoughtful discussions on health care issues," she says. 
"The role of CEO today is inescapably a political one, so I'm often in Richmond or D.C. advocating and advising about health care. My focus is always on improved patient outcomes and a better work environment." 
Agee sees herself as a servant leader and never forgets that she's a nurse first and foremost. "Servant leadership means putting others before self. It means leading collaboratively and ethically. It means asking yourself if your leadership is serving your organization so that it is better, wiser. It's a lifelong journey."