Wanted: A Million (or More) Nurses by 2032
The Business Case for Nursing
---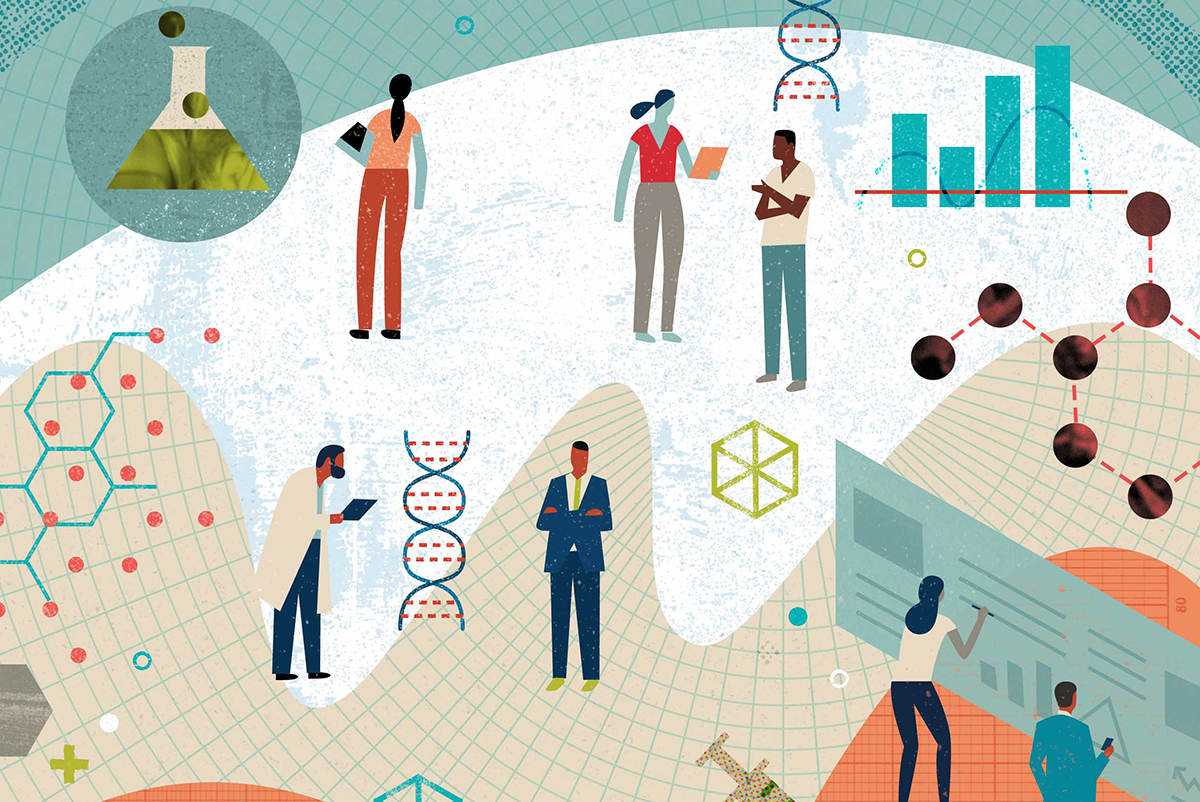 School of Nursing faculty and alumni emphasize the importance of investment, accountability, and personal fulfillment in securing the future of the profession.
The numbers are staggering, the need relentless. For the next decade, the federal Bureau of Labor Statistics projects 194,500 openings for nurses every year. Two major forces are pushing this need: The profession is growing at a rate of 9 percent, and nurses are retiring or leaving for other work. Where are one to two million nurses going to come from?
The answers affect everyone in the Emory nursing community, no matter where they serve. Emory Trustee and Emory Healthcare Board of Directors member Bill Brosius 85B is the vice president of finance for Methodist Health System in Dallas. In this role, he constantly tracks the numbers of nurses and gaps he needs to fill. A tsunami is not only headed to health administrators, with no precedent to guide them, but its first waves are already here—accelerated by the pandemic. Brosius must figure out daily solutions to the business case for nursing: How many and what type of nurses will we need? Where will we best deploy them? How do we ensure their work is maximized? And how do we keep them in nursing?
 "I don't know what nursing is going to be a year from now, but I know it's not going to be the same as it was last year," Brosius says. "Given the number of nurses that we're going to need in this country over the next 5 to 10 years, "we've" got to figure out a way to do something differently." 
Brosius put down Emory roots in undergraduate accounting classes at Goizueta Business School. Back then, his favorite professor, John "Casey" Jones, imparted this perspective: "Behind all those numbers are people. And it's important to get to know them." Brosius and others believe that solving the massive need for nurses in the future will demand accountability beyond sheer numbers—to the human connections that pull nurses to this work. Statistics and dollars are only pieces of a complex puzzle; a nurse's sense of mission, self-determination, and other values must factor into the new accounting.   
"What nurses in the workforce need from us now, and what nursing schools will need to give the students who come here for training, is a holistic model of nursing that we haven't seen before," says School of Nursing Dean Linda A. McCauley. "We can't simply ask nurses to do more and expect them to not get burned out. We need to build new structures and expectations that can keep them healthy and flourishing, so they can lead teams that help patients do that, too. To attract and sustain nurses now and in the future, we're going to have to uplift them in exciting, long-lasting ways. And we need leaders in business and education to help us create this new clinical and professional model, and push for the necessary policy changes." 
This conversation here and nationally is framed around the extraordinary federal funding from the American Rescue Plan Act. States will receive higher federal matching funds (roughly $12.7 billion over the next year) through Medicaid to provide more home- and community-based services and $8.5 billion for rural health providers. Another $7 billion will expand the public health workforce; $1.55 billion will support programs for underserved communities; and nearly $250 million will boost behavioral health. This adds to funding from the Coronavirus Aid, Relief, and Economic Security (CARES) Act of 2020.  
Amid these urgencies and opportunities of the nursing crisis, new ideas and solutions are bubbling up from experts and partnerships at the School of Nursing, Emory Healthcare, and across an academic medical campus driven to create, preserve, teach, and apply knowledge in the service of humanity. The nursing school hosted the inaugural Business Case for Nursing Summit in March 2022, keynoted by Montana State professor Peter I. Buerhaus, a national expert on the nursing workforce. He and co-authors of a September 2021 Health Affairs piece titled "Investing in a 21st Century Health Workforce: A Call for Accountability" are pushing for consensus on specific measures and responsibilities "to build a workforce that responds to the urgent and enduring health care needs of society."  
Given nurses' inherent problem-solving skills, innovations are likely to come from within the industry. Meet Andy Gish 06BSN, who works in a trailer outside Emory Saint Joseph's Hospital, home to the perioperative COVID swabbing unit. She's been there part time after pandemic ER work became too much.
"I feel very valued and needed, but it seems like everybody's a little displaced," Gish says. The untethered feeling feels wrong because she chose nursing for its promise of grounded relationships that mattered. She's always been certain, though, that "nurses are awesome in their innate skill set to assess something, see a need, and fill it." 
The question is: can health care and business leaders help do that for her profession?
They must, because nurses are the glue for the entire health care system, says Emory Healthcare Chief Nurse Executive Sharon Pappas. "Nurses create value in both their care and creating the right outcomes for patients, and when you do so efficiently, the overall cost of care is less. When you improve quality while cost is less, you get a lot for your money when those things are all working the way they should." 
Production: "Something I want to do" 
Producing additional nurses is more complex than it sounds. Different types of nurses are needed to meet population health priorities, which include primary care, behavioral health, and senior, long term, and maternal care. Those aren't always the most popular work environments for nurses, especially during COVID-19. "How do you keep nurses at the bedside?" wonders Emory Johns Creek Hospital CEO Marilyn Margolis 89MN, who in 1981 began her Emory career doing just that. "How do you bring—I want to say sexy—back, by showing the best of nursing to people who then say, 'Oh, that sounds like something I want to do.'"
Emory Healthcare President and Chief Operating Officer Dane Peterson sees a radical restructuring of the role of nurses "from care providers to care leaders." It's a big ask that may attract new types of workers to become nurses. "We have to create care models that stretch the nursing expertise over more patients safely," he says. "We know that nursing attracts young people who want to care for others above self, and they get a ton of enjoyment from the personal interaction with their patients and creating that relationship. How can they also gain the same passion by creating relationships with our team members? We may find ourselves attracting more people into nursing who want this as we change the care model."
Distribution: "We can begin to fill that pipeline quickly" 
Among the population health priorities, primary care is "the only part of the health care system that results in longer lives and more equity, and so it is critically important that we train primary care teams where people live and work," McCauley says. "We know we prepare a lot of primary care nurse practitioners but are they all working in primary care? Or do they get pulled into specialty care settings? We need to explore how to alleviate this geographic maldistribution." In 2019, she notes, 80 million Americans lived in areas with a primary care health professional shortage.
According to Buerhaus, nurses are more likely to be working in acute rather than community-based care, and in cities rather than rural settings. More equitable care isn't just about more nurses, but more nurses in the most needed places and specialties. It's also not always a question of a nurse who wants to train; the pandemic has limited access to clinical settings. 
In 2016, 40 percent of clinics and other non-hospital settings accepted nursing trainees; in 2020 that dropped to 27 percent. For nurse practitioner students, the number plummeted from 93 percent of accepting clinics to 49 percent. 
"If the clinics aren't letting families come in, they're not letting in students either," says Associate Dean for Transformative Clinical Practice Carolyn K. Clevenger, a gerontological nurse practitioner whose national survey on nurse distribution was recently accepted for publication. "If a student hasn't experienced a geriatric setting as a trainee, their likelihood of working in that setting is much lower. That's a pipeline problem." 
Mental health is another population health priority, and the School of Nursing this fall will welcome its first students to the psychiatric nurse practitioner program (a related postgraduate certificate is also offered). "We know we can begin to fill that pipeline quickly," says Associate Professor Dorothy H. Jordan 82MN. She sought advanced training in mental health nursing after treating people affected by Hurricane Katrina who desperately needed that type of care. Her story points to what can make or break a nursing career—personal fulfillment. 
Resilience: "More than just schedules and money" 
In long-term care, which is another population health priority, Buerhaus points out that health care workers (including nurses) are turning over at a rate of 100 percent. Staunching the exodus across the entire profession "is going to take more than just schedules and money," Brosius says.
Resilience is built inside and outside of nurses, in their stores of inner strength and in the support of team members. "Fulfillment is a two-pronged approach," Pappas says. "And I do think we have to redesign care models so that it doesn't leave the nurse as the sole clinician to be accountable for all the things that others do. It's just the way nurses view the world. We take on accountability for integrating, collaborating, and connecting for the care of our patients."
Seeing a patient do well contributes to a nurse's sense of fulfillment, as does knowing that they've done everything possible for the patient. When the latter erodes, "and whenever you cannot physically provide the type of care that you want to for patients, that causes some real moral distress," Pappas says. "It's usually not hard work that really creates unhealthy nurses. It's really the feeling like you haven't done an adequate job."  
The matter of inadequacy goes beyond issues like caring for unvaccinated patients, into the structure of nursing itself. Geriatric nurses, who serve in a variety of settings, including nursing homes, are hampered by a managed care system that rewards brief patient visits. "The system really needs to be structured in a way to set these nurses up for success, with longer visits and the ability to follow up by calling," Clevenger says. 
Resilience begets more "re-" words for Margolis—namely recognition, resources, and retention.
Recognition is a holistic approach to supporting nurses, by listening to what they are going through and need, and by following up with resources. "If you had a job to do and didn't get the support you need, it becomes really frustrating," she says. Over the past two years, she has written 868 cards recognizing specific contributions of her staff, and that practice has built her own resilience. "Writing them gives me this just remarkable feeling of gratitude," she says. 
Nursing education may play a key role in retention. Gish is applying for Emory's psychiatric doctor of nursing practice program, which prepares RNs to achieve the highest ranks of health care leadership. She wants to specialize in overdose prevention in Georgia, where in the decade leading up to 2020 opioid-related overdose deaths increased by 207 percent. 
In the patchwork of mental health services, Gish doesn't see a statewide position focused on overdose prevention for a health care professional like herself, but she strongly believes Georgia needs one. "It may mean making my own job," she says. 
An entrepreneurial, compassionate mind-set fits the business case for nursing, solving for phenomenal projections of human need that no one has seen before.
Share This Story