More Than a Statistic
When experts gathered to talk and learn about the opioid crisis, the greatest lessons came from a mother who lost her son to addiction and a nurse anesthetist who has changed the landscape in pain management.
By Pam Auchmutey, Illustration by Shaw Nielsen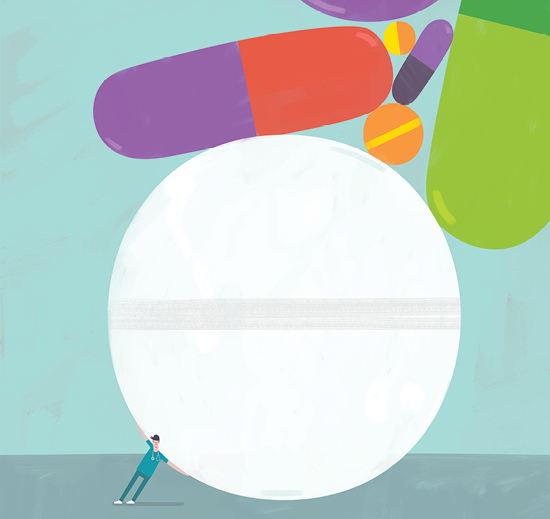 "If I cry, I cry."
It was the first time Cammie Rice had spoken publicly about her son, Christopher Wolf, who died from an accidental opioid drug overdose in 2016. Just 32, Christopher was curious, smart, energetic, and kind. He was also a hugger.
"My Christopher had a heart as big as his smile," said Rice during the 2018 David C. Jowers Lecture, "Eyes on the Opioid Crisis," hosted by Emory's schools of nursing and public health last fall. "When he set his mind on something, nothing stopped him."
Ultimately, something did. In eighth grade, Christopher was diagnosed with ulcerative colitis. Midway through his senior year of high school, he had his large intestine removed. He suffered complications and remained in the hospital on morphine for 70 days before being sent home with 90 oxycodone pills for pain.
Rice dutifully looked after her son. She gave him oxycodone at the correct intervals, as the label on the pill bottle instructed, and refilled the prescription multiple times. Unbeknownst to Rice and her son, she was paving the way for his addiction to opioid medication.
"I had no idea of the risks, I had no idea of the danger, and I had no idea of the questions I should be asking the doctors," Rice told the nurses, physicians, scientists, public health experts, policy-makers, faculty, and students attending the nursing school's annual Jowers Lecture.
Christopher fought back, determined to remain engaged with the world. He completed a college degree, attended graduate school, and dreamed of becoming a Navy seal. He remained close to his family, who stuck by him through the ups and downs of drug rehab. Ultimately, his opioid addiction proved too powerful.
"It did not have to happen," said Rice of her son's death. "There are no words to describe my pain as a mother. I'm angry that I lost my son at 32, that I won't be at his wedding. I'm angry that I had all the resources in the world and couldn't save my son's life."
---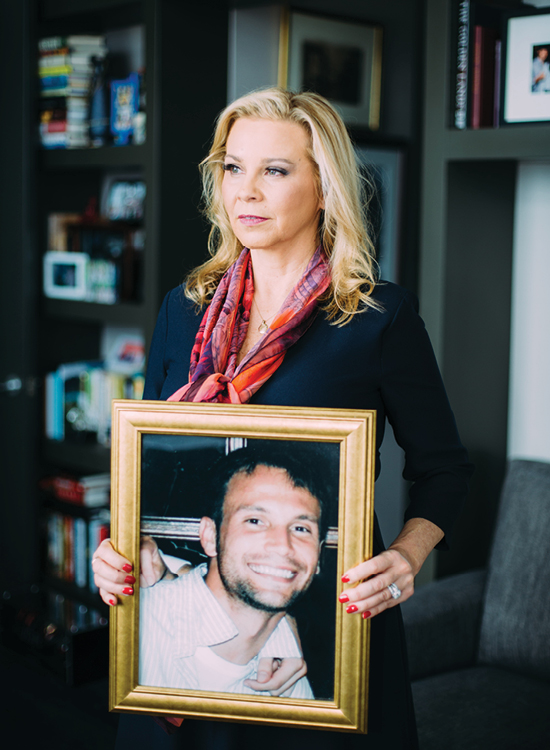 "There are no words to describe my pain as a mother," says Cammie Rice, holding a photo of her son, Christopher Wolf, who died of an accidental opioid drug overdose in 2016.
---
How did we get here?
When Christopher first took oxycodone for pain relief, he became an unwitting victim of a crisis that causes more than 130 deaths each day, according to U.S. Department of Health and Human Services (HHS) data for 2016–2017. The epidemic continues to have far-reaching effects not only on patients and families but also on health care providers and educators.
Jackie Rowles DNP MBA MA CRNA FAAN, a global leader in nurse anesthesia education and practice, shared her insights on the practice aspect as the keynote speaker of the Jowers Lecture.
"We got to a crisis because of a lack of competency," Rowles said. "We just didn't know a lot of things and how to do them better. So how did we get here?"
Rowles traced the origins of the opioid crisis to two developments of the mid-1990s. The Joint Commission, the accrediting body for U.S. hospitals, issued new standards for pain management. Pain thus became the fifth vital sign. Hospital reimbursements were tied to patient satisfaction, and patients rated hospitals on pain management.
"We were then forced as providers to relieve everyone's pain," said Rowles. "We wanted them to have no pain so that everyone was happy."
Also, in 1996, Purdue Pharma introduced OxyContin, an opioid drug for pain then touted as posing little risk of addiction. Sales of OxyContin rose from $48 million in 1996 to $1.1 billion in 2000. Opioid use—and addiction—skyrocketed.
The soaring numbers eventually gained national attention. Congress acted, declaring 2001 to 2011 as the Decade of Pain Control and Research to address rising concerns over inadequate treatment of chronic pain. In 2009, Congress passed the National Pain Care Policy Act and the VA Pain Act to improve pain management. That same year, Rowles signed a letter of support in her role as president of the American Association of Nurse Anesthetists.
In June 2011, the National Academy of Medicine (NAM) issued a report, Relieving Pain in America: A Blueprint for Transforming Prevention, Care, Education, and Research. The report noted that much of the chronic pain experienced by Americans was not being treated correctly and called for a cultural change to prevent, assess, treat, and understand all types of pain correctly. It also directed HHS to develop a plan to increase awareness about pain and its health consequences and improve how it is assessed.
For Rowles, one NAM recommendation stood out above the others. "Pain doesn't belong to one discipline," she explained. "It's not treated by one discipline. All providers need more training in pain management. That's the biggest take-home message."
Rowles began reshaping pain management education well before the NAM report was published. In 2005, she introduced multimodal pain management to nursing and osteopathic medical students at Marian University in Indianapolis, where she later established a DNP program in nurse anesthesia.
"Pain management is no longer just opioid monotherapy or polypharmacy medications," said Rowles. "It's also physical therapy, occupational therapy, pain psychology (you can't heal the body without healing the mind), therapeutic massage, manipulation, acupuncture, exercise physiology, and diet and nutrition. There are so many things we have to work on."
Rowles also served on the HHS/NIH team that developed a National Pain Strategy, issued in 2016. During her tenure on that team, she pushed hard to create a new educational model for pain management that nursing and medical schools could implement quickly.
"Previously, we looked at pain management as a band aid for treating pain. But we never looked at how to fix the cause of pain," said Rowles. "We came up with an educational model that looks at pain as a disease. Over time, chronic pain causes changes in your body and health. It truly becomes its own disease."
Increasingly, Enhanced Recovery After Surgery (ERAS) has become the preferred science-driven strategy that care teams­ use to manage patients' pain. ERAS calls for using opioid-sparing techniques such as regional anesthesia, peripheral nerve blocks, nonpharmacologic approaches, and nonopioid medications to control pain.
Communication is another key protocol of ERAS. "We have to have better discussions with our patients," said Rowles. "We can't be afraid to have them."
Additionally, nurse practitioners and physicians in primary and ambulatory care must prescribe opioid medications sparingly. "If someone comes in with a back spasm and can't walk, you can give them an opioid. But don't give them a 30-day supply," Rowles said. "Give them enough for three days and then have them come back to see you."
As one might imagine, Rowles' words held the attention of her audience, including Cammie Rice. In 2017—the year after her son died, the CDC reported more than 70,000 drug overdose deaths in the United States. Of those, more than 47,000—67.8 percent of all overdose deaths—were attributed to opioids. Such numbers are painful for mothers like Rice to hear.
"I have been in so many meetings and heard so many statistics, and they are grueling," Rice said. "When I leave those meetings, it's hard for me because I feel like my Christopher is a number."
In 2018, on what would have been her son's 35th birthday, Rice launched the Christopher Wolf Campaign to raise awareness about opioid addiction and help save lives. "I can assure you that I'm not sitting on the sidelines," she told the Jowers Lecture audience. "I'm breathing and I'm grieving and I need your help."
Her message resonated with everyone in the room, including Emory nursing Dean Linda McCauley. "We can stand with you and help you with this challenge," she told Rice. "Today is the start."
---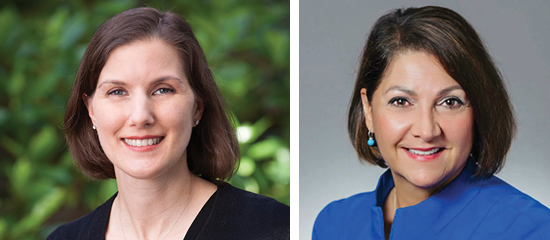 Kelly Wiltse Nicely and Jackie Rowles
Opioid use through different lenses
"Eyes on the Opioid Crisis" extended well beyond the realm of nursing. In addition to Cammie Rice, who spoke about how opioid addiction affected her family, and Jackie Rowles, a leading expert in nurse anesthesia practice and education, the program included panelists well-versed in science, policy, and practice. Among them: Hannah Cooper ScD SM, the first Rollins Chair in Substance Use Disorders at Rollins School of Public Health; Christy Norman Pharm D MS, vice president of pharmacy services at Emory Healthcare; and Sheila Pierce MPA, opioid program coordinator and director of the Prescription Monitoring Drug Program for the Georgia Department of Public Health.
Also, in their remarks, James Curran MD MPH, dean of Rollins School of Public Health, and Claire E. Sterk PhD, president of Emory University, pointed out the parallels between the opioid crisis and the HIV/AIDS epidemic with regard to stigma, drug use, mental health, and the need to address both as societal problems rather than placing blame on the individual.
"It was a great opportunity for cross collaboration," said Kelly Wiltse Nicely PhD CRNA, the organizer behind the 2018 David C. Jowers Lecture. In addition to directing Emory's DNP nurse anesthesia program, Nicely is part of a work group that helped create a center for substance use disorders at Rollins, led by Cooper, and serves on the Emory Healthcare Opioid Stewardship Council, led by Norman.
In the days following "Eyes on the Opioid Crisis," Nicely heard from Emory nursing faculty and students and others about how the program broadened their perspective of an epidemic that affects thousands of individuals and families every day. "We hear about the opioid crisis every day in the news, so much so that people become immune to it," said Nicely. "When you learn something you didn't know, it opens your eyes wider to what the opioid crisis means for all of us."
---
LEARN MORE | View "Eyes on the Opioid Crisis," including the keynote Jowers Lecture by nurse anesthesia clinician and educator Jackie Rowles, at emry.link/opioid-crisis.