Early Intervention
New ethics role designed to ease moral distress for Emory nurses
By Pam Auchmutey, Illustration by Mike Austin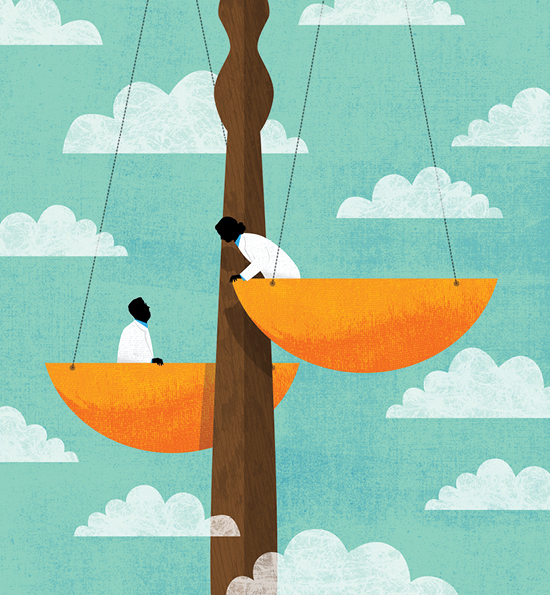 Linda Cross RN has been a surgical ICU nurse in Emory's liver transplant unit for 30 years. She wouldn't have it any other way.
During her shift, she cares for one to two critically ill patients awaiting or following transplant. Some patients in her unit stay for several months or even a year. Nothing makes her happier than to see patients regain their health and go home.
Recently, when one of her patients was about to be discharged, she issued a friendly mandate. "I told him the best thing he could do was to go to rehab and come back and see me wearing blue jeans and a T-shirt," says Cross. "We get to know our patients when they are very sick and lying in a bed. There's a lot of joy in seeing someone get well."
Then there are moments that put Cross's emotions and values to the test, especially when families must decide whether to prolong a loved one's life or end it by withdrawing care.
Emotional and moral distress among nurses is nothing new. It happens when a patient does not have a designated person to make care decisions. Or a family's care decision runs counter to what nurses and other clinicians feel is best for a patient. Or when a family member takes out their frustration and anger on a nurse. All can lead to compassion fatigue and burnout, causing some bedside nurses to leave their jobs.
Not so with Cross, whose experience and resolve have kept burnout at bay. She is helping other nurses do the same as her unit's ethics nurse liaison. The new role was created for Emory Healthcare (EHC) nurses with a desire to alleviate the emotional pressures inherent in their work. Cross is one of 10 nurses across EHC who have taken on the role thus far.
---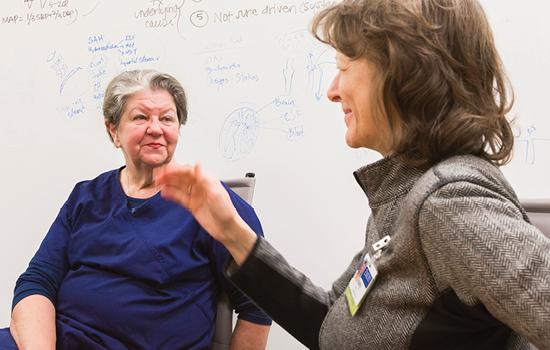 Linda Cross and Kathy Kinlaw routinely hold ethics meetings with nurses on Cross's floor at Emory University Hospital.
---
"Health care has evolved to a place where we can keep very sick people alive for a long time and dramatically improve their quality of life," says Cross. "Nurses experience the trauma, the drama, the sadness, and the happiness that goes with taking care of patients who are critically ill. That comes with complex ethical issues that affect how well we care for our patients."
Moral distress is well documented as a key driver of burnout among nurses and physicians. In its 2017-2018 report, the Blue Ridge Academic Health Group—which includes Emory's Woodruff Health Sciences Center (WHSC)—calls on the nation's academic health centers to address the well-being of health professionals. The report cites a survey of staff in the Emory Critical Care Center that showed high scores for feelings of personal accomplishment, community, fairness, and value among nurses and physicians. However, staff gave low scores pertaining to emotional exhaustion, workload, and control, "consistent with national trends in the field," as the report states.
The survey was among the steps taken by Timothy Buchman MD, chief of critical care service, and Sharon Pappas PhD RN FAAN, chief nursing executive, to address burnout syndrome among EHC staff. Pappas also added new career development tracks, based on feedback from nurses and others, to support nurse retention. The ethics nurse liaison role evolved from the work of Kathy Kinlaw 79C 85T PhD, associate director of the Emory Center for Ethics and a longtime EHC partner. Kinlaw proposed creating the ethics liaison role for nurses, based on what she had observed at other institutions. Such a role, she believed, would further strengthen the ethics infrastructure throughout EHC by empowering nurses to intervene at the first sign of a potential issue.
When Kinlaw presented the idea to EHC nurse and physician leaders, "everyone supported creating a specific role for nurses to grow our collective work in health care ethics," she says.
---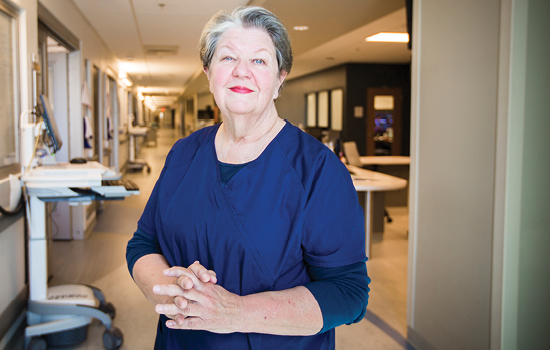 "Every day I touch people's lives in a way that no one outside of nursing gets to do. It's important to me that they think and feel they are cared for as a person regardless of their beliefs, ethnicity, or immigration status. I don't care about that. I care about them as human beings."—Linda Cross
---
Today, the ethics nurse liaison role is part of a career ladder program called PLAN (Professional Lattice Advancement in Nursing), which affords EHC nurses with multiple career opportunities. The 10 nurses now serving as ethics nurse liaisons represent different specialties and hospitals throughout EHC, including ICU, NICU, emergency medicine, oncology, and ambulatory care. All completed 12 hours of classroom training, led by Kinlaw, to be certified for the role.
"The ethics nurse liaison is the link between what's going on in their unit or floor and ethics experts," says Michelle Gray 89MSN RN, the now retired administrator who implemented the nurse ethics champion program last year. "They know who to call in their hospital or clinic and how to identify issues. They can recognize when things aren't going well and intervene early before an ethics consult is needed."
Cross became an ethics champion long before taking on the role officially. She spoke up when problems arose in her unit and attended ethics committee meetings at Emory University Hospital, where the liver and kidney transplant floor is housed. And she talked to and supported other nurses on her unit as they wrestled with the emotional challenges of patient care.
"I want to be a voice for nurses who have these experiences and implement policy changes down the line to create an environment that's more ethically sound for patients," Cross says. "Compassion fatigue and moral distress are key issues right now. We can't afford to lose any more nurses to burnout."
---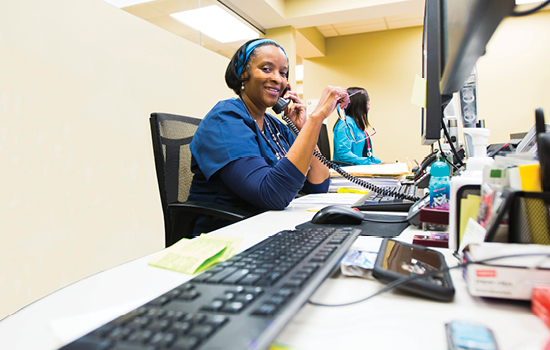 "The ethical burden falls on us to make sure we reach the right person and that test results are communicated accurately." —Kathryn Moore
Ethics in Ambulatory Care
Ambulatory care nurses often run into ethical issues in their work setting. Among them: providing test results to patients in a timely manner by phone. Complications arise when no one answers or the person who answers the phone isn't the patient.
Kathryn Moore MA RN, who works in the clinic for heart and vascular patients at Emory Saint Joseph's Hospital, has tackled the issue in her role as ethics nurse liaison.
"Most ethical dilemmas have to do with palliative care, end-of-life care, and family issues on the hospital side," says Moore. "The challenges for nurses in our clinic revolve around patient confidentiality and language and communication."
Moore is helping address those issues. Now, when a nurse calls a patient with test results, she or he can give the information only to the patient or a designated proxy to ensure confidentiality. If the nurse has to leave a message, only the patient or the proxy can be given the results on call back.
Providing test results becomes more complicated when the patient or the proxy speaks another language. In those instances, the nurse must connect them with a certified medical interpreter via the service called Blue Phone to ensure the information being relayed is medically accurate. For patients who are hearing impaired, the nurse communicates the results via a special phone service, again to ensure medical accuracy.
"The ethical burden falls on us to make sure we reach the right person and that test results are communicated accurately," says Moore.
She currently is working on a plan to have a password entered in a specific area of a patient's electronic medical record that ambulatory and inpatient care providers can access. The change would improve continuity of care by enabling nurses in both settings to verify who can receive patient information. "For example, if we need to leave results and have a patient call back for a referral, we can leave a detailed message with an approved family member who has the password rather than wait several days for a patient to call back," says Moore.
She also encourages all of her patients to include an advanced health care directive in their electronic medical record to make care decisions easier for families and providers in the event of a serious illness or event.
"Our goal is to make it easier for patients transitioning from hospital to ambulatory care," Moore says. "It will ensure that nurses and other clinicians are on the same page to ensure care continuity."