Under the Georgia Dome
Shaping legislation backed by science
By Catherine Morrow, Photography by Stephen Nowland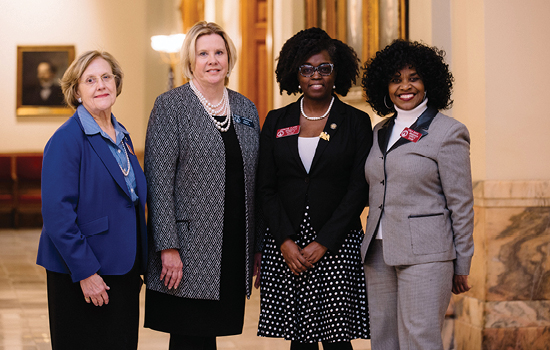 As a School of Nursing instructor for prerequisite courses in microbiology and human anatomy and physiology, Jasmine Clark 13G has her feet firmly planted in science. So when she saw an attack on scientific thought in the federal government, she was inspired to act.
It began with the national March for Science in 2017. Clark directed the march in Atlanta to help persuade political leaders and policy-makers to enact laws based on proven scientific evidence.
"Everyone else is marching, so I thought, 'why don't the scientists march?' And it was hugely successful," says Clark. "I realized that if you step up and speak, somebody might just listen to you."
But marching wasn't enough. She decided to step up again and run to represent District 108 in the Georgia House of Representatives in the 2018 election.
Clark wasn't sure if she would win, especially since she signed up right before the filing deadline and hadn't spent a dime on her campaign. But for her, running for office was more than just about winning.
"I felt that no matter what the outcome of the election was, at least the people in my district had a choice. Until my name was put on the ballot, my opponent ran unopposed," says Clark. "I thought, 'if they don't choose me, that's the democratic process. I will run again.' "
But Clark did win against incumbent Clay Cox. At around 1:30 a.m. on November 7, when the final votes were tallied, her intern and her daughter, both sound asleep on the couch, were the first to know the good news.
In January, when the Georgia General Assembly kicked off its 2019 session, Clark hit the ground running to represent her district, which covers a portion of Gwinnett County. She subsequently was elected to three committees—Higher Education, Interstate Cooperation, and Budget and Fiscal Affairs Oversight—a great accomplishment for a freshman representative. One of her legislative goals is to decriminalize HIV, which her scientific background helps her address.
"If someone throws feces on you, that's a misdemeanor. But if someone with HIV throws feces on you, that's a felony," explains Clark. "It's scientifically proven that you cannot contract HIV from feces. The current HIV legislation is an example of a law based on fear. We have to make laws based on scientific evidence."
Clark also wants to enable nurses to practice to the full extent of their licensure to serve rural communities in "hospital deserts."
"We have excellent nursing schools in Georgia that teach advanced practice, and we should use that more to our advantage," says Clark. "People in rural communities would probably rather have an advanced practice nurse provide care rather than drive an hour to the closest doctor.
"It's 2019—nurses should be able to care for patients through telemedicine, without having a doctor physically stand over them," she continues. "I've seen the education that goes on here at Emory. Our nursing graduates are prepared to practice as sole providers, especially in underserved communities where they are so needed."
Clark is vocal about other issues, such as advocating that Georgia's K12 students receive age-appropriate sexual health classes.
"I want to make sure that sex education courses in Georgia schools remain objective, not subjective. The topic concerns me because I have a daughter," she says. "It's not the state's job to teach morality. That's a conversation parents should have with their children. Sex education should be taught as a science course, not a morality course."
By the time the legislative session ended in April, Clark had learned that a scientific point of view was a much-needed asset in committee rooms and chambers of the Capitol.
"Whether evaluating conclusions based on data, providing scientific understanding of cited journal articles, or using my education to scrutinize and evaluate claims, I have come to realize that I am here for a reason."
---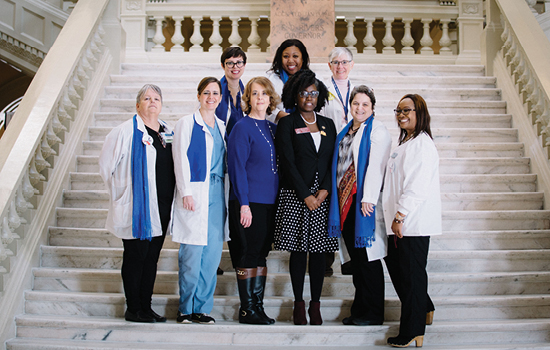 School of Nursing (SON) faculty and Emory Healthcare (EHC) nurses joined colleagues from other hospitals and universities for Georgia Nurses Association (GNA) Day at the Georgia State Capitol in January. Back row: Ashley Blackmon, Michelle Nelson 18N, and Carol Hayes 84N 88MSN 88MPH. Front row: Barbara Hill (EHC); Molly Bachtel 99MSN (SON), Suzanne Staebler (SON), Jasmine Clark 13PhD (SON), Desirée Clement (SON); and Iris Hamilton (GNA).
School of Nursing instructor Jasmine Clark (front row, third from right) began her term in January as a state representative with the Georgia legislature. Here she poses with School of Nursing (SON) faculty, Emory Healthcare (EHC) nurses, and others at the State Capitol on Georgia Nurses Association (GNA) Day, when nurses speak with legislators about key issues related to nursing practice and patient care. GNA's 2019 priorities included (1) creating tax incentives for advanced practice nurses, physician assistants, and physicians who provide uncompensated preceptorship training and (2) providing state funding for GNA's Peer Assistance Program, which aids nurses affected by substance abuse. The legislature approved both measures.