Examining the "omics" of chronic disease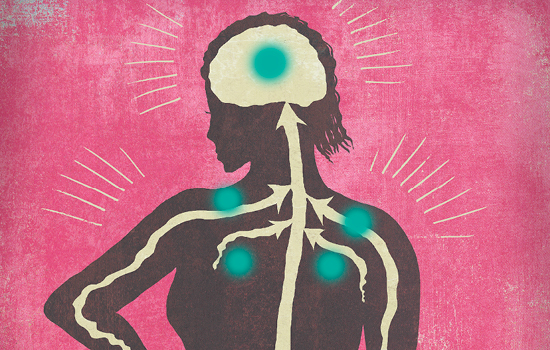 In the United States, African American men and women are known to have the highest risk of living with multiple chronic conditions (MCCs). A new research center at the School of Nursing aims to improve clinical treatment approaches for this population by examining the metabolic pathways of symptoms that accompany MCCs.
Specifically, the center is taking an in-depth look at fatigue, depression, and anxiety—symptoms that often accompany diabetes, HIV/AIDS, depression, and hypertension. The center's work stems from past studies which show that African Americans are more susceptible to living with MCCs related to stress, diet, and limited access to health care.
"Until you understand the underlying mechanisms by which multiple chronic conditions associate with worsening symptom development, it's difficult to develop care that is specific to relieving symptoms in individual patients," says Emory nursing researcher Elizabeth Corwin PhD RN FAAN. "Attaining this kind of precision care is a hallmark motivator of nurse-led research."
Corwin directs the Center for the Study of Symptom Science, Metabolomics, and Multiple Chronic Conditions, funded by a five-year $2.5 million grant from NIH. The center has two pilot projects under way. One study is examining the metabolic pathways to fatigue, depression, or anxiety in black family caregivers with obesity and hypertension. The other study is looking at the same symptoms in black adults with HIV and hypertension.