Check out InEmory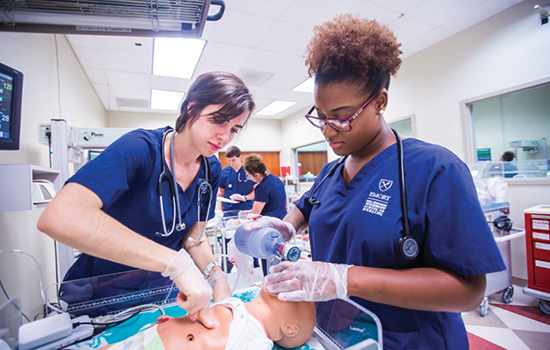 The School of Nursing and Emory Healthcare (EHC) have launched InEmory, a 15-month accelerated BSN program for second-degree students. The first 34 students enrolled in January. As they move through the curriculum, they will be immersed in clinical rotations across the EHC system. Students receive up to $10,000 in scholarships and will be hired by EHC following graduation and successful completion of licensure exams.
InEmory was created to help fill a critical shortage of medical surgical nurses in EHC hospitals. "The program will have a transformational impact on clinical learning for students while growing the nursing workforce at Emory Healthcare with the best and brightest graduates," says Sharon Pappas PhD RN FAAN, chief nurse executive for EHC. "We are committed to giving students an unparalleled learning experience that combines hands-on patient care with evidence-based practice and research in our Magnet-designated hospitals."
Three of the 11 EHC hospitals hold Magnet designation for nursing excellence: Emory Saint Joseph's Hospital (designated for the sixth time in April), Emory University Hospital (designated a second time in 2018) and Emory University Orthopaedics & Spine Hospital (first designated in 2016).
Learn more about InEmory at emry.link/InEmory.