Creating Healthy Neighborhoods
Alumni work together to restore Atlanta communities
By Catherine Morrow, Illustration by Jing Jing Tsong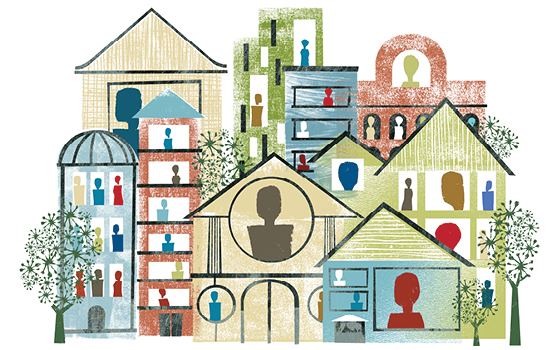 Life can lead us down a path to serve others. Breanna Lathrop 08MSN 08MPH found her calling as a community health advocate in high school, where she volunteered at a free clinic.
| | |
| --- | --- |
| | |
| | Breanna Lathrop 08MSN 08MPH |
"I saw the difference volunteer providers were able to make when health care services became accessible to people who otherwise couldn't afford it," says Lathrop. "So, I decided that's where I wanted to go with my career."
For Veronica Squires 06C, her interest in vulnerable populations surfaced at Emory College, where she studied religion and met her husband, Eric Squires 06B, through a Christian student organization.
"After graduating, we decided to move to a low-income community in Southwest Atlanta in order to be part of community redevelopment and try to reverse some major trends in health disparities," says Squires. "We tried to bring ideas, resources, and leadership experience back into a community that had been drained of resources over decades and generations."
| | |
| --- | --- |
| | |
| | Veronica Squires 06C |
Squires and Lathrop now work at Good Samaritan Health Center in Atlanta, which provides a full circle of health services to low-income populations. Lathrop is chief operating officer, medical director, and a family nurse practitioner, while Squires is the chief administrative officer. In the following Q&A, they talk about their book, How Neighborhoods Make Us Sick: Restoring Health and Wellness to Our Communities (IVP Books, 2019).
How did the idea to write a book together evolve?
VS: My husband and I were able to start some pretty neat programs and saw some positive things happening in our Southwest Atlanta community, but the situations with our neighbors were not changing. The community was not improving in a lasting way, and beyond that we ourselves became physically sick (depression, panic attacks, heart palpitations, and psoriasis as a result of chronic stress) from the impact of the environment. When we moved out nine years later, we were discouraged, sick, and mentally beat down. It was around that time I got to know Breanna and we became friends. We asked each other the questions that had been percolating in our minds. My question was, "Is community development really the answer to fixing these problems?" Her question was, "Is health care alone the answer to fixing some of these issues?" These conversations ultimately led to our book.
BL: Our book started out of our failures and our own learning journeys. I left Emory well prepared to be a nurse practitioner, and I was excited and went into the clinic doing good work. I was meeting patients' needs and prescribing medications, but for the first time I started to understand how much more complex health was.
I talk in the book about this idea—something as simple as prescribing an asthma inhaler and then sending a patient back to the same apartment that's full of mold. We then wonder why we aren't seeing the patient improve. You can take any condition and say the same thing. I had spent a lot of time preparing for my career, and I love what I do, but the neighborhood wasn't getting healthier and so I asked myself, "What am I missing?"
As I continued on in my career and went on to do my DNP, those were the kinds of questions that fueled the book. That's when I came into a better understanding of social determinants of health and being aware of them as a clinical provider.
How do communities make people sick?
BL: We've learned from experience that social determinants of health (the conditions in which we are born, live, grow, and work) operate on a gradient, meaning that each step up that ladder of financial security, social support, more control in the workplace over your day-to-day existence, worrying less from paycheck to paycheck, equates to better health. We are seeing a direct correlation between the stress that comes with people's living environments and health problems such as diabetes and preterm delivery.
What does that look like? The zip code area of Southwest Atlanta has a life expectancy 13 years less than the zip code area for Buckhead (where residents have a much higher level of income). This data comes from the Robert Wood Johnson Foundation, and when we drilled down to the census tract (neighborhood) level, the disparity was closer to 25 years. Both areas are in a large metropolitan community with the same number of hospitals. We are Atlanta, we are a hub of health care. Clearly, these outcomes aren't driven by health care in and of itself. They are driven by social conditions.
What is the main message in your book?
VS: My family demonstrates the power of social determinants that impact our health. Not only were my husband and I a dual-income family, we had a strong safety net, financial resources, and access to health care and health insurance. And yet, even with all those privileges, we still felt the impact of the condition of the neighborhood. So then how can we expect people without any of those things plus mountainous other barriers on top to pull themselves up by their bootstraps and just "do better?" There are no bootstraps to pull up. I think that's really the message of the book.
How can people help?
BL: Our second-to-last chapter is dedicated to a list of ideas about what individuals can do. Things like finding an organization within your community that's doing really good work, that has really listened to their community and needs support. So maybe it's becoming a monthly donor or showing up and volunteering.
VS: We invite people to visit our website (letsmakehealthy neighborhoods.com), not only to gather resources from it, but also to share their volunteer work so we can learn from what other people have done. We want to create a space where that information can be learned and encouraged. We would love to further the conversation on social determinants of health.