Class Notes
1980s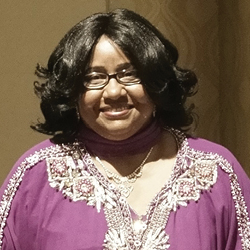 Dr. Mary Gullatte 81MSN received the Nursing Trailblazer Award during the Atlanta Black Nurses Association's 40th anniversary celebration in October 2018. She also received a second-place honor for her book, 21st Century Nursing Leadership (Oncology Nursing Society, 2018). The book was selected by the American Journal of Nursing for its 2018 Book of the Year Awards.
Dr. Corrine Abraham 84N co-wrote an article, "A Qualitative Evaluation of Caregiver Support Services Offered at the Atlanta Veterans Affairs Health Care System." It was published in the CDC's open access journal, Preventing Chronic Disease (February 28, 2019).
Drs. Kate Yeager 84N 12PhD and Sarah Belcher received a research development award from Emory's Center for Nursing Excellence in Palliative Care. The award supports their pilot study on the relationship between economic hardship and quality of life for oncology outpatients receiving palliative care. Yeager serves on the faculty at Emory's nursing school, where Belcher is a postdoctoral fellow.
---
1990s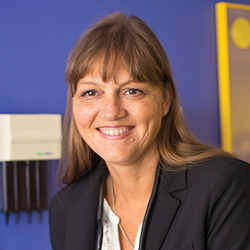 Dr. Hope Bussenius 93MSN will be inducted as a fellow of the American Association of Nurse Practitioners (AANP) in June. Once inducted, she will be one of 10 Emory nursing faculty who are AANP fellows. Bussenius also received the 2018 BAYADA Award for Innovation in Clinical Practice. The award recognizes her development of Pedia BP, a smartphone app to quickly assess blood pressure in children.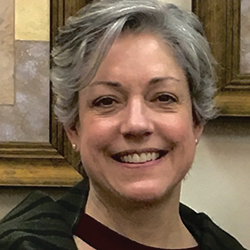 Family nurse practitioner Dr. Erin E. Sullivan 96MSN completed her DNP in 2009 at Augusta University, concentrating on management of type 2 diabetes in the uninsured population. For the past 16 years, she has worked at the Athens Nurses Clinic for the Uninsured with Janna Cleveland 74N 91MSN 91MPH, who heads their hep C clinic. "Emory grads are the best!" Erin writes.
---
2000s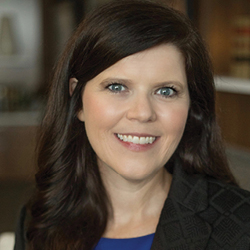 Kathleen M. Kearney 06MSN eloquently makes the case for being a dual-career professional. After earning her BSN from Boston College in 2000, she began her career as a pediatric nurse in Dallas. A few years later, she returned to Boston to attend Suffolk University Law School while working as a pediatric nurse. During law school, she realized that an advanced practice degree would better prepare her to teach nursing and advocate for children. Thus she enrolled in Emory's Pediatric Nurse Practitioner-Primary Care program.
After receiving her MSN, she returned to Dallas to work as an attorney, representing adults and children severely injured in automobile and other accidents. For 12 years, she practiced with various law firms in Dallas-Fort Worth before founding Kearney Law Firm in 2018.
She also serves part time on the nursing faculty at Texas Tech University, where she teaches Nursing Jurisprudence & Ethical Challenges in Clinical Practice, a core course in the online RN to BSN program, and Health Intervention Design, aimed at improving the health of patients with chronic disease.
How does she juggle her dual workload? "I usually work six days a week (and I do not have children), but it's definitely not physically challenging like being a clinical nurse, so I have no complaints. Plus, Texas Tech's School of Nursing allows me to telecommute, and most of my teaching is online," she writes.
"With my education, knowledge, and experience as a nurse, I am better equipped to help my injured clients navigate the legal and health care systems. Being a nurse also gives me credibility when I am discussing (or arguing about) health care-related issues with insurance adjusters, other lawyers, judges, and juries.
"As a nursing professor, my law practice provides endless real-world lessons to share with my students," she adds. "Nurse attorneys are dual professionals and make the most effective teachers of nursing jurisprudence (in my humble and biased opinion)."
---
2010s
Dr. Chelsea Hagopian 12N 14MSN 18DNP published an article, "Ethical Challenges with Nonsurgical Medical Aesthetic Devices," in Plastic Surgery Nursing (January/March 2019). The article resulted from her work in Emory's DNP program.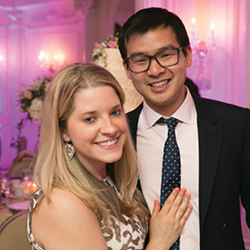 Married: Lauren Heeke 09OX 12N and Kevin Szu-Tu 09OX 11B on Sept. 29, 2018. After graduating, Lauren worked for Emory Healthcare for five years and completed her MSN at Georgia State. Last year, she joined Kevin in New York City and worked at Vizient as a clinical operations manager. She enjoys exploring Central Park with their dog, Randy Travis.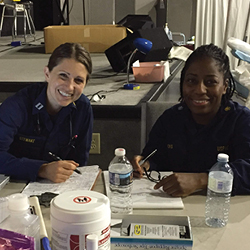 Rebekah Stewart 14MSN 14MPH (left) is a nurse epidemiologist in the Division of TB Elimination at the CDC and a lieutenant with the U.S. Public Health Service. Last September, Stewart was deployed to Charlotte, N.C., during Hurricane Florence. For two weeks, she and other members of the federal government's Rapid Deployment Force worked at a church that had agreed to house hurricane evacuees with medical needs. The team of nurses, physical therapists, physician assistants, psychologists, and physicians provided care for people affected by stroke, amputation, tracheotomy, dialysis, wounds, cystitis, and more. The status of these individuals improved because of the level of care they received, Stewart reports.
Once evacuees were given the OK to leave, the Rapid Reponse Team helped them transition back to their homes, to the care of family members, or to assisted living. "I got very attached to some of the patients," says Stewart. "It was an enriching professional time for me. I was part of an excellent team, which made the hard, stressful work enjoyable and helped me through being away from my home and family."