2018 Alumni Awards
Nurses' Alumni Association honors three nursing leaders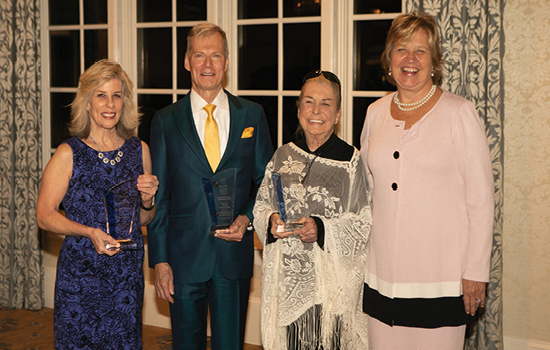 Distinguished Nursing Achievement Awards
Mona Counts 70MSN PhD CRNP FNAP FAANP was the Elouise Ross Professor Emerita at Penn State University College of Nursing, where she taught for 16 years. Prior to joining Penn State, she used her own money to establish the nurse-run Primary Care Center (PCC) in rural southwestern Pennsylvania. PCC became a model of care replicated by nurse practitioners across the country. In 2009, Counts established a mobile clinic to extend PCC services to area residents. From 2006 to 2008, she led the American Association of Nurse Practitioners as president. Editor's note: Counts died at her home in Pennsylvania on April 4, 2019.
Timothy Porter-O'Grady EdD PhD RN FAAN is an Atlanta-based international health consultant who has served on Emory's adjunct nursing faculty for 35 years. He has held professorships at Arizona State and Ohio State universities and consulted for more than 600 health systems worldwide, sharing his expertise in clinical health systems, professional governance, and health systems innovation. Porter-O'Grady serves as board chair of the American Nurses Foundation and as a board member of Saint Joseph's Mercy Care of Atlanta, which he helped establish 30 years ago.
---
Excellence in Nursing Award
Theresa Gillespie 98PhD 81N has held key leadership roles at Winship Cancer Institute for the past two decades. A professor of surgery and hematology/medical oncology, Gillespie teaches in Emory's schools of medicine, nursing, and public health. She also directs health services research at the Atlanta VA Medical Center, where she has built a regional center of research excellence. In 2009, Winship was designated a cancer center by the National Cancer Institute. Gillespie played a key role in this achievement as Winship's deputy director for administration.