Fulbright Scholar aims to strengthen disability laws in Sri Lanka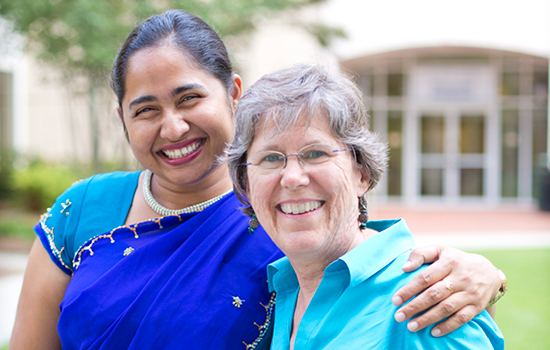 In Sri Lanka today, 10 percent of the nation's 20 million people are disabled. But few have access to the services they need to thrive. Their plight moved Sri Lankan lawyer Kalani Medagoda to become a Fulbright visiting research scholar at the School of Nursing, where she is studying global health and U.S. health and social services for adults and children with disabilities. Her faculty mentor is Jennifer Foster PhD MPH CNM FACNM, a recent Fulbright Scholar at the University of Chile's School of Midwifery.
When Medagoda returns to Sri Lanka next spring, she will use her newfound knowledge to help draft laws to create systems of care for disabled people, including the elderly. She wants to change the current model of charity care to one based on medical and social services.
Medagoda has worked for the Legal Aid Commission, written newspaper articles, and appeared regularly on TV as a public service for Sri Lankans. In the process, she came to appreciate the daily challenges that vulnerable people face, including those with disabilities.
She is now an assistant legal draftsman with the Sri Lankan government. In this role, she prepares documents that form the basis of laws set by parliament. It is her way of serving the people of her country in return for her university education, which is free to all citizens.
 "Emory is a good place for me, especially the nursing school," Medagoda says. "The faculty and students have a passion for life and human dignity. I want to change the country where I live and empower people with disabilities."—Pam Auchmutey