Cultivating Compassion
Ebola survivor Nancy Writebol addresses nursing students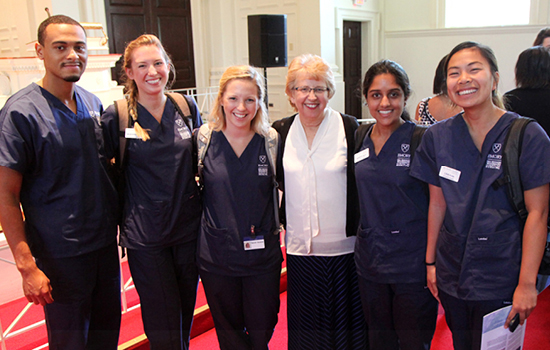 When news came that the first Ebola patients were on their way to ELWA Hospital in Monrovia, Liberia, Nancy Writebol felt a surge of adrenaline.
It was the summer of 2014, and concern about the gathering epidemic had been building throughout West Africa for months. Now the disease was set to arrive on their doorstep, since ELWA was one of only two Liberian hospitals that could offer a makeshift isolation unit.
Early detection and limited supportive care were all they could provide, Writebol told Emory nursing students during fall convocation at the start of the new academic year. As a clinical nurse associate, Writebol helped protect and decontaminate aid workers who were directly treating Ebola patients. 
Writebol considered her job in the "low-risk zone." And yet by late summer, she was exhibiting flu-like symptoms herself. She tested positive first for malaria, then later, for the Ebola virus.
By the time she was taken to a local airfield for transport to Atlanta to be treated at Emory University Hospital, Writebol was too weak to walk up the steps of the plane. As she lay on a stretcher on a baggage ramp, a nurse placed gloved hands on both sides of her face and said, "Nancy, we're going to take you home and we're going to take really good care of you."
That is the face of a nurse, Writebol told the convocation audience. And just as Writebol found comfort in her care, she charged nursing students to offer the face of compassion to their own patients. 
"I challenge you to be the best of the best," she said. "Stand and don't be afraid. Wear the uniform with pride and serve the people who come through the door."
"You are entering one of the finest universities in the world," she continued. "Keep learning, but at the end of the day, remember, show compassion."
Today, Writebol and her husband, David, continue to work as missionaries in Liberia. If anything, surviving Ebola has given her the wisdom of firsthand experience, which now informs her caregiving.
"In serving Ebola survivors, we are often reminded of the compassion and kindness shown to us at Emory," she says. "Our work in trauma healing is one area we can show compassion and kindness to a country that has lost thousands to Ebola."
In partnership with the nonprofit Samaritan's Purse, ELWA will soon dedicate a new hospital to serve the people of Liberia. The hospital will include an isolation unit—"one that looks as if it would come from a first-world country," Writebol notes proudly.—Kimber Williams
---