Class News
1970s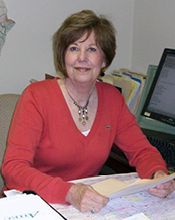 Pam Reynolds 72MN
Pam Reynolds 72MN retired as CEO of the Southwest Georgia Area Health Education Center (AHEC) in Albany, Ga. During her 25 years with AHEC, Reynolds linked area students to careers in health and health professionals to job opportunities in her region. Under her leadership, AHEC established a "Health Careers" manual for area students and brought Georgia medical students to the region for clinical rotations. She also provided age-appropriate materials on health careers for students in elementary school and created Pathway to Med School, a program to increase the number of area students accepted into medical school. AHEC also helps out-of-work nurses renew their licenses so they can become breadwinners again.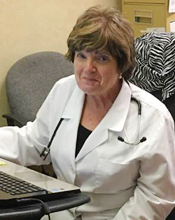 Margaret (Missy) Logan 76MN
Margaret (Missy) Logan 76MN retired on Aug. 12, 2016, after a 42-year career in nursing. Her daughter, Carolyn Furdek, writes: "From working with veterans and their nurses (which inspired her 29-year career as an Army nurse and weekend warrior) to teaching future nurses, to holding up to three jobs at a time to make ends meet, to oncology, to holding the hands and caring for families and patients in hospice, and finally to family practice, you have touched so many lives.... You have left a lasting impact and legacy in your field and on everyone who has ever crossed your path."
1990s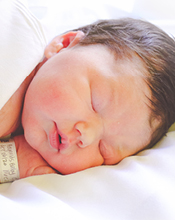 Evelyn Seavey Reynolds, born to Susie Reynolds 06N
Laura Searcy 91MN is president of the National Association of Pediatric Nurse Practitioners for 2016–2017.  As president, she is focusing on leadership, mentorship, and collaboration, both within her profession and interprofessionally. Searcy has a lot of experience to guide her, with more than 25 years in clinical practice, health policy and advocacy, child and adolescent injury prevention, substance abuse prevention, and government affairs. She co-founded the Georgia Coalition of Advanced Practice Registered Nurses, for which she serves as health policy director. She  practices at WellStar Kennestone Regional Medical Center, where she cares for newborns. 
2000s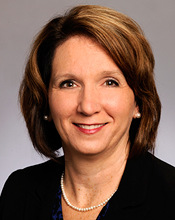 Deena Gilland 07MN
Sharon Jackson White 02MN is a PhD nursing candidate at Georgia State University (GSU). Her research was published in the Journal of Hospice and Palliative Nursing in February 2016. In March, she received the Nursing Student Research Award at GSU's Byrdine F. Lewis School of Nursing and Health Professions' Honors Day ceremony. This fall, she presented her research at the International Hospice and Palliative Care conference in Toronto.
BORN: To Susie Reynolds 06N and her husband, David, their second child, Evelyn Seavey Reynolds, on June 20, 2016. Grandma Cheryl Seavey Murphy 77N reports, "Mom and baby are doing great and grandma is delighted! Nursing staff at Piedmont included Emory grads, and everyone did a great job taking care of Susie and baby."
Deena Gilland 07MN was appointed by the American Medical Group Association (AMGA) as a member of its Public Policy Committee. Gilland is an adjunct faculty member at the School of Nursing and currently serves as VP of patient services and CNO of Emory Healthcare's ambulatory patient services. She also serves on the AMGA Chief Nursing Officer Council and the boards of the Emory Alumni and the Emory Nurses' Alumni associations. 
---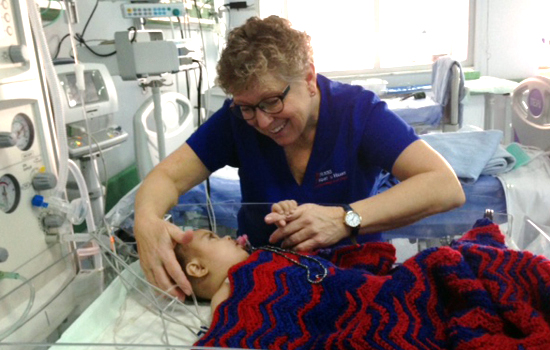 Anita Rich 81N has traveled under the cover of darkness in Iraq, most recently in January 2016, when she accompanied a team of doctors with the group For Hearts and Souls to evaluate and treat children with congenital heart defects. After their plane landed in the middle of the night, the group drove several hours to a hospital in Dohuk, Iraq. The waiting room was filled with anxious parents—Suni and Shia Muslims and Syrian and Yazidi refugees—and their children. 
"During the next six days, we screened hundreds of children for congenital heart defects and completed many procedures in the cardiac cath lab," says Rich in the July 2016 issue of CountyLine Magazine. For those children who could not be helped or who had to travel to Israel for surgery, all Rich could do was abide with them. 
"You don't need a translator to put out your arms to hold a child and smile at their distraught parent," Rich says in the article. "You begin to see their expressions relax, and they see that you care."
The readership for CountyLine Magazine includes Emory Johns Creek Hospital, where Rich works as the heart failure coordinator. Read the full article at emry.link/anita-rich.