Nursing's PhD Sleuth at CDC
At the Epidemic Intelligence Service (EIS) annual conference in Atlanta this past spring, Nancy McClung 15PhD BSN BA RN was front and center as she briefed the media about a CDC study that showed a marked decrease in the cancer-causing human papillomavirus (HPV) among females in the United States.
By Pam Auchmutey, Illustration by Mike Austin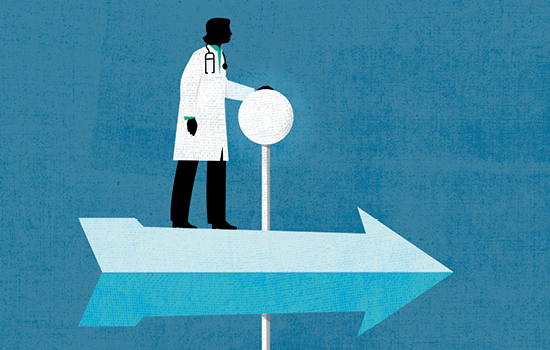 In the study, McClung and her CDC colleagues found that HPV prevalence had decreased by 86 percent among teens ages 14 to 19 and 71 percent among young women ages 20 to 24 since the HPV vaccine was introduced in 2006. The researchers had analyzed data from the National Health and Nutrition Examination Survey to determine HPV prevalence among non-Hispanic white, non-Hispanic black, and Mexican-American females from 2003 to 2016.
"These findings show how well the vaccine is working to prevent HPV infection and the potential of HPV vaccination to reduce cervical cancers and other cancers caused by HPV in the future," McClung, then an EIS officer in the CDC's National Center for Immunization and Respiratory Diseases (NCIRD), told reporters.
Although McClung's EIS fellowship has since ended, she continues to track and study HPV as an epidemiologist on the same team in NCIRD's Division of Viral Diseases.
It's a role for which she is well prepared, given her training as an EIS officer at the CDC and her research education in the doctoral program at Emory's School of Nursing. In 2012, McClung was among the first PhD students to benefit from a $1.5 million training grant awarded by the National Institutes of Health to train nurse scientists in chronic disease.
She previously had worked as a pediatric cardiac nurse at Children's Healthcare of Atlanta and as a cardiac nurse at Emory Healthcare, all the while knowing she wanted to focus more on improving the health of large patient populations. Thus her interest led her to Emory's RN to PhD program.
"I loved being a bedside nurse and caring for patients and families at a critical time in their lives," she says. "But long term, I wanted to take a step back and focus on answering questions to solve larger problems."
She learned every step of the research process: how to ask questions, write grants, conduct studies, analyze data, and disseminate findings to different audiences. For her dissertation, she studied a familiar aspect of chronic disease—the long-term outcomes of adults who had heart disease as children.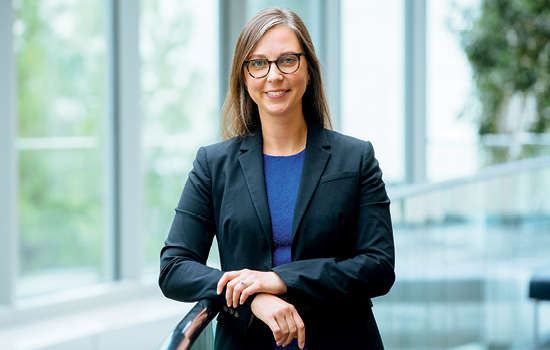 "My Emory education was incredible," says McClung. "Sandra Dunbar [PhD RN FAAN FAHA FPCNA] and Carolyn Reilly [PhD RN CHFN-K CNE FAHA] were exceptional mentors. They helped me grow professionally and as a scientist. Those skills are foundational to my work in public health."
After completing her PhD degree, McClung applied to the EIS program, joining the HPV team, where epidemiologist Julia Gargano PhD and medical epidemiologist Lauri Markowitz MD became mentors.
"The primary skills you get out of the EIS program are understanding epidemiological methods and analytics and working with a cross-section of experts in science, medicine, nursing, and veterinary medicine," says McClung. "Under Gargano's and Markowitz's guidance, I've become a content expert in HPV."
This year, she has served as media spokesperson for two HPV studies, including one for which she co-wrote an article for Cancer Epidemiology, Biomarkers & Prevention in February.
The journal article reported that HPV types 16 and 18—the two virus strains targeted by HPV vaccination—had declined over seven years, resulting in fewer cases of cervical disease. That's welcome news, given that HPV 16 and 18 cause about 70 percent of all cervical cancers worldwide.
For her study, part of the CDC's Human Papillomavirus Impact Monitoring Project, McClung and her colleagues analyzed more than 10,000 biological samples from women ages 18 to 39. The women had been diagnosed with two different precancerous conditions of the cervix. Their samples were collected between 2008 and 2014, during which HPV vaccination coverage increased.
Researchers found that every age group with a precancerous condition called CIN2+ had significant declines in the proportion of cases that were HPV type 16 or 18 positive, except for women ages 35 to 39. These women, McClung explains, likely did not receive the HPV vaccine when it became available because they were older than the recommended ages for vaccination (currently two doses before age 15 and three doses from ages 15 to 26).
Study evidence clearly shows that the HPV vaccine is preventing cervical disease in young women in the United States. Says McClung, "In the coming years, we should see even greater impact as more women are vaccinated during early adolescence and before exposure to HPV."