In a class of their own
The Robert Wood Johnson Foundation's Future of Nursing Scholars
By Lane Holman, Illustration by Harry Campbell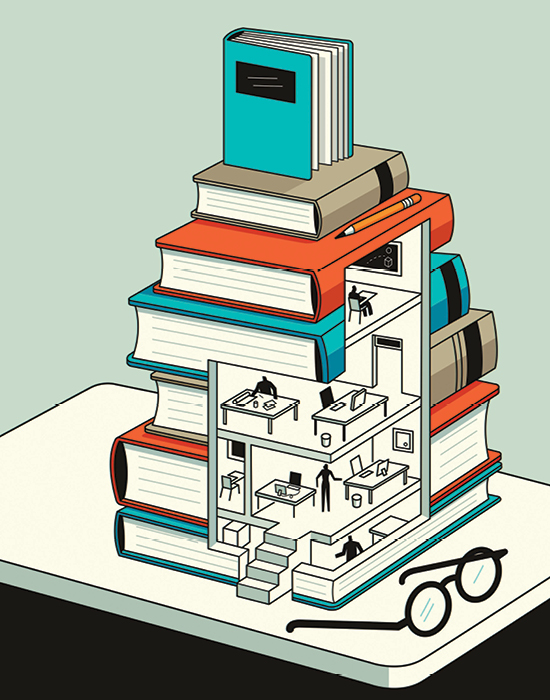 In 2015, the School of Nursing was one of 25 nursing schools nationwide to receive a Robert Wood Johnson Foundation (RWJF) grant to increase the number of nurses holding PhDs. The RWJF's Future of Nursing Scholars program offers financial support, mentoring, and leadership development to qualifying students who commit to earn their PhDs in three years.
The Future of Nursing Scholars program came out of a need articulated in the Institute of Medicine's (now the National Academy of Medicine) 2010 report, The Future of Nursing: Leading Change, Advancing Health, as part of a blueprint for nursing's future. Because the average age for nurses getting their PhDs is 47, the RWJF program offers an incentive for students to start earlier and finish more quickly, so that graduates will have longer leadership careers upon earning their PhDs.
Currently, the School of Nursing boasts five Future of Nursing Scholars in its ranks, with another three from its first cohort year having graduated recently. Through their research, they have the potential not only to change the health care system but also contribute substantially to nursing science.
| | |
| --- | --- |
| | Amy Greenblatt |
| | |
Amy Greenblatt MPH 16BSN RN
As an MPH student at Emory's Rollins School of Public Health, Amy Greenblatt was galvanized at the idea of nurses doing mental health research. Meeting former Emory nursing faculty member Professor Melissa Pinto, who was conducting mental health research among young adults, influenced Greenblatt considerably. She saw how a nursing background offered a unique perspective on mental health research. "The holistic approach nurses take—considering an individual's social, emotional, and physical health—made a lot of sense in understanding and treating people with mental illness."
Greenblatt applied to the Accelerated BSN program with the intention of completing her PhD in nursing and becoming a nurse researcher. Her goal is to help people with mental illness at the population level through her work. Greenblatt's thesis, "Disruptive Mood Dysregulation Disorder in Adolescents," focuses on a little-studied disorder.
Although the three-year timeline for completing her PhD has its challenges, she says that it "turned out to be a blessing because it forced me to be very focused and intentional with my time and effort," she says. "I have excellent advisers who helped me develop my dissertation ideas early on." She adds that RWJF is "very well respected, and I've met some great nurse leaders as part of the program and have benefitted greatly from their advice. I believe these opportunities and experiences will make me a well-rounded researcher and leader."
| | |
| --- | --- |
| | Carolina Gustafson |
| | |
Carolina Gustafson MSN ACNP-BC
As an undergraduate, Carolina Gustafson realized she was interested in health care. A job as a camp health care coordinator along with the influence of a family friend who happened to be a nurse with a PhD pointed her in the direction of nursing, and she completed her senior thesis on nursing's historical gender-based stigmas with an emphasis on the nursing-led hospice and palliative care movements in America.
Gustafson thus became enamored with nursing as a discipline and entered an accelerated MSN program. "As my time in my MSN program came to an end, I decided I could better use my skills and knowledge helping develop new knowledge and educate future generations of nurses, which is why I decided to pursue a PhD in nursing," she says. "I take a lot of pride in one day being a PhD prepared nurse, and helping change perceptions of who nurses are and what they can do that are often based on stereotypes."
Her current research focuses on palliative care in solid organ transplant. Solid organ transplant patients have a high symptom burden and can benefit from symptom management using palliative care, both pre- and post-transplant. Gustafson appreciates that the RWJF program works to increase the number of PhD-prepared nurses. "They are helping build and reinforce a strong culture of research in nursing," she says, "It's paramount that nursing develop a clear identity for itself and that research be something appreciated and recognized."
| | |
| --- | --- |
| | Jasmine Nakayama |
| | |
Jasmine Nakayama BSN RN CEN
"I knew I would be learning from the best in the field," says Jasmine Nakayama when asked why she chose the School of Nursing's PhD program. "I came to Emory for its renowned reputation, brilliant faculty, and abundant resources."
After working as an RN on a neurosciences floor and in an emergency department and then as a nurse care coordinator at a nonprofit clinic, Nakayama wanted to get more training and expand her career opportunities. As an RWJF Scholar, she is doing that and more with her research looking at the cascade of care needed for chronic hepatitis C among baby boomers. She recently completed her second-year coursework and is now focusing on her dissertation research and writing.
Gaea Daniel MSN RN is researching health determinants and the microbiome in patients with cancer.
Daniel Smith 18BSN BA RN studies research centers on health disparities impacting vulnerable populations.
Recent graduates
Mary Virginia "Ginny" Carter 19PhD BSN RN focused on gender-based violence and kangaroo care in Amhara, Ethiopia. She now serves as a research scientist at UNC Chapel Hill's School of Medicine.
Udia-Oghenetega Enaodo Otuguor 18PhD MBA BSc RN looked at stresses experienced by family caregivers of heart failure patients, particularly how the burden of care affects their sleep health. She is now a clinical instructor at Emory School of Nursing.
Alan Jones PhD19 MSN BSN RN-BC examined the influence of gender, weight, and age on obstructive sleep apnea progression in REM and NREM sleep. He recently joined Georgia State University as a clinical assistant professor.
---
About RWJF's Future of Nursing Scholars program
• 46 nursing schools across the country have RWJF Future of Nursing scholars
• 200+ scholars will ultimately finish their PhDs through the program
• Research areas are wide-ranging; some examples include:
- Infection control in the elderly
- The impact of workplace bullying on new graduate nurses
- How gaps in postpartum care influence mood disorders