Faculty Spotlight
Assistant Professor Glenna Brewster PhD RN FNP-BC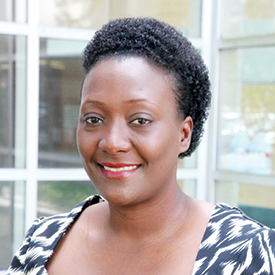 Assistant Professor Glenna Brewster joined the School of Nursing in August 2017. She completed a postdoctoral research fellowship at the Center for Sleep and Circadian Neurobiology at the Perelman School of Medicine at the University of Pennsylvania. At the University of South Florida, Brewster earned her doctoral degree in nursing science, a master of science in family health nursing, and a master of arts in gerontology. In recognition of Brewster's commitment to research on aging and leadership, she received the National Hartford Center of Gerontological Nursing Excellence 2013-2015 Patricia G. Archbold Scholar award.
---
Tell us about a research project you're working on...
All three of my current projects include caregivers of persons living with dementia, the one population I ultimately want to have a real impact on. For one study, I'm examining sleep characteristics of caregivers. For another, I'm providing an intervention to both the person living with dementia and his or her caregiver, with the goal of determining whether it impacts their sleep quality and behaviors.
---
What is one thing you hope your work will ultimately offer?
That caregivers of persons living with dementia around the world will have access to tailored resources to improve their lives and the lives of those they care for.
---
If you could go back in time and offer yourself some advice early in your career, what would you say?
Develop the art and enjoyment of writing. Learn how to publish and disseminate your research early in your career. Enjoy the process—the victories and the lessons; it is your job to ensure that you are successful.
---
What do you enjoy most about being at Emory Nursing?
My research team and work colleagues have become my extended family.