Point of View
Redefining Emory Nursing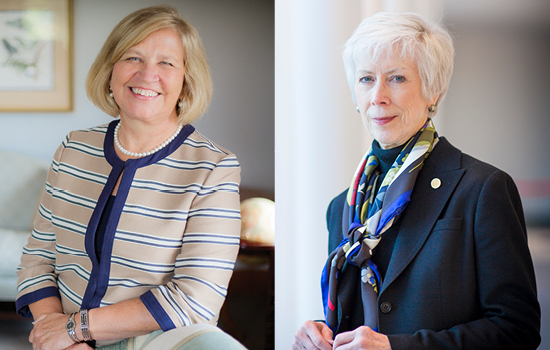 By Linda McCauley, 79MN PhD RN FAAN FAAOHN, Dean of the Nell Hodgson Woodruff School of Nursing (left), and Sharon Pappas, PhD RN NEA-BC FAAN Chief Nurse Executive for Emory Healthcare
---
Nurses account for 60 to 80 percent of the total health system workforce worldwide and provide 90 percent of health care services. With increasing demand for health services from a growing and aging population, nurses are positioned to play a critical role in developing higher-functioning, more patient-centered health systems. Greater alignment in health care delivery, education, and research will help nurses capitalize on these emerging opportunities and maximize their essential role as catalysts for transforming care and improving health. The School of Nursing and Emory Healthcare (EHC) have partnered more closely to make this shared vision a reality.
Three years ago, the eyes of the world focused on Emory when a highly trained team of nurses and physicians successfully treated the first Ebola patients in the United States. Several of the nurses on the Ebola team were alumni of the School of Nursing. The Ebola team and their patients raised Emory's profile as one of the nation's top academic health centers (AHCs) and schools of nursing.
Internally, Ebola heightened our thinking around Emory's mission as an AHC, including nursing's role in interprofessional education and practice and scientific discovery.
Two years ago, the Emory Nursing Professional Development Center, a joint effort of EHC and the School of Nursing, was certified as one of 10 continuing nursing education providers in the state. Among the center's recent offerings is an emerging infectious disease preparedness workshop, sponsored by the National Ebola Training and Education Center, and a one-day conference on how to advance nursing science and practice collaboratively.
In March last year, a retreat was held at Emory involving nursing faculty and EHC nurse leaders. Informing their discussion was a pivotal report—Advancing Healthcare Transformation: A New Era for Academic Nursing—prepared by Manatt Health for the American Association of Colleges of Nursing. Transforming health care, the report states, requires a coordinated response from academic and practice leaders across the health professions. Nursing plays an important role in such critical work. Going forward, nursing must find new ways to link academia and practice at AHCs.
Emory Nursing is at the forefront of this endeavor, as indicated by many examples in this issue. Months before the Manatt report was published, Carolyn Clevenger, a faculty member at the School of Nursing, and Janet Cellar, an EHC clinical nurse specialist in geriatric psychiatry, established a nurse-led primary care clinic for dementia patients and families, based on their feedback. The Integrated Memory Care Clinic now serves 300 patients and families in the Atlanta area.
Weihua Zhang, another nursing faculty member, is piloting an app that patients can use at home for pulmonary rehabilitation. Zhang has a patent pending from the Food and Drug Administration for the app, developed in cooperation with EHC and the Atlanta VA Medical Center.
During the past year, EHC nurse leader Deena Gilland established a nurse residency program in ambulatory care to recruit and retain more nurses in outpatient care. Several new BSN graduates are in this program. During their senior year, students take a relatively new required course in ambulatory care, co-taught by Gilland and Caroline Coburn at the School of Nursing. They are now writing a textbook for the course, Perspectives in Ambulatory Care Nursing, slated for publication in February 2019.
As the Manatt report states, the mission of an AHC calls for excellence in practice, education, and discovery. We are well on our way in that regard. Emory ranks fourth among U.S. nursing schools in the latest survey of graduate schools by U.S. News & World Report. Three of Atlanta's four Magnet hospitals are EHC hospitals. We expect the number of EHC Magnet hospitals to grow. For two consecutive years, EHC nurses Sharon Vanairsdale (2016) and Mary Still (2017) have been honored as a National Magnet Nurse of the Year.
Whether you're an EHC nurse or a School of Nursing faculty member, graduate, or student, all play a role in these accomplishments. We are all Emory nurses who share the same passion and mission—advancing nursing science, demonstrating nursing excellence, and improving the health of our patients, families, and communities. Quite simply, we are all partners in Emory Nursing.
---
LEARN MORE To download a copy of the Manatt report, visit emry.link/Manatt-report.