Partners in Ambulatory Care
A school and health system join forces to train future nurses in outpatient care across the continuum
By Pam Auchmutey | Photography by Stephen Nowland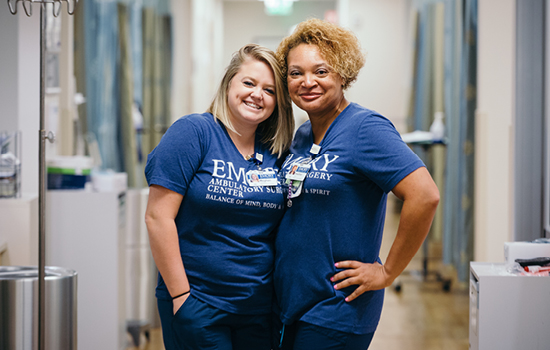 Meghan Hathaway 16N was five months into her residency at the Emory Ambulatory Surgery Center in Dunwoody when she experienced one of those moments of clarity that new nurses often have.
Hathaway was in the post-anesthesia care unit, helping an older female patient following a GI procedure. The patient nearly fell on Hathaway as she helped her into bed. That's when the patient told Hathaway she had been in the hospital two days earlier because of a fall.
Ambulatory Care Nursing at Emory Healthcare
• Approximately 300 nurses work in ambulatory care at EHC.
• To date, there are 140 ambulatory care clinics at EHC; that number continues to grow.
• These clinics include seven surgery centers and five oncology sites.
• Emory's School of Nursing is one of a few U.S. schools that offer a required course in ambulatory care. The course is designed to broaden students' knowledge, skill set, and career prospects in the field.
To learn more about the ambulatory care nurse residency program, send an email to deena.gilland@emory.edu.
"No one knew she had been in the hospital," says Hathaway, a graduate of Emory's Accelerated BSN program. "It showed a gap in our pre-op procedures and that we need to ask more questions to hone in on what's going on with a patient. Sometimes you don't know what's missing until you need it."
Following her patient encounter, Hathaway began a research project to ramp up fall prevention at the surgery center.
"It's one way of bridging the knowledge gap between inpatient and outpatient care and ensuring that patients receive the very best care," says Hathaway.
That type of problem solving is just what Deena Gilland 07MSN RN NEA-BC had in mind as the creator of a new nurse residency program in ambulatory care. To date, 16 new BSN graduates are in the one-year program at ambulatory practice sites throughout Emory Healthcare (EHC). Five of the nurses are Emory graduates, including Hathaway.
As vice president and chief nursing officer for ambulatory care services, Gilland oversees recruitment and training of nurses for outpatient care. The new residency program is key to those efforts, especially in light of recent trends.
According to the American Association of Colleges of Nursing, 55 percent of nurses today are age 50 or older and approaching retirement. On average, nurses in ambulatory care are five to 10 years older than those in acute care. More younger nurses are needed to maintain the workforce overall.
Health care reform also has driven demand for nurses in ambulatory care. To lower costs, health systems have reduced hospital length of stay and shifted service delivery away from hospitals (more expensive acute care) to the community (lower cost ambulatory care). This shift in care delivery has propelled the growth of outpatient services, fueling a need for nurses trained in care coordination and transition management, health risk appraisal, disease prevention, and chronic disease management.
Also, health care continues to evolve to meet the needs of an increasingly diverse and aging population. At the same time, health care costs are driving value-based reimbursement and innovative models of care. Ambulatory care RNs are prepared to lead the design and delivery of high-quality care. That includes partnering fully with patients and families on interprofessional care teams.
At Emory, outpatient services are booming, with more than 140 group practice and surgery center sites throughout Atlanta and Georgia. That number will continue to rise. In 2017, EHC ambulatory patient visits totaled 4.4 million.
"The demand for ambulatory care nurses in our health system outweighs supply," says Gilland. "We need more nurses on our care teams to avoid delays in care that affect patient outcomes. My top priority is developing a nursing infrastructure to meet patient demand and a pipeline of new graduates to help support it."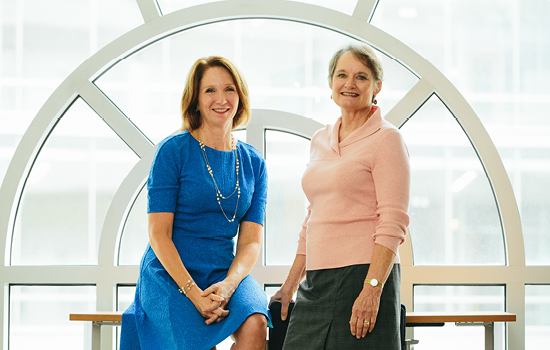 Deena Gilland (left) and Caroline Coburn co-teach the course on ambulatory care at the School of Nursing. They are collaborating on a textbook, Perspectives in Ambulatory Care Nursing, for publication in 2019.
A willing partner
The School of Nursing is committed to building that pipeline. When the school rolled out an updated BSN curriculum in fall 2015, it included a new required course in ambulatory care for graduating seniors, prompted by a conversation between Gilland and Dean Linda McCauley.
When Gilland told McCauley about her plans for a nurse residency program, the timing was ideal. The school was in the midst of revising its curriculum and introducing new content. Offering a course in ambulatory care, McCauley believed, would broaden students' knowledge, skill set, and career prospects.
"Historically, much of the BSN curriculum focuses on acute care," Gilland says. "To build a pipeline of nurses in ambulatory care, we need to introduce them to the concepts while they are in school. The course fit in perfectly with the new curriculum's emphasis on the continuum of care."
So what do BSN seniors gain from the course? Co-instructors Gilland and Caroline Coburn DNP MS ANP-BC designed it around the three hallmarks of ambulatory care: care coordination, transition management, and virtual care. It is purposely taught in the final semester to shed new light on knowledge and skills students have learned in previous classes.
"When students come to us, they've seen how nurses coordinate care in the hospital," says Coburn, assistant clinical professor in the School of Nursing. "They're part of a medical team that drives patient care. When you give a patient their 9:00 AM meds, you know they're going to take them because you are standing there giving it to them."
The tables are turned in ambulatory care. "The patient is in the driver's seat," Coburn adds. "Managing their diabetes or heart disease may not be their biggest issue. It may be they can't afford their meds or don't have insurance. If your care coordination plan doesn't fit with what a patient is able or willing to do, you have to work around that to reach the common goal."
During the course, students discuss articles they've read for class (there is no textbook on ambulatory care yet; Coburn and Gilland recently signed a contract to write one); listen to guest lectures, and practice their skills in the simulation lab. In one scenario, students walk in cold and draw out information from their "patients," without the benefit of consulting their electronic health record. In another, students use telehealth to interact with patients in remote locations.
Clinical rotations expose students to ambulatory care in different settings: primary care, oncology, infusion, solid organ transplant, ambulatory surgery, HIV/AIDS, memory care, renal, cardiology, women's health, home visits, telehealth, and more.
The variety is intentional. "We like for students to see patients who come in for one procedure [i.e., foot surgery] and patients who come in multiple times [i.e., chemotherapy]," Coburn says.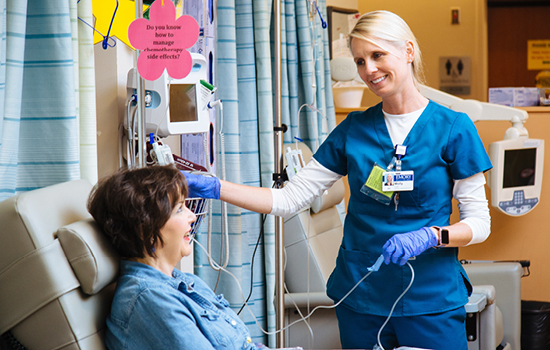 Molly Lynch decided on a career in ambulatory care after taking the required course on the subject. She now works in the infusion center at Winship Cancer Institute.
New career options
In years past, the career path to ambulatory care began in the hospital. New BSN graduates typically began working in acute care, drawn by the allure of working on a cancer unit, in the operating room, or in intensive care. While some nurses prefer acute care, others transition to ambulatory care during their careers.
Gilland and others aspire to change this trend through EHC's nurse residency program in ambulatory care.
Molly Lynch 16N decided on a career in ambulatory care after completing a clinical rotation at Emory's Winship Cancer Institute. She is well into her residency program at Winship's infusion center, where she treats patients from ages 18 to 85.
"Every day is different," she says. "Plus I get to form relationships with my patients."
When she entered nursing school as a second-career student, she purposely kept an open mind about career options. The ambulatory care course introduced her to a specialty she had never considered.
"It widened that nursing lens," she says. "I discovered there is so much more to nursing than inpatient care in a hospital. I wasn't aware there were so many outpatient sites at Emory."
Last July, Lynch celebrated another "Independence Day" of sorts when she left her preceptor's fold to work on her own in the infusion center. She continues to take classes related to her residency and her specialty. Before her residency year is up, she will complete an evidence-based group project to bring about change in her unit.
"The ambulatory care residency is helping shape us," says Lynch. "We're a brand new slate with a lot of passion and excitement for the field."
A year from now, there will be more nurse residents like Lynch at more EHC sites. Other clinics and centers—primary care, cardiology, and endocrinology included—have expressed interest in the residency program.
"We're laying the groundwork now," says Gilland. "We're holding workshops for experienced nurses to bring them on board as preceptors. Our goal is to have nursing residents in multiple clinics in 2018."