INNOVATION | Learning to exhale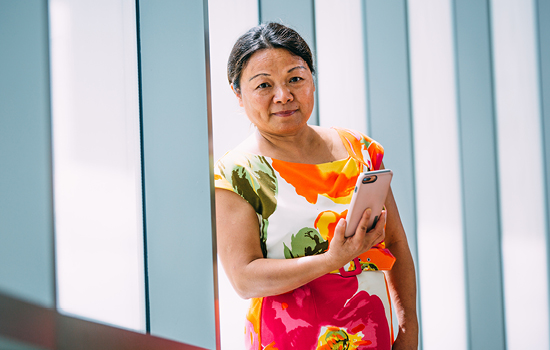 Weihua Zhang PhD APRN AGACNP-BC ANP-BC wants patients with chronic obstructive pulmonary disease (COPD) to breathe better. A new smartphone app now being tested by Zhang, associate clinical professor in the School of Nursing, is designed to help patients with their in-home pulmonary rehabilitation.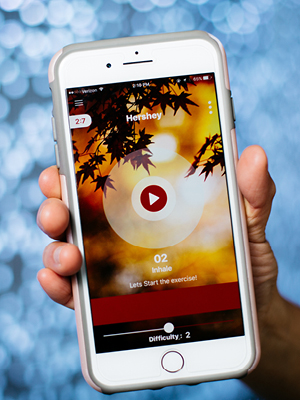 The Exheale app coaches patients on breathing techniques to relieve dyspnea, or shortness of breath.
Called Exheale, the app teaches them how to use pursed-lip breathing techniques in order to exhale slowly and evenly to relieve dyspnea, or shortness of breath. Their discomfort occurs because they are unable to force air out of their lungs as they exhale. The app instructs them to breathe using different inhalation-to-exhalation ratios to optimize their breathing. During one exercise, they may be coached to inhale for 2 seconds and exhale for 4 seconds. The app collects and provides feedback on their breathing patterns, such as whether they need to further lengthen the duration of exhalation.
The app also includes links for COPD-related breathing exercises and physical exercises. For example, in a YouTube video Zhang recorded for the app, she encourages patients to think like a swimmer: take a short breath and then let it out slowly for several seconds as if swimming under water. She shows users how to breathe in and out by pursing her lips to control her exhalation.
Exheale is a team effort. Collaborators include Ashish Mehta MD MSc, an Emory pulmonologist at the Atlanta VA Medical Center; Cliff Michaels PhD, assistant director of licensing in Emory's Office of Technology Transfer; and MIDA, a development firm in the Cayman Islands. A patent for Exheale is pending from the Food and Drug Administration.
Zhang and Mehta plan to pilot the app among 50 COPD patients at Emory University Hospital and the Atlanta VA Medical Center. If the pilot proves successful, the project will enter a second phase, which includes testing the app along with a handheld device, similar in look to an inhalation spirometer and equipped with sensors to monitor exhalation speed. The device will further coach patients to exhale more slowly and effectively. It can be used separately or with the app. Either way, both will provide useful data to help Zhang and Mehta improve the health of patients with COPD.
Eventually, the collaborators would like to test Exheale among pediatric asthma patients. As an incentive, the app can engage young and adult users in friendly competition with anonymous friends in their respective age group [think Transformers or Candy Crush].
"Teaching patients is so important," says Zhang, who practices in the pulmonology group at the Atlanta VA Medical Center. "When I ask patients if anyone is training them how to breathe, they usually don't say 'yes.' As a nurse and a nurse practitioner, it's exciting and rewarding to be able to provide education for patients through this app."—Pam Auchmutey