2017 Alumni Awards
By Andrew Goodell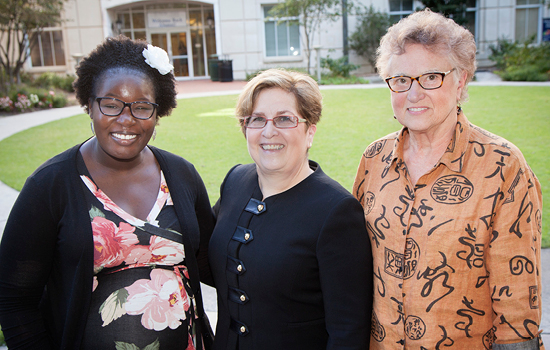 Distinguished Nursing Achievement Award
Marilyn Margolis 89MN has had an exemplary nursing career with Emory Healthcare (EHC). She has served as CEO for Emory Johns Creek Hospital since 2014 and led quality initiative teams throughout the EHC system in areas such as emergency services and ICU at Emory University Hospital and Emory University Hospital Midtown.
Margolis also has worked with teams to develop operational changes with patient flow and transfer services and championed patient- and family-centered care. She is a recipient of Nursing Management's 2007 Visionary Leader Award and the Georgia Hospital Association's 2013 Lifetime Achievement Award.
---
Excellence in Nursing Award
Linda Grabbe 86MN has devoted her nursing career to serving vulnerable populations, especially homeless women, children, teens, and young adults in Atlanta. Grabbe is a clinical assistant professor at the School of Nursing and board certified as a family nurse practitioner and psychiatric/mental health nurse practitioner. Prior to joining Emory in 2005, she worked at hospitals all over the globe and in the United States. She has served as a Peace Corps medical officer in Kazakhstan and as a U.S. embassy nurse practitioner in West Africa. In 2016, the School of Nursing honored Grabbe with its Faculty Excellence Award for Social Responsibility.
---
Recent Graduate Award
Ida Curtis 14N 16MN trained as an emergency nurse practitioner and currently works as a family nurse practitioner with Peachtree Immediate Care in Acworth, Georgia, and Apollo MD. She also precepts students in both specialities. Through her practice, Curtis ensures that everyone is treated with respect and dignity. She has led efforts to reduce disparities and promote culturally sensitive, quality care for the LGBTQ community and migrant farmworkers. As a student, Curtis received the 2014 Silver Bowl Award, the highest student honor, and the 2016 Excellence in Social Responsibility Award.