Three alumni receive the Emory Medal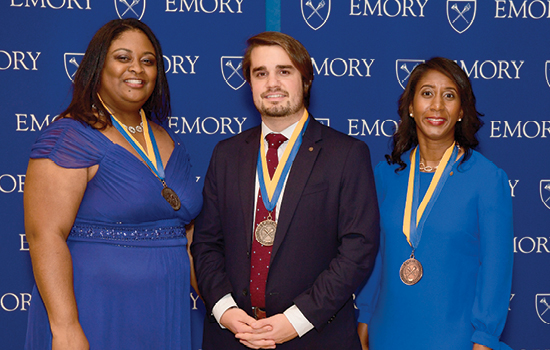 Four years after Emory University Hospital (EUH) successfully treated the first patients with Ebola virus disease in the United States, the effects are both lasting and profound. The health care team that cared for them included three School of Nursing graduates. All are recipients of the 2018 Emory Medal, the university's highest alumni honor, for their life-saving work.
Crystal Johnson 00N, Laura Mitchell-Spurlock 95Ox 97N, and Jason Slabach 13N were among those who volunteered to staff the Serious Communicable Diseases Unit (SCDU) at EUH, where they safely cared for four patients in summer and fall 2014.
Before their first Ebola patient arrived from Africa, team members drilled together to strengthen safety protocols to keep each other safe and provide the best possible care for patients. To limit the number of health care staff exposed to patients, nurses handled their patients' every need—from drawing blood and taking vital signs to administering IV medications and cleaning up bodily fluids—all while following the stringent guidelines the team had set for itself.
The three nurses went on to help educate the public by doing media interviews and appearing on the Today Show to demonstrate safety measures. Nurses on the SCDU team also formulated safety protocols for nurses around the country.
Late in the year, TIME magazine honored all health professionals fighting the Ebola outbreak around the world as its 2014 Person of the Year. The Daisy Foundation recognized the team with its DAISY Award for nurses. In 2015, Johnson, Mitchell-Spurlock, and Slabach received the Excellence in Nursing Award from the Emory Nurses' Alumni Association.
"At the nursing school, we prepare students to graduate feeling they are prepared to respond to any scenario, from the routine to the unexpected, with grace and skill," said Dean Linda McCauley during the Emory Medal ceremony last March. "Crystal, Laura, and Jason represent the best of Emory Nursing through their volunteerism, care, and the service they provide."
---
Learn More
Meet Emory Medalists Crystal Johnson, Laura Mitchell-Spurlock, and Jason Slabach in the videos at emry.link/emorymedal. Another video features Emory Medalist Kenneth Walker 56Ox 58C 63M 65MR 70MR 71MR (right), who made an indelible mark in the field of medicine during 60-plus years at Emory. Walker, who died from a sudden illness on February 23, 2018, was awarded the Emory Medal posthumously on March 1. Among his accomplishments, Walker led the Atlanta-Tbilisi Healthcare Partnership. Its members include Emory's schools of medicine and nursing.