Pathway to Nursing
Jacqueline Hurd combines nursing and public health to broaden her impact on patient care
By Kerry Ludlam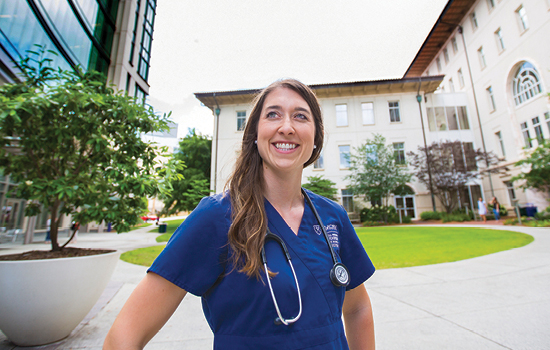 Jacqueline Hurd 14MPH 18N 19MSN has an undergraduate degree concentrated in four areas—immunology and infectious diseases, toxicology, international studies, and Spanish—plus a master's degree in public health. But it wasn't until she was working in a remote village in Honduras as part of her role as a health scientist at the Centers for Disease Control and Prevention that she discovered that nursing should be part of her plan.
"As we traveled from house to house, people kept looking up at me and saying, 'doctor, doctor, please help me,' " Hurd recalls. "We went to one house where all of the children were sick, and the mom was sick too. I wanted to help them, but I didn't have the clinical knowledge to make the proper decisions. Right then and there, I knew that I needed a clinical degree to make a broader impact on public health."
Having already earned her MPH at Emory, Hurd, who grew up in suburban Chicago, knew that the Nell Hodgson Woodruff School of Nursing was the best place to continue her education.
"As an Emory alum, I Iearned firsthand how the university properly prepares students to work in the real world because of the rigorous academic program, encouragement from professors who are experts in their field, and practical experience," Hurd explains.
These hallmarks of an Emory education have also defined Hurd's time at the School of Nursing, where she received a Hilda D. Glenn Scholarship to help defray the cost of tuition. Her clinical rotations have included time in many specialty areas at Emory University Hospital and Emory University Hospital Midtown, including the maternity unit. In addition to performing nursing duties in the unit, she conducted research and penned a paper on the prevention of sudden infant death syndrome (SIDS) with the use of pacifiers.
"Emory Midtown was already doing a great job of educating new parents about reducing the risk of SIDS, but their education didn't include pacifier use," Hurd says. "Through my research, I determined ways that nurses could reduce the risk of SIDS."
The willingness to allow students to ask questions and try new things is pervasive throughout the School of Nursing.
"The school challenges us through evidence-based practice, research, and critical thinking to encourage us to be the best nurses that we can be," Hurd says. "The faculty is open to new ideas and new ways of doing things that come about from each student's unique background."
Hurd also points to the access to and proximity of Emory Healthcare as a game changer for her nursing education.
"Each semester, we have a simulation in conjunction with clinicals," Hurd says. "We perform certain procedures and learn different skills on simulators, and then we're able to incorporate what we've learned into a clinical environment. I've been able to do everything in a real clinical setting."
Hurd plans to become a nurse practitioner, either in oncology or primary care, after completing her MSN next year.
"My ultimate goal is to incorporate all of the knowledge I have acquired into one job," Hurd says. "I want to use my public health background to educate patients on ways to prevent chronic disease through good habits, including nutrition and exercise, to improve their overall health. Having both degrees will make me a more well-rounded nurse practitioner with a greater ability to impact public health."
---
The Hilda D. Glenn Scholarship was given in her memory by her husband, the late Wilbur F. Glenn 29C, to support nursing students. She was a member of the Nursing Associates, a group of friends of the Nell Hodgson Woodruff School of Nursing.