First students to receive nursing PhDs in Ethiopia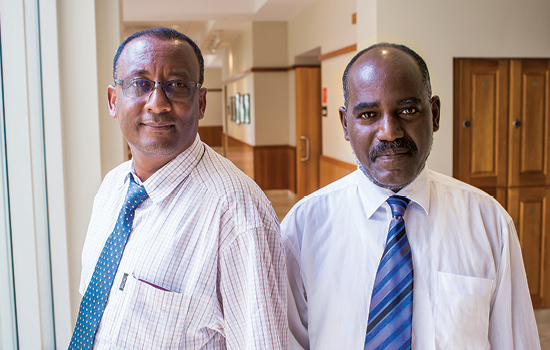 Linda McCauley has learned many a lesson as professor and dean of the School of Nursing. Among them: "Don't ever think you know what a country needs."
A few years ago, when she traveled to Addis Ababa University (AAU) in Ethiopia, the nursing school had already established a successful program to improve the health of mothers and newborns in rural areas of the country. McCauley went to AAU to explore how Emory and AAU nurse-midwifery students could learn from each other.
She quickly learned there wasn't a need at AAU to focus on midwifery at the time. But she did learn something else—that Ethiopia was one of the few African nations that did not have a doctoral program in nursing.
In 2015, the School of Nursing and AAU signed an agreement to establish Ethiopia's first nursing PhD program to train nurses, midwives, and health care workers in research—one of several projects in Ethiopia sponsored by Emory's Office of Global Strategy and Initiatives.
Two students will soon become the first to complete their PhDs. Fekadu Aga and Daniel Mengistu, who serve on the AAU nursing faculty, worked on their dissertations at the School of Nursing this summer. Aga is examining type 2 diabetes self-care behaviors in heart failure patients, while Mengistu is studying knowledge and risk perceptions of cardiovascular disease in adults with hypertension.
Both students completed their course work at AAU, where the students watched lectures in real time given by Emory nursing faculty in Atlanta. Their learning was made possible by a smart room at AAU funded by the School of Nursing. Thanks to the smart room, initial problems with IT connectivity were resolved to make virtual learning much easier.
Twelve students currently are enrolled in AAU's nursing PhD program, led by Emory nursing faculty member Rebecca Gary PhD RN FAHA FAAN. "Emory has a huge presence in Ethiopia," she says. "The PhD program builds on the relationships that are already there to expand infrastructure, research, and knowledge capacity."
McCauley is eager to see where the PhD program leads. "Fekadu and Daniel will soon become the next generation of nursing faculty," she says. "The PhD initiative is changing lives, and we're watching it happen."