WATCH, LISTEN, LEARN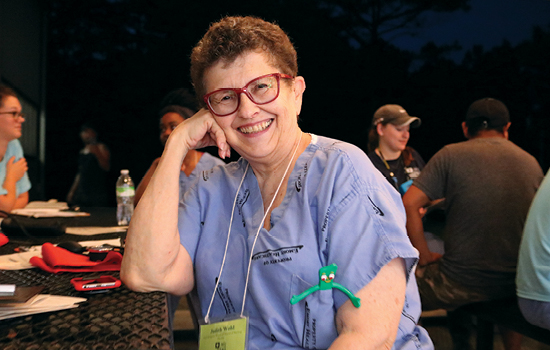 Judith Wold 81MSN PhD ANEF FAAN, Distinguished Professor for Educational Leadership, was among those honored during an April celebration held in memory of Martin Luther King Jr. The celebration, sponsored by Atlanta NPR station WABE, was held at the Center for Civil and Human Rights. Wold was recognized for her longtime contributions to social justice, public health nursing and education, and health and wellness.
She is best known for her work as director of the Farmworker Family Health Program, part of the Lillian Carter Center for Global Health & Social Responsibility at the School of Nursing. For two weeks in June, the program brings together students in nursing and other health care professions to care for migrant farmworkers and their families in southwest Georgia. The program is now in its 25th year.
Listen as Wold discusses migrant health on WABE at emry.link/farmworker. Although Wold retired in August after 44 years in nursing, she will return to Moultrie next year to work alongside students, faculty, and community partners to provide episodic care for migrant men, women, and children.