Motherhood Beyond Bars
Helping female prisoners prepare for motherhood
By Kerry Ludlam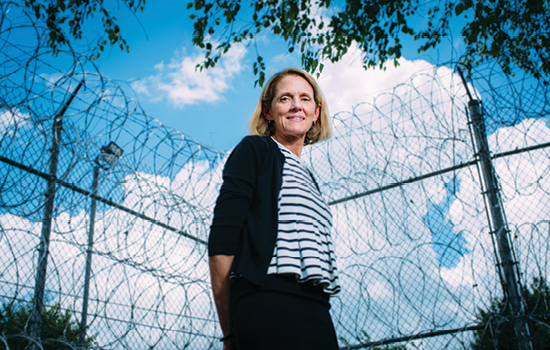 Almost every Friday, Brenda Baker PhD RN CNS, assistant professor at the School of Nursing, travels to Helms Facility, a state-run prison in southeast Atlanta. There, she volunteers as part of the Motherhood Beyond Bars program to provide childbirth and postpartum health education to incarcerated women who are expecting.
"We typically meet with 10 to 15 moms every week from all over Georgia," Baker says. "One thing is pretty standard. What many of the women know about their body is very limited. The women often have very low health literacy. We spend a lot of time dispelling rumors about conception, pregnancy, and childbirth."
Motherhood Beyond Bars was founded in 2013 by Bethany Kotlar 15MPH PMP, then a student at Emory's Rollins School of Public Health. Kotlar developed the original course materials, and Baker, with the help of her students, revised the curriculum to include topics such as coping, resiliency, and prevention of sexually transmitted infections.
Audrey Fisher 18N, who graduated in May, was introduced to Motherhood Beyond Bars by Baker, who became her mentor in the nursing school's Honors Program. In addition to teaching and helping facilitate the weekly classes at Helms Facility, Fisher made her mark by developing a curriculum for contraceptive education.
"Contraceptive education was added to Motherhood Beyond Bars because of scientific literature showing a lack of contraceptive use, a high number of unintended pregnancies, and lack of contraceptive knowledge in the general women's incarcerated population," Fisher explains. "Contraception can be a powerful tool in helping women achieve the goals they have set for themselves, but if their next goal is to have another baby, we support this goal too."
Beyond teaching mothers about their own health and their baby's, Motherhood Beyond Bars offers a safe place for mothers to connect.
"We have a topic for every week that we cover, but we often veer off topic based on what the women have on their minds," Baker says. "It can become more of a support group some weeks. We want our class to be where you get to be a pregnant woman preparing for the arrival of your child—not just an inmate."
While the goal of Motherhood Beyond Bars is to improve the physical and mental health of mothers and their babies, the program addresses larger issues.
"Incarceration is not about bad people who break rules. Incarceration is about poverty. With poverty often comes trauma exposure, drug abuse, foster care, and considerable inequities in health care," says Baker. "We want to learn more about how to best serve this population."
With more than 300 women reached through Motherhood Beyond Bars, program leaders are confident that future generations of young mothers will benefit from the program as well.
"The vast majority of women I have met through Motherhood Beyond Bars are just like pregnant women outside of the system," Fisher says. "They want to know how to be the best moms they can be for their growing babies."