Emory launches distance ABSN program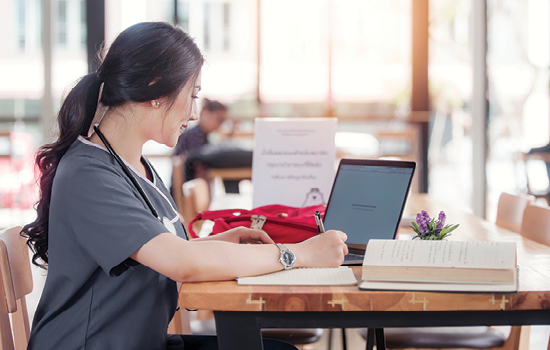 Emory now offers a 12-month BSN program for second-degree students that allows them to study and gain clinical experience in the communities where they live. The Distance Accelerated BSN (D-ABSN) program targets students living outside Atlanta and across the U.S.
Students will earn their BSN in 54 weeks without the expense of moving to Atlanta. By comparison, the school's traditional BSN program takes two years to complete, while the Accelerated BSN program takes 15 months.
The D-ABSN program's fast-track timetable is rigorous. Unlike many online programs, the D-ABSN program is not self-paced. Students will immerse themselves daily in inquiry-driven learning led by faculty specifically dedicated to the program.
In addition to online course work, students will come to campus three times a year. Midway through their program, they will be onsite for simulation training and their first clinical rotation. Afterward, they will continue their online classes and clinical rotations in their communities. There, each student will be assigned to a local clinical instructor identified by the School of Nursing. The clinical instructor will identify and work with local preceptors to arrange clinical rotations for students.
Emory is among a growing number of schools offering distance ABSN learning. Additionally, the program allows the School of Nursing to serve many of the qualified applicants wait-listed each year because of constraints on physical space. The first 30 students began their studies this fall. Eventually, 90 students are expected to enroll year-round.
"Students tell us they now have the best of both worlds," says D-ABSN program director Teresa Yambo PhD MSN-Ed RN. "They get to stay in their home state and earn a BSN degree from Emory."
---
Related Story
Emory Nursing, Emory Healthcare launch InEmory ABSN program (10/1/18)