Remembering the whole nurse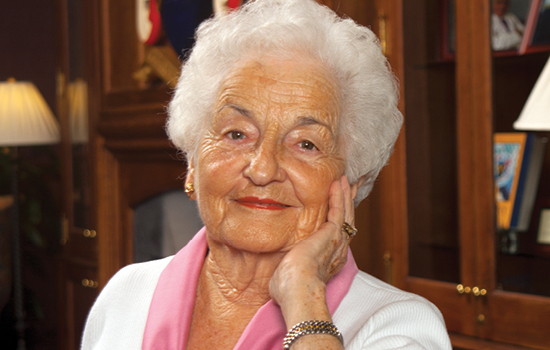 In 1948, School of Nursing Dean Julia Miller hired Elizabeth Mabry sight unseen because of her then-rare science training. Miller definitely made the right call. Mabry served as a faculty member until 1998 and briefly as nursing education director at Crawford W. Long Memorial Hospital (today's Emory University Hospital Midtown).
Mabry, who made a lasting impact on generations of Emory nursing students and faculty, died in Atlanta on June 6 at age 96.
Raised on a farm outside of Charlotte, North Carolina, Mabry enrolled at the University of North Carolina (UNC), intent on becoming a biology teacher. But she discovered a flaw in her plan.
"I didn't think I would be able to stand up in front of a class. I was petrified," she once said.
After two years at UNC, Mabry transferred to Duke University, earning her BSN in 1943. She then joined the U.S. Army through the American Red Cross, serving on the front lines in France during World War II. At the war's end in 1945, she served at a U.S. Army hospital for occupying forces in Germany. She returned home in 1946 and attended Columbia University Teachers College, earning a master's degree in teaching sciences.
At Emory, Mabry taught everything from basic sciences to medical/surgical and psychiatric nursing. In 1979, she earned a doctorate in education from the University of Georgia. At Emory, Mabry led the movement emphasizing the mind-body-spirit-emotion-environment approach to nursing practice, later coined as "whole nursing." She underscored the importance of the nurse-patient relationship and the essential roles that nurses play in care coordination and the interdisciplinary education of all health care providers.
Mabry continued to serve the school throughout her retirement as an honorary alumna and as Emory's first 45-year consecutive annual donor. She volunteered at Winship Cancer Institute as well. In 2002, former students led by the Class of 1952 established the Elizabeth Mabry Scholarship Fund to honor their beloved teacher.
Mabry often said her students taught her much more than she taught them. As she once wrote, "My years at Emory—my contacts with students, staff, alumni, and other faculty—have enriched my life and brought me much happiness."
---
Memorial gifts may be made to the Elizabeth Mabry Scholarship Fund to help Emory nursing students learn the art and science of nursing. To make a gift, visit engage.emory.edu/MabryScholarship.