Pathway to Nursing
One student's journey in pediatric oncology
By Pam Auchmutey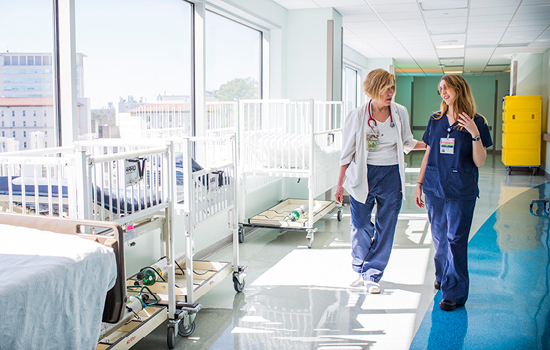 Rachel Scher tends to make up her mind early. In eighth grade, she told her mother that she wanted to work with children who have cancer. In high school, she applied to Emory College through its early-decision program. During her freshman year, she decided to go to Emory's nursing school to become a pediatric oncology nurse. Then in her sophomore year, she received a Dean's Scholarship Award, which is supported by gifts to the Nursing Scholarship Fund.
She attributes her career choice to parental wisdom, an interest in medicine, and her volunteer experiences. Scher 17N, her twin brother, and older sister grew up in New Jersey, where their father is an adult oncologist and their mother a radiologist.
"Our parents didn't push us into medicine," she says. "They told us about the difficult things they had to deal with and the rewards of it. The three of us volunteered as counselors at camp for children with cancer or whose parents had cancer. We saw cancer from both sides and how resilient children could be. Ever since then, there's no other population I've wanted to work with."
Once in college, Scher thought about which work setting fit best with her interest. "I saw myself in the hospital at the bedside, spending time with patients, assessing them, seeing how they change from morning to night or night from morning," she says. "Being there for their best moments and their worst moments and being able to support them. That is what nursing allows me to do."
Scher has prepared for those moments guided by Emory faculty members like Jeannie Weston EdD MSN RN. She was paired with Weston for Saturday pediatric clinicals at Children's Healthcare of Atlanta at Egleston. The 14-hour days were well worth it.
"Professor Weston taught us assessment skills and how important it is to listen to your patients," says Scher. "If we weren't doing something for one minute, she'd find another patient for us to learn about. She taught us about patient-centered and family-centered care and how to put your patient first, which translates into any nursing specialty."
This past year, Scher helped establish Atlanta Pediatric Cancer Outreach, a student organization that serves pediatric cancer patients and families. Scher served as vice president of the organization, which prepares meals for families at the Ronald McDonald House and raises money to provide wigs for children with hair loss and other projects. The No. 1 goal of the group: "We want to help make children happy," says Scher.
She is now set to begin her career as a new BSN graduate. In July, she will enter the nurse residency program on the bone marrow transplant unit at Emory University Hospital, where she will rely on the skills and values learned at the School of Nursing and during her externship at M.D. Anderson Cancer Center in Houston last summer.
"Every patient experience is different," Scher reflects. "Some are in and out of the hospital multiple times, and many are cured of their disease. It's important to think long term about how that will affect them. Listening to them makes a huge difference in their care. That's the most important lesson I've learned."
---
Gifts to the Nursing Scholarship Fund defray the cost of tuition for high-achieving Emory nursing students like Rachel Scher. To learn more, contact Margot Early, associate director of development, at 404-727-5291 or margot.early@emory.edu.