The Heart of the School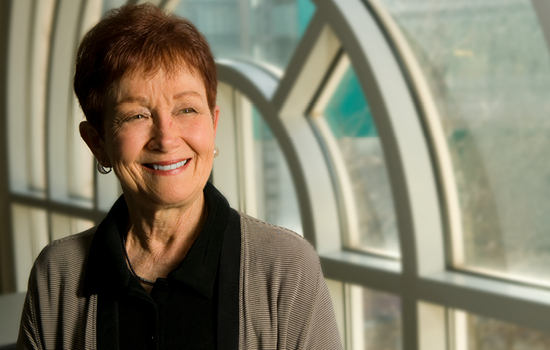 Something was different at the School of Nursing diploma ceremony this year. For the first time in 40 years, clinical professor Sally Lehr 65N 76MN PhD missed out on the celebration because of illness. On May 17 the following week, Lehr died peacefully at home from melanoma at age 74.
Her loss is keenly felt throughout the nursing school and the university, where she enrolled as an undergraduate in 1960. Always caring and upbeat, Lehr went on to transform the nursing school as a clinician, teacher, colleague, and alumni leader.
Students bonded quickly with Lehr in the classroom, where she taught mental health and psychiatric nursing, including a highly popular course on human sexuality. A certified sex therapist, Lehr advocated open and honest talk about sexual health with patients, a topic that clinicians often shy away from. In her classes, she engaged both faculty and students in learning with grace, humor, and sensitivity.
"Sally was always open to new ideas to integrate innovative strategies into her classes to enhance student engagement," says Corrine Abraham 85MN DNP RN, clinical assistant professor. "She recruited me on more than one occasion to participate in one of her simulations to provide students with a deeper understanding and appreciation for the impact of mental illness."
As a BSN student, Lehr co-founded the Emory chapter of Sigma Theta Tau International, the honor society for nursing, and subsequently led the chapter for several decades. For the past 10 years, she chaired the chapter's Walk to End Alzheimer's. For seven of those years, the chapter raised more funds than any other school team. For two decades, she chaired the planning committee for the annual Virginia Lee Franklin Conference, which brought hundreds of nurse leaders in geriatrics, psychiatry, and neuroscience together to advance research, education and practice.
Lehr also shined as an alumni leader. In the mid-1970s, she helped reorganize the Nurses' Alumni Association Board, which she led for four terms as president. At the university level, she served on the Emory Alumni Association Board of Governors. She also represented the School of Nursing on Emory's Capital Campaign Committee and co-chaired the MyEmory fund-raising campaign.
In 2009, Lehr received the J. Pollard Turman Service Award, Emory's highest service honor for alumni. It was one of many honors she received in her lifetime. This year, the Class of 2017 honored her with its Heart of the Students Award.
"For nearly 60 years, Sally was the heart of our school," says Dean Linda McCauley. "She represented the highest levels of leadership, compassion, service, and integrity that we all aspire to live by in our daily lives."
Related Story:
---
Memorial gifts may be made to the Sally T. Lehr Scholarship Fund to benefit students interested in psychiatric-mental health or human sexuality. To give online, visit emry.link/lehr-scholarship. Or make checks payable to Emory University @ NHWSN; Emory University; 1520 Clifton Road, Suite 446; Atlanta, GA 30322; Re: Sally T. Lehr Scholarship Fund.