The Quads of Africa
Nursing and midwifery leaders tackle regulatory issues to improve HIV services for underserved women and children in 17 African nations
By Pam Auchmutey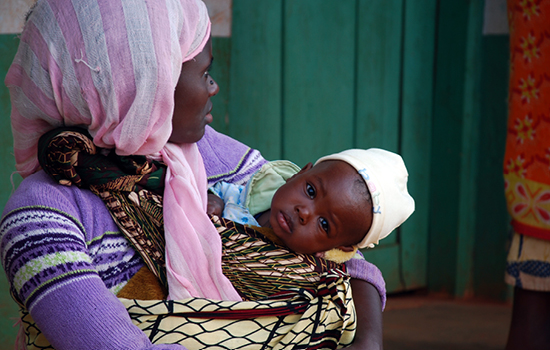 By the end of 2013, 3.2 million of the world's children aged 15 and younger had HIV, 91 percent of them in sub-Saharan Africa. Children in Africa and elsewhere were 30 percent less likely to receive antiretroviral therapy (ART) than adults, UNAIDS and other health agencies reporte.
Improving care for these children is a key goal of the African Health Profession Regulatory Collaborative (ARC), a School of Nursing-based initiative to scale up HIV services by strengthening regulation of nursing and midwifery education and practice in 17 nations.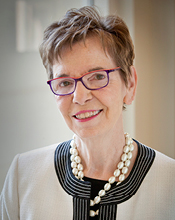 Maureen Kelley
Three countries—Democratic Republic of the Congo, Côte d'Ivoire, and Cameroon—are the latest to join ARC, marking its expansion from East and Southern Africa into Central and Western Africa. Last year, ARC project leader Maureen Kelley PhD FACNM FAAN traveled to the continent half a dozen times to help advise ARC member countries on their respective projects.
As a result, nursing and midwifery leaders in Central and Western Africa launched initiatives to improve delivery of lifelong ART (regardless of viral load) to prevent mother-to-child transmission. And in the coming year, ARC members in all regions will undertake new initiatives in pediatric AIDS care at high-volume clinical sites. Their efforts will help close gaps in HIV services for pregnant women, infants, and children in accordance with targets set by the President's Emergency Plan for AIDS Relief (PEPFAR), the primary funding source for ARC. 
When established by President George W. Bush in 2003, PEPFAR sought to make ART available to 1 million people in Africa by 2008. In its next five-year phase, PEPFAR called for continued testing and treatment for HIV in Africa and devoting more human resources to the mammoth task.
"Just using doctors was never going to achieve what they wanted—that everyone who was HIV-positive be treated and followed up," says Kelley. "In Africa, nurses make up 80 percent of the workforce. They needed supportive regulation and education to do that."
Thus ARC was formed in 2011 to coalesce nursing and midwifery leaders to solve regulatory problems in practice and education in their respective countries. Partners include the Lillian Carter Center for Global Health & Social Responsibility at the School of Nursing; the Centers for Disease Control and Prevention (CDC); the East, Central, and Southern Africa Health Community; the Commonwealth Secretariat (an association of 54 African countries); and the Commonwealth Nurses and Midwives Federation. 
The idea for ARC originated with Peggy Vidot, a health adviser with the Commonwealth Federation, and Patricia Riley MPH CNM FACNM, an adjunct faculty member at Emory and health workforce expert at the CDC. They envisioned bringing teams of nurses together in each country to identify regulatory problems and develop strategies and solutions within a year. 
Thus far, ARC has awarded 33 grants of $10,000 each to teams in all 17 countries. Each team includes the nation's chief nursing officer, the registrar of the national nursing council, the president of the national nurses association or union, and a leader from nursing academia. When the teams first formed, they nicknamed themselves "The Quads" and began meeting regularly to brainstorm and problem solve. That was a first, considering many had not worked together before, Kelley notes.
During the first three years of ARC, its members garnered grants for initiatives in nursing regulation to better align accreditation, licensing, scopes of practice, and continuing professional development (CPD) with regional and global standards. 
As Kelley explains, "ARC focused on regulation to strengthen nursing on a national level that trickled down to what nurses are educated to do and able to do in the workforce." In Zambia, for instance, nursing leaders introduced CPD as a requirement for license renewal and initiated HIV-related CPD for nurses and midwives. Leaders in Seychelles reviewed and revised scopes of practice for nurses and midwives to include HIV and AIDS services.
During ARC's fourth year, the Quads shifted their attention to address the needs of pregnant women with HIV, one of the gaps identified by PEPFAR. At the same time, countries around the world were still adjusting to new World Health Organization (WHO) guidelines, which called for pregnant women to begin ART as soon as they were diagnosed with HIV. Previously, pregnant women did not begin ART until their viral loads reached a certain level. The new regulations, issued by WHO in 2013, informed the next round of grant proposals from ARC members. 
"When WHO recommended changes in how we approach pregnant women, it raised a lot of questions for ARC members," says Kelley. "Do you need pre-service or in-service education to bring nurses up to speed, or both? How do you target that population? Is your country going to go along with those recommendations? How do you inform nurses at the grass-roots level about these regulations and how should they be implemented? That led our country teams to write grants to answer those questions."
Issues surrounding treatment of HIV-positive infants and children also were problematic. Babies born to HIV-positive mothers are often lost to follow-up since their HIV status is unknown for the first six to nine months. Countries in sub-Saharan Africa often lack the means to follow up with these children. 
"In general, nurses were not comfortable treating HIV-positive children, including how to prescribe antiretrovirals for them and how to manage drug side effects," Kelley adds. "That mostly had been left in the hands of doctors."
This year, ARC will solicit grant proposals focused on removing barriers to treatment at high-volume clinical sites that serve mothers, infants, and children with HIV. New projects are likely to address task sharing with physicians, providing in-service education, quality improvement, mentoring, and more.
"Our goal," says Kelley, "is to make sure that nurses function at the highest level possible to obtain the most coverage for the women and children who need it the most."
---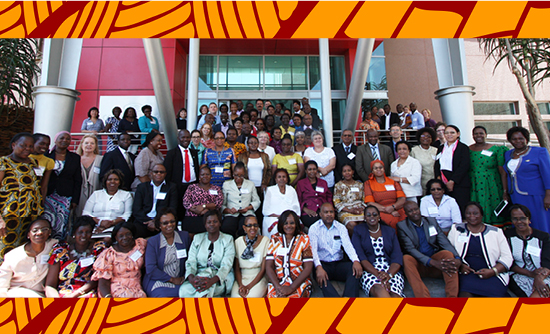 In February, Maureen Kelley traveled to Johannesburg, South Africa, for ARC's annual meeting, attended by nursing and midwifery leaders from all 17 ARC member countries. Kelley will continue to advise ARC, now jointly led by Emory nursing faculty members Kenneth Hepburn and Sydney Spangler. (photo by Jill Iliffe)