Schools partner to train nurse-midwives in rural Georgia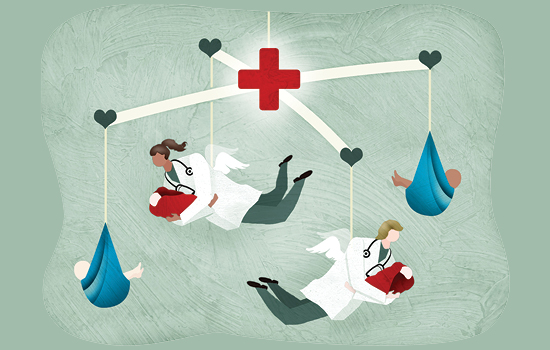 Georgia has the highest maternal mortality rate and the eighth highest infant mortality rate in the United States. Several years ago, Emory nursing dean Linda McCauley and the nursing dean of Valdosta State University (VSU) began to brainstorm about how to change this dismal picture.
There was little the nursing leaders could do about the rural hospital closings and physician retirements that forced pregnant women to travel long distances for care—or go without. They could, however, do something about the fact that many rural counties in central and south Georgia have few or zero nurse-midwives. In states with the highest percentage of nurse-midwives, these practitioners attend one in four births, building obstetric workforce capacity and improving outcomes for mothers and newborns.
To push the partnership forward, McCauley turned to Judith Wold PhD RN ANEF FAAN in the School of Nursing. As Distinguished Professor for Educational Leadership and director of the Farmworker Family Health Program in Moultrie, Georgia, Wold knows the state's rural areas well. She enlisted MaryJane Lewitt PhD CNM FACNM, coordinator of Emory's nurse-midwifery program, to meet with faculty at Valdosta State.
Emory has trained nurse-midwives for almost 40 years, producing 350 graduates who comprise the majority of the 500-plus nurse-midwives now licensed in Georgia. It has the only accredited, on-the-ground (not online) nurse-midwifery program in the Southeast and is highly ranked nationally. Many of its students are enrolled in the dual family nurse practitioner/nurse-midwifery program. 
In fall 2014, Valdosta State established its own seven-semester family nurse practitioner program. Now those graduates can pursue a postgraduate nurse-midwifery certificate program offered through Emory.
Enthusiasm for the proposed Rural Georgia Midwifery Education Project grew led to a $24,600 award from the March of Dimes in 2015 to implement it and an endorsement from the Georgia legislature through the Women's Health Study Committee. Emory will offer the new postgraduate nurse-midwifery certification program beginning in fall 2016.  
The hybrid distance education program will combine classroom instruction, led by Emory faculty who will travel regularly to Valdosta State, and online coursework, enabling VSU students to combine work and study.  
The most significant challenge to creating more nurse-midwives, notes Lewitt, is the lack of certified midwives available and willing to precept students during deliveries and other parts of their clinical training. Thus Lewitt and Wold are enlisting the help of midwives throughout the state, especially in critically underserved areas.
In time, says Lewitt, "This innovative public-private partnership will expand the number of nurse-midwives in Georgia, increase access to care for women in rural areas with significant disparities of health care, and, most important, improve Georgia's poor maternal and newborn health outcomes."—Sylvia Wrobel
---
If you would like to precept a VSU nurse-midwifery student, please contact MaryJane Lewitt, Emory nurse-midwifery specialty coordinator, at 404-727-8301 or mlewitt@emory.edu.
Related
Nurse-Midwifery Program at Emory
"Elizabeth Sharp remembered as national midwifery leader" (2/19/2016)