This Nursing Life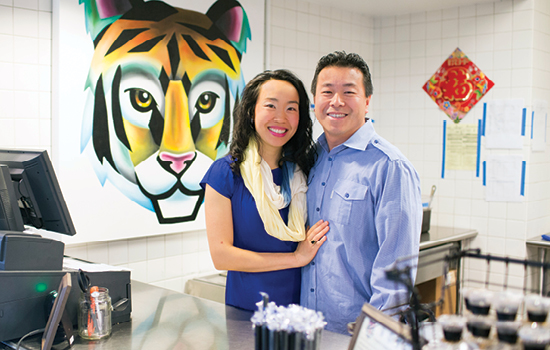 Christie Oh Lo 08MN has been in expansion mode since graduating from Emory. Her daughter was born in 2009, followed by a son in 2012. Thus Lo embraced motherhood, and cooking and gardening, with a passion. Six years ago, she began working in hospice as a gerontological nurse practitioner. Two years ago, she went full time at VITAS Healthcare, a hospice and palliative care company, so that her husband, Michael, could establish Makan, a new restaurant in Decatur, Georgia. Open since July 2014, Makan serves Chinese and Korean dishes with a modern twist. Some of the dishes use fresh ingredients from Lo's sustainable garden. This past January, the Los (shown above) opened Mama Tiger, a small restaurant in Emory's Dobbs University Center that serves steamed buns and dumplings, rice and ramen bowls, bubble tea, and cold side dishes. 
Lo brims with enthusiasm about the restaurants, her family (including her mother, a former nurse), and her nursing practice, which includes visits to nursing homes, assisted living facilities, and patients' homes in 24 counties surrounding Atlanta. 
"I love what I do," says Lo. "I enjoy establishing a rapport with patients, whether they're at home or in a facility. I'm able to manage their pain and anxiety and help them live their final days in comfort. I'm also there to support their caregivers so they know that what they do matters."