In Memory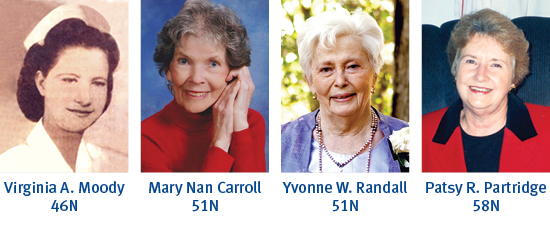 1940
Anna Hounshell Guy 42N of Birmingham, Ala., on Aug. 1, 2015, at 97. In 1943, she married Rev. Henry A. Guy and served faithfully as a minister's wife in Florida in the 1940s and 1950s. She enjoyed her work as an RN and started out as a surgical nurse. After having children, she worked as a private duty nurse for many years. She is survived by two daughters, three sons, their spouses, 11 grandchildren, and 13 great-grandchildren.
Oneida Starr Pike 45N of Gray, Ga., on Aug. 31, 2015, at 91. She served in the U.S. Cadet Nurse Corps from 1943 to 1945 at Kennedy General Hospital in Memphis, Tenn. She met and married her first husband, George H. Heath, in 1946 and moved to Gray in 1951. They raised three sons. He died in 1972. She worked as a nurse in Gray for 22 years. She was a charter member of the Jones County (Georgia) Pilot Club for 25 years and a member of Gray United Methodist Church for 63 years. Predeceased by her second husband of 35 years, Alvin B. Pike Jr., she is survived by her three sons and their wives, two stepchildren, four grandchildren, and eight great-grandchildren.
Virginia Ashe Moody 46N of Snellville, Ga., on Jan. 29, 2015. Born in Stone Mountain, Ga., she served in the U.S. Cadet Nurse Corps in WWII. In 1945, she married Paul S. Moody in the Glenn Chapel on Aug. 6, the day the atomic bomb was dropped in Japan. During her career, she served as a nurse at Kentucky Baptist Hospital (pediatrics), Georgia Baptist Hospital, and Georgia Regional Mental Health Hospital. Virginia served alongside her husband at pastorates in Indiana and Georgia. They also served as Southern Baptist missionaries from 1960 to 1973, when she resumed her nursing career. She worked for the DeKalb County Health Department until she retired in 1990. Virginia always stepped forward at auto accidents, saved a daughter's friend from a medical overdose, gave children shots that never hurt, and cared for her family. She also was the nutrition master. Virginia's daughter, Nancy Moody, writes, "At her funeral, we celebrated her nursing career with nurses standing by her casket and reading the Florence Nightingale Creed. Each nurse placed a white rose upon her casket. She was so proud of Emory and being a nurse." Survivors include five daughters, three sons-in-law, a grandson, and several nieces and nephews. Her husband Paul died in 2008.
Margaret Scott Gardner 47N of Blacksburg, Va., on Dec. 29, 2014, at 89. She worked as a registered nurse for many years. Survivors include two sons, one daughter, their spouses, four grandchildren, and two great-grandchildren. 
---
1950
Ellen Wilder (Jerry) Haymans 50N of Madison, Ga., on Dec. 12, 2015, at 85. She lived in Savannah, Ga., for 52 years and moved to Madison in 2012 to live with a daughter. During her career as an RN, she worked in the neonatology units in Savannah hospitals. Survivors include three daughters, a brother, and four grandchildren.
Mary Nan Carroll 51N of Orlando, Fla., on Dec. 8, 2015, after a long illness. She married the Rev. Benjamin Reese Blackburn in 1948 while they were students at Emory. They had four children. They held ministries in various Methodist churches from 1953 until his death in 1967. She resumed her career as an RN and transitioned over the next 20 years to a career in nursing/adult education in the Central Florida School System. She retired in 1987 and continued to serve the United Methodist Church. In 1997, she married Lt. Col. Sterling P. Carroll and began her transformation into an "adventurous soul" for her twilight years. Survivors include her three daughters and son, three grandchildren, two great-grandchildren, and six siblings.
Ree Mills Howe 51N of Decatur, Ga., on July 25, 2015, at home. A native of Alabama, she was raised in the south Georgia town of Blakely. She moved to Atlanta to attend nursing school at Emory and enjoyed a nursing career that culminated in being head nurse of Emory University Hospital. She married Karl Howe in 1957. They joined Clairmont Hills Baptist Church that year and remained devoted members. Survivors include her husband, a son and daughter, six grandchildren, and two great-grandchildren.
Yvonne Worley Randall 51N of Marietta, Ga., on Aug. 19, 2015, at 87. Upon graduating from Emory, she became a clinical instructor at the School of Nursing. She championed the reintroduction of lactation education and encouraged young mothers to breastfeed their babies. She and her husband, Dr. Henry Randall, raised five children. After their youngest started school, she began studying art and took up painting and then sculpture. During her 40-year career as an artist, she produced an outstanding portfolio of work, including oil paintings, sketches, and bronze sculptures. One life-sized bronze sculpture, "Stepping Stone," resides in the Cobb County Central Public Library in Marietta. Survivors include her husband of 64 years, two daughters, three sons, 19 grandchildren, and six great-grandchildren.
Virginia Pease Gilmore 52N of Mountain House, Calif., on Dec. 4, 2015. She was a head nurse in obstetrics until she married her husband Edward in 1959.
Marilyn Mallard Spradley 52N of Eastman, Ga., on Nov. 24, 2015, at 84. After Emory, she taught nursing at Georgia Baptist Hospital in Atlanta. She and her husband, James W. Spradley, raised five children. She was devoted to her family and her church, First Presbyterian of Eastman. She was accomplished in the art of needlework, mastering Japanese embroidery after decades of training. Survivors include her husband, two daughters, three sons, their spouses, a brother, and 11 grandchildren.
Hazel Hutcheson 56N 58MN of Atlanta on Jan. 30, 2016, at age 81. Retired as a clinical nurse specialist with Crawford Long Hospital, Hazel spent 23 years in the Emory Healthcare system and served on the nursing faculty at Emory, the Medical College of Georgia, and Crawford Long. She also consulted for the Georgia Department of Public Health and National Health Films. She was a communicant of the Episocopal Church of St. Philip and a docent at the High Museum of Art. In 2005, she received an Award of Honor from the Nurses' Alumni Association at Emory. She is survived by her nephew, Andrew Rank.
Jean K. Osborn 56N of Lyons, N.Y., on July 25, 2015, at 81. She was a school nurse in Kinnelon High School in Kinnelon, N.J., for several years. She is survived by daughters Cynthia, Paige, and Leslie, 11 grandchildren, and one great-grandchild.
Judith Reynolds Lord 58N 62MN of Santa Rosa Beach, Fla., on Dec. 15, 2015. She was 79.
Marion Baker McElroy 58N of Port Saint Lucie, Fla., on Feb. 9, 2015. She was 80.
Patsy R. Partridge 58N of Clinton, N.C., on Sept. 26, 2015, at 79. She and her husband Kenneth shared 54 years together in marriage and ministry in Indiana and Maine. Back in the South, she was an active member of Mintz Baptist Church in Roseboro, N.C., and a faithful supporter of Mintz Christian Academy. In addition to her husband, she is survived by two sons, two daughters, their spouses, a sister and brother-in-law, six grandchildren, and two great-grandsons.
---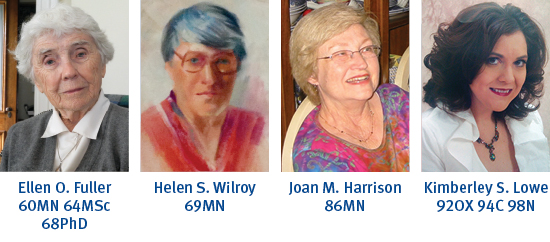 1960
Ellen O. Fuller 60MN 64MSc 68PhD of Florence, S.C., on Nov. 16, 2015, at 92. She was an educator and research physiologist whose career spanned half a century. She lived most of the year in Searsport, Me., overlooking Penobscot Bay. She spent the winter months in Florence. While raising her children in Atlanta, she returned to school and received several degrees from Emory. Her teaching career included appointments as associate professor in applied health sciences at Georgia State University and assistant and later associate professor of physiology at Emory. In 1980, she was appointed director of the Center for Nursing Research and associate professor of physiology, a joint appoinment to the University of Pennsylvania's School of Medicine. She is survived by four children and their spouses.
Harriett Helton Gaudino 63MN of Wytheville, Va., on Aug. 7, 2015, at 80. She dedicated her life to a career in nursing, both as a practitioner and administrator. She initiated the associate degree nursing program at Bluefield State College in Bluefield, W.Va., in 1967. She retired from Wytheville Community College as an administrator/ teacher in the nursing program in 1993. She also taught at West Virginia University School of Nursing and mentored many students over the years. An avid traveler, she visited 60 countries and 48 states. Preceded in death by her husband Dominic, she is survived by a brother and sister-in-law, a nephew, two nieces, and a grandniece.
Monda Susan Wade 64N of Toledo, Ohio, on July 28, 2015, at 75. She proudly served her country in the U.S. Army as a nurse, earning several medals for service in the Vietnam War. She was in the Army Reserve for more than 28 years, retiring as a colonel. Survivors include two cousins and five nephews. 
Elizabeth G. Benjamin 67MN of Hattiesburg, Miss., on Dec. 24, 2014, at 84. She was buried in Tallulah, La. She was a retired nurse who taught at the College of Nursing at the University of Southern Mississippi.
Lynda "Bebe" Robbins McQuaig 68N of Waycross, Ga., on Dec. 26, 2015, after a long illness. She was 70. She spent most of her adult life in Waycross and worked as a nurse at Clinch Memorial Hospital. She also taught nursing at South Georgia College and at Satilla Regional Medical Center in Waycross. She rose through the ranks at Satilla (formerly Memorial Hospital) from house supervisor to nurse manager for critical care. In 2000, she retired from nursing and became known as "Gigi" when her first grandchild was born. Survivors include her husband of 50 years, Richard, two sons and a daughter, their spouses, six grandchildren, her sister Jan, and several nieces and nephews.
Helen Sanderfer Wilroy 69MN of Hattiesburg, Miss., on Nov. 10, 2015, at 95. She served as a public health nurse from 1941 to 1943 and as an ensign with the U.S. Naval Reserve from 1941 to 1942. During this time, she met her future husband, Thomas Lake Wilroy. They married and went to live on his family's farm in Arkabutla, Miss. She left nursing to raise their two children and help on the farm. In 1954, she returned to public health nursing and later became a staff nurse at University Medical Center in Jackson, Miss. She started nursing school at the University of Mississippi and earned her BSN in 1965, before earning her MN at Emory in 1969. Focusing on mental health, she worked at Ellisville State School in Ellisville, Miss., for five years and then transferred to Hudspeth Retardation Center in Whitfield, Miss., where she served as director from 1976 until her retirement in 1979. Governor Cliff Finch recognized her service to the citizens of Mississippi with a certificate. During retirement, she traveled and started painting. She stopped driving at 93 but stayed active with the help of friends and caregivers until her health began to fail. Survivors include her daughter, Mary Charles, son-in-law Cecil, and grandsons Alex and Andrew.
---
1970
Mary (Molly) Stuart McAskill Wiggins 71N of Covington, La., on June 29, 2015. She was 78. After Emory, she earned a master's of education from the University of New Orleans. She worked as an RN, a nursing educator, and a public notary. She was a member of the North Shore Chapter of the American Harp Society and served as president from 2010 to 2013. Survivors include two sons, a daughter, their spouses, eight grandchildren, and two great-grandchildren.
Cindy A. Burbach 76MN of Wichita, Kan., on April 29, 2015, at age 64. She was a retired nursing professor for Wichita State University and nursing coordinator for the Wichita Public Schools. She also served as director of epidemiology and communicable diseases for Sedgwick County. Survivors include her husband of 44 years, Daryl, son Collyer, granddaughters Ava and Ella, mother Emily Laue, and brother Doug Laue.
Deborah (Debbie) Bledsoe Schuyler 79N of Charlottesville, Va., on Aug. 5, 2015, at 57 from a glioblastoma. After Emory, she obtained her anesthesia certification at George Washington University. She moved to Charlottesville in the early 1980s. She loved animals, listening to music, and hanging out with friends and family. Survivors include her husband Sam, daughter Phoebe, three sisters, her mother and father, and her favorite puppies.
---
1980
Joan Moore Harrison 86MN of Decatur, Ga., on July 27, 2015. She received her BSN from Florida State University and worked as an RN at several hospitals. After raising three children, she went back to school at Emory to earn her MN and become a nurse practitioner, specializing in gerontology and mental health. She spent her later career in Emory's neurology department where she served families and patients with Alzheimer's disease, Huntington's disease, and other brain disorders. She was diagnosed in 2010 with corticobasal ganglionic degeneration, a movement disorder similar to Parkinson's. It gradually took away the things she loved to do—walk, sing, garden, play the piano, and volunteer at church—but she enjoyed the company of friends and family to the end. Survivors include her husband William, two sons, a daughter, and four grandchildren. 
---
1990
Linda Ann Blum 90MN of Fruitland Park, Fla., on Oct. 23, 2014, at 70.
Lisa A. Poppell 90N of Tucker, Ga., on Dec. 22, 2015. 
Mary Margaret Mendler Hall 96N of Lawrenceville, Ga., on Sept. 14, 2015. She moved to Georgia from Pennsylvania in 1991. After Emory, she worked in nursing until her retirement in 2011. Survivors include her husband of 40 years, William (Bill), their sons Christopher and Brian, grandson Logan, two brothers, and two sisters.
Kimberley Smith Lowe 92OX 94C 98N of Suwanee, Ga., on Oct. 16, 2015. She was 43. Born in Atlanta, she was a nurse practitioner with North Chattahoochee Family Physicians. She was an actress in several community theaters around Atlanta. She is survived by her husband Clinton, son Harrison, brother Mark, and her parents, Martha and Curtis Smith. 
---
STAFF
Ruth Smith of Decatur, Ga., on Feb. 1, 2016, at 90. A native of North Carolina, Ruth attended Rogers Business School in her hometown of Sanford. She met her husband Gene at a USO dance, and they married in 1944. She began her career as a secretary at WIFM in Elkin, N.C., and subsequently served 30 years as a staff member with the School of Nursing, which made her an honorary alumna. She is survived by sons John Michael and Steven, four grandchildren, and four great-grandchildren.
---
Honor Your Classmates | Tribute gifts are an extraordinary way to honor your classmates. You can designate a gift for any occasion—a birthday, anniversary, special achievement, or the passing of a loved one, colleague, or friend. To make a gift, please contact the Office of Development and Alumni Relations at 404-727-6917.