Another Golden Heart for Nursing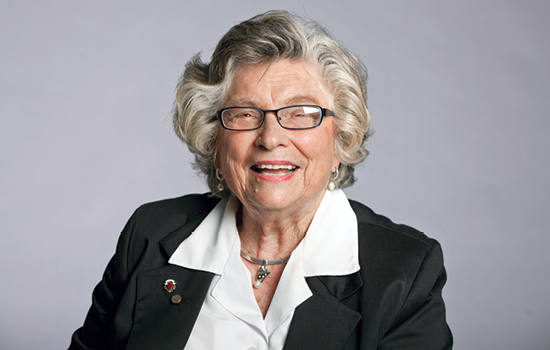 Betty Marie Stewart 52N is something of a trailblazer. She was the first woman and first nursing alumna to lead what is now the Emory Alumni Board as president (1978 to 1979). She has served the Nurses' Alumni Association (NAA) Board for more than three decades and Emory's Board of Visitors and the School of Nursing Council of Fifty. In addition, she helped found the Emory Alumni Association (EAA) President's Club, a university advisory body. Beyond Emory, she is a dedicated church and community volunteer.
For her contributions to the School of Nursing and Emory, Stewart received the NAA Award of Honor (1977) and the Emory Medal (1982), the university's highest alumni award. In 2002, Stewart donned a gold robe to march with graduates during commencement as a new member of Corpus Cordis Aureum (CCA), the Latin term for "the golden corps of the heart," an honor afforded to alumni who graduated 50-plus years ago from Emory. During commencement weekend this year, Stewart received the Judson C. Ward "Jake's" Golden Heart Award, presented by the EAA to honor longtime alumni for service, generosity of spirit, and loyalty to Emory.
Stewart is the second nursing alumna to receive this award. The first was Barbara Reed 57N 79MN in 2013. Also, Stewart is the eighth recipient of the Jake's Golden Heart Award, which honors the memory of Ward 33C 36G, who spent more than 80 years at Emory. When Ward died in 2009 at age 97, he held the title dean of alumni.
---