Class News
1960s
Gail Stroud 65OX 68N received the Georgia Hospital Heroes Award from the Georgia Hospital Association in January. She was one of 10 individuals honored statewide for providing exceptional care. Stroud has worked in health care for more than 50 years, starting in 1963 at Button Gwinnett Hospital, now Gwinnett Medical Center. She rode her bicycle to her job interview and was hired as a nursing assistant. After graduating from Emory, she returned to Gwinnett as the first BSN nurse in the system and continues to work at Gwinnett Medical Center.
---
1970s
Kathryn (Kay) Grey Gatins 72MN retired on Jan. 1, 2013, after serving on the nursing faculty for 31 years at Middle Georgia State University (formerly Macon State College) in Macon, Ga.
---
1980s
J. Michael Pate 81MN completed his assignment at the American Embassy in London. He is now director of medical providers with the U.S. Department of State in Washington, D.C.
Doreen Henricks 86N retired from Emory University Hospital on Dec. 31, 2015, after 32 years of service. She most recently worked in the cardiac cath lab.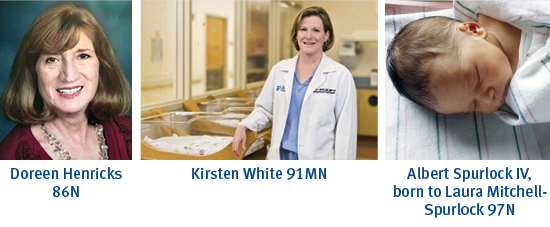 ---
1990s
Janet (Jade) Kaplan 90MN/MPH has joined the Maternal-Child Department of the Community Health Centers of Burlington in Vermont. For the past 13 years, Kaplan was an OB/GYN clinical instructor at Tufts University School of Medicine. She also taught in the OB/GYN residency program and the midwifery education program at Baystate Medical Center in Massachusetts. For 10 years prior, Kaplan lived in western North Carolina, where she was the first nurse-midwife to practice at a rural regional medical center in the Appalachian Mountains. She pioneered the use of hydrotherapy in labor and birth and the state's first nurse-midwife-owned practice. 
Kirsten White 91MN is a neonatal nurse practitioner at St. John Clinic in Tulsa, Okla.
Kathy (Katie) Oldham 92MN received the 2015 Nurse of the Year Award (general medicine category) from the Georgia Chapter of the March of Dimes. Oldham is the unit director for gynecology and general surgery at Emory University Hospital. Since 2011, her unit has sustained the highest nurse satisfaction scores among all other units in the hospital. 
BORN: To Laura Mitchell-Spurlock 95OX 97N and her husband, Albert, a son, Albert Spurlock IV, on May 28, 2015, at Emory Johns Creek Hospital. She works at Emory University Hospital Midtown.
---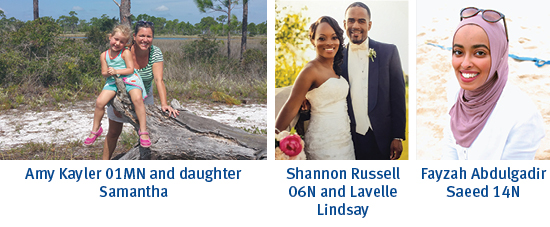 2000s
Amy Kayler 01MN is a nurse-midwife with Northside Women's Specialists in Atlanta. 
MARRIED: Shannon Russell 06N and Lavelle Lindsay on April 4, 2014. They live in Grand Rapids, Mich., where she is a family nurse practitioner.   
---
2010s
Jennifer Hogan 09C 11N was promoted to Labor and Delivery RN Team Leader at Northside Hospital in Atlanta. She plans to attend midwifery school in the near future.
MARRIED: Sarah Cavanaugh 13N and Jonathan Snyder on Oct. 11, 2014. They live in Atlanta, where she works at Children's Healthcare of Atlanta at Egleston.
Rachel Jung 14N is a registered nurse in renal/urology at Emory Saint Joseph's Hospital in Atlanta.
Fayzah Abdulgadir Saeed 14N is a registered nurse at Piedmont Hospital in Atlanta.
Bryonna Tucker 14N is a pediatric nurse practitioner at Northside Hospital in Atlanta.