Not Your Typical Nursing Student
While their backgrounds are diverse, students share a common drive to become excellent leaders in health care
By Marlene Goldman and Pam Auchmutey
At Emory, there's no such thing as a typical nursing student. All have diverse interests and backgrounds, and many hold bachelor's degrees from the nation's most competitive universities. In the past year, the number of BSN applications increased by more than 190 percent, and this year's entering class is the largest ever. They are drawn to Emory for a number of reasons. A curriculum built around the care continuum across the lifespan and emerging areas such as population health and ambulatory care. A commitment to research, service learning, and leadership spanning from the bedside to the board room. And opportunities for clinical practice in more than 500 settings. Whatever their degree track, Emory nursing students aspire to become excellent, compassionate leaders in health care. Each has a story to tell.
---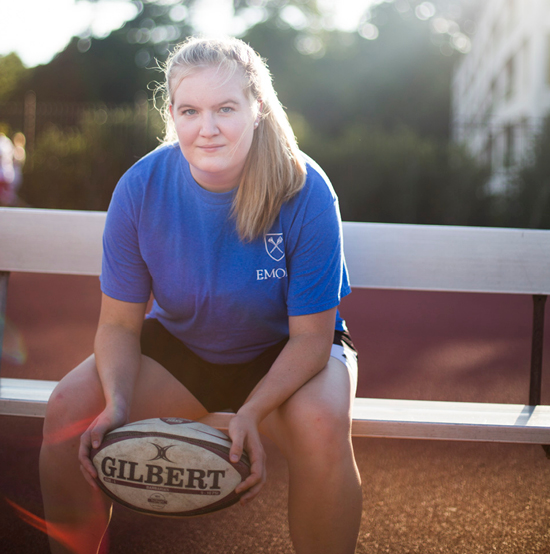 When she attended Harvard, Helen Clark played women's rugby and discovered that nursing aligned with her holistic view of health care.
Helen Clark, AMSN student
Specialty: Family-nurse midwifery
Graduate of: Harvard | Age: 22
Life Before Emory
As a forward on Harvard University's first women's varsity rugby team, Clark loved the physicality of the sport and how it promotes body positivity in girls. And while taking a Harvard class on sexual health and reproductive justice, she realized that the wellness-based, holistic philosophy of nursing lines up with her own philosophy of health care. Stints with Partners in Health and in a mobile clinic in Honduras as part of the Harvard medical brigade strengthened her resolve to pursue a nursing career, preferably abroad.
Transition
At Emory, Clark found a community of learning committed to her success at every step of her nursing journey. She also was drawn to the school's commitment to global health service and research.
Surprised By
The diverse backgrounds of her fellow students. "It's been really cool to meet people who have been emergency medical technicians or certified nursing assistants, or in the pediatric emergency room. Some have a masters in public health and worked in HIV prevention for 25 years, and others came to nursing school from college like me. We're learning a lot from each others' experiences."
Next Steps
She draws parallels between rugby and her decision to work as a midwife to populations without access to health care. "I learned from rugby that my body was powerful, not a liability. I want to help women discover how powerful their bodies are, how much they can do on their own without medical intervention, and how rewarding the birth experience can be."  She is playing on the Emory women's rugby club team this fall. 
Would Like to Meet
Loretta Ross, founder of Sister Song, a collective of women of color that focuses on access to reproductive justice for these women
Dream Job
Béyonce's midwife.
---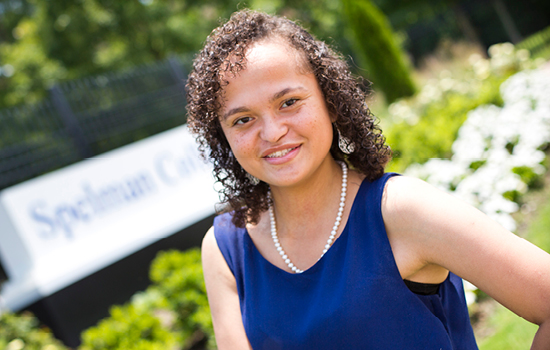 This fall, Megan Goldston transitioned from Spelman College into the ABSN program at the School of Nursing.
Megan Goldston, ABSN student
Attended: Spelman College | Age: 22
Life Before Emory
Goldston is living life fully, thanks to the care of nurses and doctors and the encouragement of her sister and mother. Born at 26-weeks' gestation, she weighed 1 pound, 15 ounces, was in the NICU for six months, and endured 44 procedures plus physical, occupational, speech, and swallowing therapy. 
But her medical challenges have not defined her. Growing up in Atlanta, she played soccer and softball and learned karate. She was one of four percussion section leaders in her high school marching band and played in the jazz ensemble and band at Spelman College. She graduated from Walton High School and Spelman with honors.   
Transition
Now 4 feet, 11 inches and around 100 pounds, she is one of the first students to transition to the School of Nursing as part of the Spelman-Emory pipeline program. The psychology major took nursing prerequisites at Spelman and in August 2016 began her nursing studies at Emory, where she will complete her ABSN in December 2017. Her experiences as a patient will help, she says.
Next Steps
As a nurse practitioner, she aspires to help patients transition from pediatric to adult care. "I'd like to bring more awareness to complex and rare diseases," says Goldman. "I want to help patients and families get the services they need as they grow from children to adults with multiple needs. Now they get lost in the health care system." 
Would Like to Meet
Alvera Anderson, spiritual nursing care pioneer.
Dream Job
To be a nurse who makes a positive change in health care and empowers patients with many medical challenges to live their lives without limitations. "Patients who become health care providers think differently. It is important to bring our perspective to the table as to what should be done in the health care system." 
---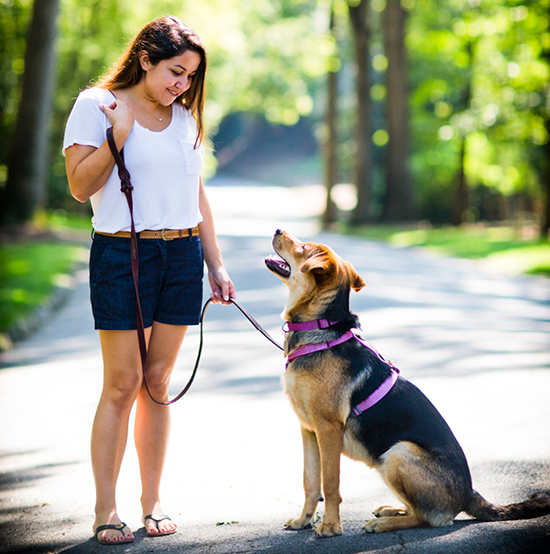 Monica Villarreal walks a friend's dog in Lullwater on the Emory campus.
Monica Villarreal, BSN student
Attended: University of Georgia | Age: 22
Life Before Emory
Villarreal has many interests including theater, art, and, science. She believes in service to others, too. At the University of Georgia, for example, she juggled classes while raising Bug, a golden retriever, for the Guide Dog Foundation for the Blind. 
Transition
Her interest in science and interacting with patients influenced her to go into nursing, and a scholarship from the Building Undergraduate Nursing's Diverse Leadership at Emory (BUNDLE) program gave her peace of mind. "I already had decided to go to Emory, but the scholarship lets me focus on academics," says Villarreal. Funded by a Health Resources and Services Administration grant, the BUNDLE program grooms nursing students to become public health nurse leaders for underserved populations. Villarreal is already using her leadership skills as president of the Emory Student Nurses Association, which has given her access to state and national conventions and policy discussions that may influence nursing programs everywhere. "Nursing school is a once-in-a-lifetime opportunity, so I want to put everything I can into my program and represent Emory as best as I can," she says.
Surprised By
How hard nursing school is.  "My biggest challenge is time management." 
Next Steps
After completing a 10-week externship program at Children's Healthcare of Atlanta at Egleston in July, she accepted a position as a patient care technician there and hopes to get a nursing job at Children's when she graduates. Training another guide dog is definitely in her future. 
Would Like to Meet
Michelle Obama. "She has amazing goals for America like conquering childhood obesity."
Dream Job
Pediatric nursing and doing something with her artistic side like wedding planning or monogramming.
---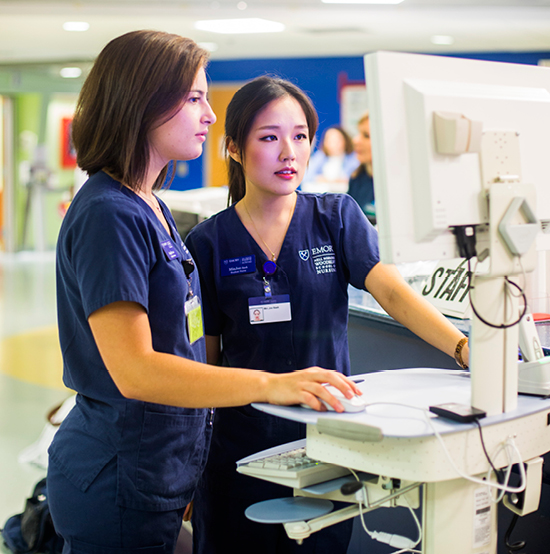 BSN students Angela Zeck and MinJoo Baek spent part of a summer externship in oncology at Children's Healthcare Atlanta.
Angela Zeck, BSN student
Age: 22
Life Before Emory
When Zeck was 4 years old, her mother was diagnosed with breast cancer. At age 12, Zeck started a jewelry business, selling her own handcrafted beaded bracelets, necklaces, and earrings. All proceeds ($8,000 to date) have gone to the American Cancer Society. Today, Zeck's mother works as a hairdresser and helps with the jewelry business. 
"I remember the toll cancer took on my mom and our whole family and what the nurses did for my family. If I can pass that on to others, I would be grateful," says Zeck, a native of New Jersey.
Transition
Zeck knew that the School of Nursing was the place for her. "I'd always volunteered to help others, and I wanted to take a career path to make a difference—that's at the core of the nursing profession." 
As one of two students in the Susan D. Flynn Memorial Oncology Nursing Externship program, she spent eight weeks working alongside oncology nurses at Emory University Hospital, Winship Cancer Institute, and Children's Healthcare of Atlanta at Egleston. "It was a wonderful experience. My favorite week was working with kids." 
Surprised By
The strength and resilience of cancer patients. 
Next Steps
"I want to specialize in pediatric oncology.  Kids are some of the toughest, bravest people you can meet, always with a smile on their faces even though they go through so much at a young age. It's an honor to care for cancer patients."
Would Like to Meet
Dorothea Dix, a civil war nurse who believed Union and Confederate soldiers deserved equal care and who created the first mental health system in the United States.
Dream Job
Pediatric oncology nurse at Children's.
---
MinJoo Baek, BSN student
Age: 25
Life Before Emory
Born in South Korea, Baek moved with her family to Johns Creek, Georgia, when she was 16. Her parents encouraged her to study hard so she would have a better life.
Transition
As a biology major at Emory College, she spent her first three years searching for a career fit before deciding to become a nurse. "I love the science and the human interaction and how nurses can empower patients," she says.
The Susan D. Flynn Memorial Oncology Nursing Externship has been another good fit. Baek was one of two students in her class of 100 chosen for an eight-week immersion in oncology units throughout Emory Healthcare. After seeing how nurses use different approaches with their patients, she's "picking what I like best and making it my own." In the Bone Marrow Transplant Unit, she saw how nurses made special connections with their patients and supported each other. Visiting the American Cancer Society's Hope Lodge opened her eyes to how patients and families often deal with transportation and lodging issues associated with frequent trips or extended stays for treatment. 
Surprised By
The nursing school workload and 12-hour shifts in the externship program.  
Next Steps
The externship demonstrated the importance of being a good nurse first. "I want to be more comfortable with being a nurse and caring for patients before I return to school for my masters."
Would Like to Meet
Her dad, whom she hasn't seen in a while because he works in South Korea.
Dream Job
"A nursing job that brings me joy (and lots of money) and gives me time to spend with my family, doing crafts, and using my imagination."
---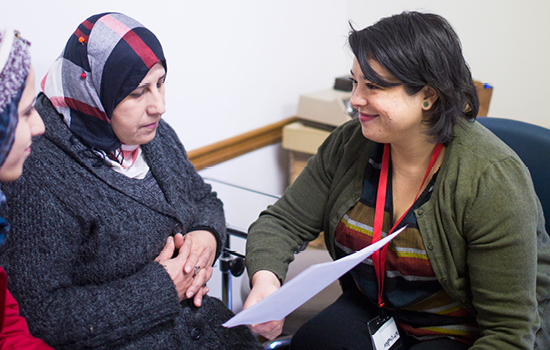 Jessica Goza instructs a refugee patient at the Clarkston Community Health Center a few miles east of Emory.
Jessica Goza 15N, MSN student
Specialty: Adult-gerontology primary care
Graduate of: UCLA | Age: 30
Life Before Emory
Goza was inspired to live a life of service by her grandmother, who taught English with the Peace Corps in the Dominican Republic. Later, Goza studied global health and infectious disease at UCLA and worked as a nurse's aid before signing on with the Peace Corps herself. She served in Senegal, where she educated community members on nutrition, maternal-child health, water and safe sanitation, and malaria prevention.  
"I really enjoyed my time in Senegal," says Goza. "I was able to make some sustainable changes for communities there and gain a better understanding of myself and the world around me. It further motivated me to go back to school for a nursing degree."
Transition
After enrolling at Emory's School of Nursing in 2014, Goza was named one of its first two Paul D. Coverdell Fellows in 2015. These fellowships support Returned Peace Corps Volunteers.
Surprised By
Opportunities for leadership and advocacy within day-to-day practice as nurses and nurse practitioners.
Next Steps
As Coverdell Fellows, students are charged with taking on projects in the community. Goza chose to work with patients in the Clarkston Community Health Center. Services there are free for patients, most of them refugees. One of her goals is to start up health education classes at the center. 
Would Like to Meet
Camara Jones, American Public Health Association president. 
Dream Job
"One that allows me to put patients first, not profits. I'd like to have the time and availability to make sure that my patients go home confident that they understand their medications and care plan."
---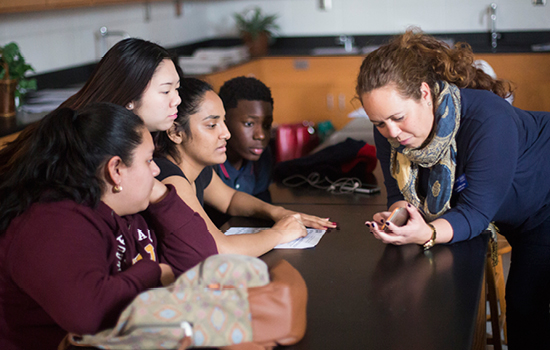 Samantha Hydes mentors teens in the Health Career Academy at North Clayton High School.
Samantha Hydes 16N, MSN student
Specialty: Family nurse-midwifery
Graduate of: Florida State | Age: 30
Life Before Emory
Hydes first graduated from Florida State University with degrees in real estate and hospitality management. In Atlanta, she worked for Omni Hotels as assistant director of housekeeping. 
"That was the catalyst for volunteering with the Peace Corps," the Florida native says. "At the time, we were hiring a lot of staff through refugee services. I loved meeting them and hearing their stories."
Hydes served with the Peace Corps in the Dominican Republic, primarily to aid a community co-op in developing a business plan to market an abundance of fresh fruit, share business skills with unemployed teachers, and instruct teen girls on health and lifestyles. She also was coordinator of a mission hospital, where volunteers told her, "Sam, you should be a nurse."
Transition
Hydes was drawn to Emory's School of Nursing because of its focus on leadership and social responsibility. "It was inspiring to learn about faculty who value global health and caring for underserved populations. That's the whole reason I came into nursing," says Hydes, one of the first MSN students to receive a Paul D. Coverdell Fellowship for Returned Peace Corps Volunteers.
Surprised By
The look on a mother's face when she first sees her baby after birth. "It is special every single time."
Next Steps
Hydes has wasted no time in putting her Peace Corps skills to work at the Community Advanced Practice Nurses Clinic, which serves homeless women, teens, and children in Atlanta, and the Health Career Academy for teens at North Clayton High School.
Would Like to Meet
Bob Marley. "I grew up listening to his music and have always loved his focus on love and peace for all."
Dream Job
Working in reproductive and sexual health with teens and young adults. 
---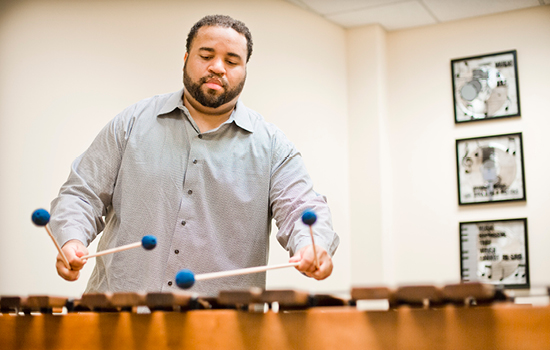 Johnny Hardeman practices the marimba at Emory's Schwartz Center for the Performing Arts.
Johnny Hardeman 16N, PhD student
Graduate of: Georgia Southern | Age: 35
Life Before Emory
When he was a child, Hardeman could walk from his house to Emory's Oxford College campus to work on projects for school. He later attended Georgia Southern University, where he trained as a classical percussionist. He has toured with rock and roll, country, and other bands and still records music in his home studio. Every summer, he teaches drum line and writes music for marching bands throughout the Southeast.
Transition
After his daughter was born nine weeks early, Hardeman clocked out at work and clocked in at the NICU to stay by her side for two months. "I saw how the nurses had a heart for working with my daughter," he says. "That's what turned me on to nursing. They were helping more than just the patient. They were helping families. That started me on my pathway."
He first studied nursing at Georgia Perimeter College (GPC), where he learned about the Bridges to Baccalaureate Program, funded by a National Institutes of Health (NIH) award to GPC and Emory, which prepares minority students for careers in nursing practice and research. Hardeman completed his BSN at Emory this past August.
Surprised By
The diverse experiences of nursing faculty. "They've worked with people who have nothing, and they've done it for years. Their hearts extend globally far beyond any hospital. They each give something special back to the class."
Next Steps
Now a first-year student in Emory's nursing PhD program, Hardeman is looking to tease out an area of study. But he knows one thing for certain. "If I can contribute to the scientific body of nursing knowledge to reduce health disparities and improve outcomes, I'm ready to sacrifice five years of my life to help my community."
Would Like to Meet
The individual at NIH who came up with the Bridges to Baccalaureate Program. "I'd like to personally thank him or her for seeing the value of diversity in nursing and higher education."
Dream Job
To become dean of nursing at a prestigious university.
---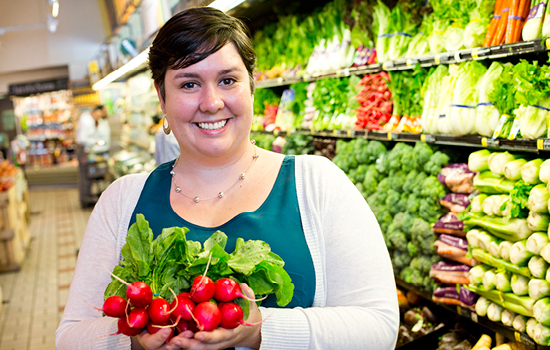 In ninth grade, MK Findley won a science contest for a project on radishes. Here she admires them in the produce section at Whole Foods near Emory.
MK Findley 10G, PhD student
Graduate of: Georgia State | Age: 32
Life Before Emory
Findley fell in love with science during grade school in Alabama. In ninth grade, she won her high school science fair with a project on the environmental effect of increased carbon dioxide exposure on radish plants. "Winning was a big deal," says Findley. "It was the first project I'd done that involved the scientific process and scientific thinking."
Some years later, she earned a master's degree in biochemistry and cell and developmental biology at Emory, where she got her first taste of translational research in a pulmonary medicine lab. "I decided not to do bench science," she says. "I wanted a clinical focus and really liked the holistic nature of nursing."
Transition
As a BSN student at Georgia State University, Findley worked in student health. There she met a young diabetic woman who had neglected her health and wound up in a hospital intensive care unit. "I went through that experience with her," Findley says. "I wanted to help and learn why she wasn't taking better care of herself." 
Surprised By
The disconnect between pediatric care and adult care for patients with chronic conditions such as diabetes. 
Next Steps
A third-year student in the School of Nursing's PhD program, Findley is looking at how to ease the transition from pediatric to adult care. As pediatric patients, diabetics are counseled on the importance of diet and exercise and the mental health aspects of their illness. But when they enter adult care, that longtime connection is often lost as they are learning to live independently. 
Would Like to Meet 
Hildegard Peplau. "She was the first nursing theorist whom I studied and my introduction into the world of nursing research."
Dream Job
Dean of research at a nursing school.