In the heart of the Ebola outbreak
For EIS officer Michelle Dynes, the decision to serve in Sierra Leone came easily. The tough part was telling her children why.
By Dana Goldman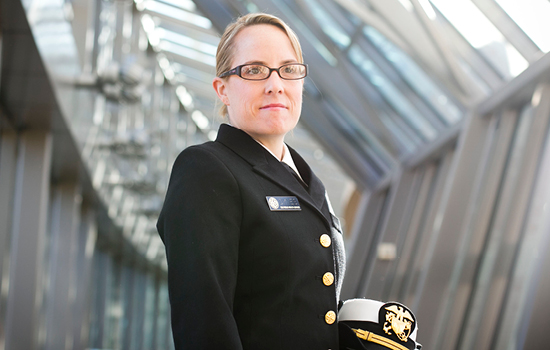 Late last summer, nurse-midwife Michelle Dynes 13PhD MPH RN (above) sat her three kids down to tell them she was going on an extended business trip. That part wasn't so unusual. All were used to her travels as an Epidemic Intelligence Service (EIS) officer with the Centers for Disease Control and Prevention (CDC).
What was unusual was where their mother was headed: Sierra Leone, right to the heart of the Ebola epidemic.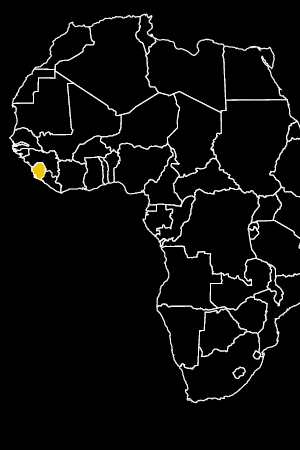 WHEN WILL IT END?
Nurses and other health care professionals still have an important role to play in halting the Ebola crisis in West Africa. According to  the  World Health Organization, more than 24,000 cases and 10,000 deaths have occurred in Sierra Leone, Guinea, and Liberia. The highest numbers are concentrated in Sierra Leone, where more than 11,800 people have contracted the virus and more than 3,700 have died. Experts predict the epidemic will end later this year. 
Source: Centers for Disease Control and Prevention
"I explained to them what type of work I would be doing," Dynes recalls. "The main thing they really wanted to know about was the risk. It was as if they needed to know how much they needed to worry." 
After all, the Ebola virus was in the news on a daily basis with thousands of confirmed cases in West Africa. But Dynes knew she needed to go. 
"Anytime there's an outbreak anywhere in the world, it's common for EIS officers to be sent to investigate," she says. "Essentially, they asked who was interested in responding to the Ebola epidemic. I definitely wanted to get involved. I had a certain set of skills that would allow me to contribute to the CDC's response." 
Those skills include experience in global health and health promotion as well as research expertise honed by her doctoral studies at Emory's School of Nursing.
"My PhD was really important and connected my clinical background with my global health experience so I could see the situation from multiple angles," Dynes says.  "A PhD opens your eyes to the types of questions people should ask. Those questions guide the type of information you need to collect. Knowing how to collect data and make it meaningful so it can guide public health actions is critical."
Dynes soon found ample opportunity to put her skills to work at an Ebola treatment center at a government hospital in Kenema, the third-largest city in Sierra Leone. The outbreak devastated the city. Businesses and schools were closed, the economy was stalled, and impoverished citizens who already lived day-to-day struggled to survive, regardless of whether they had Ebola. Hospital workers were among those hardest hit by the virus.
"They had lost 20 nurses by the time I arrived," says Dynes, "and many more died while I was there."
Every day, Dynes looked out the hospital's window to get a view of the triage tent where health care workers evaluated people for Ebola. "You could get a sense of how the epidemic was going based on how many people were waiting in that tent to be seen," she says. She also could see the Ebola treatment center from her office window. "The kids in the doorway would wave to us if they were recovering." 
Dynes and her colleagues quickly got to work helping teach local health care professionals how to reduce the chances of contracting and spreading Ebola. They began by training the nurses working in the Ebola treatment center to pay methodical attention to safety, some of which seemed counterintuitive.
"In a regular hospital, if someone passed out in front of you, a nurse normally would rush up and help them," Dynes explains. "In an Ebola treatment unit, you can't do that. It's just not safe to rush in and take care of someone the way it is in a normal hospital." Instead, Dynes and her colleagues taught nurses to stop before every action and consider possible consequences. 
They also spent considerable time figuring out strategies to support local health care workers grappling not only with the outbreak but also with the loss of many colleagues and friends to Ebola.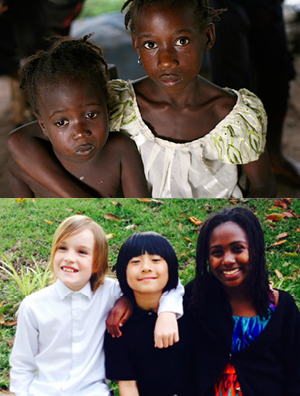 Children would stand in the doorway of the Ebola treatment center in Sierra Leone and wave, signalling their recovery. "I described that to my children (bottom photo) so they would understand why I had to be gone."—Michelle Dynes
"These are nurses who recently finished school and are ready to step into an Ebola treatment center," Dynes explains. "Their families often were not supportive, and yet many nurses were willing to help because they felt it was their professional obligation."
Knowing that stress, fatigue, and trauma would make it harder for the surviving nurses to perform their jobs effectively, Dynes created a counseling space in the hospital to provide ongoing psychosocial support for health care workers and Ebola survivors.
She also recognized two ancillary victims of the Ebola outbreak: routine health care services usually provided by the hospital and patient trust in the health care system itself. Neither was insignificant. Sierra Leone already has one of the highest maternal mortality rates in the world, and mothers and babies are at risk of dying without appropriate medical care. 
Dynes quickly learned the reasons why many people avoided the hospital. "There are common misconceptions that health care workers will give people Ebola or inject them with the virus," she says. "If a woman is in labor with complications, she may decide not to come to the hospital. Infants may not be immunized and may die of preventable illnesses such as measles."
The Ebola outbreak further strained Sierra Leone's already under-resourced health care infrastructure. "Health workers weren't able to provide the types of services they usually provided because they had to focus on Ebola," Dynes says. "So many services became out of reach." 
After conducting interviews and focus group sessions with new mothers and health workers, Dynes and her colleagues identified ways the hospital could continue to serve patients without Ebola—and figured out ways to spread the word that the hospital was safe for those without the virus. 
"The traditional birth attendants were more than happy to spread messages about coming to the hospital and sharing that it was safe," she says.
Throughout her six-week deployment in Sierra Leone, Dynes stayed in close touch with her children to tell them about her experiences. "I often called them while sitting on the steps of the office, facing the Ebola treatment center where the kids who were recovering would stand in the doorway and wave," she says. "I described that to my children so they would understand why I had to be gone, even though it meant being away from them."  
Now back at home, Dynes is spreading the word that the Ebola virus is still a large threat to Sierra Leone. To date, more than 11,800 cases and 3,700 deaths have occurred in that nation. "The attention still needs to be in West Africa," she says. "The world can't afford to back down from our response." 
With that in mind, she's considering going back to Sierra Leone this year. "I wouldn't hesitate to do it," Dynes says. "I just want to make sure I'm filling some gap that exists."
Related Resources
More Ebola stories at Emory (Emory News Center)
"School of Nursing alumni discuss successful treatment of Ebola patients" (Emory News Center, 2/12/2015)
"Three Emory nursing grads part of Emory's Ebola team" (Emory News Center, 12/18/14)