Rose Dilday pioneered mental health nursing in Georgia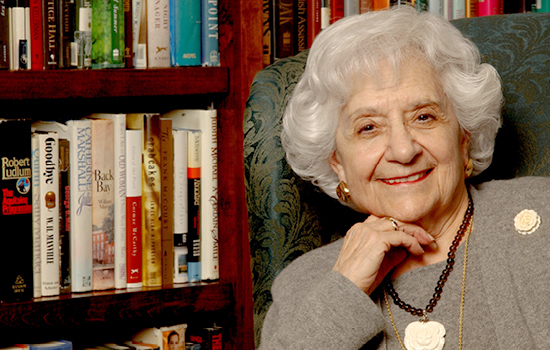 A loyal group of former students and friends made sure that retired nursing professor Rose Dilday 79N (honorary) had a party to mark her 100th birthday, even though she was just 99. The group celebrated around her Atlanta Hospice bedside the week before she died on Dec. 13, 2014, three months shy of her centennial birthday.
There was much to celebrate about Dilday, who pioneered community-based mental health nursing in Georgia. During the early 1960s, the Kennedy Administration awarded a mental health planning grant to the state, which needed a nurse on its planning team. A colleague recommended Dilday, who left her native New York State to join the team in 1964. A year later, Emory launched Georgia's first graduate program in psychiatric mental health nursing, which Dilday joined on an adjunct basis. At the time, she was part of an initiative to decentralize the state mental health hospital in Milledgeville and believed that master's-prepared psych nurses could provide vital services in the community.
In 1968, Dilday joined Emory full-time to direct the graduate program in mental health nursing. She subsequently chaired the psychiatric/mental health program for all-level students and was the first non-psychiatrist to teach a family therapy course. She continued to advocate for mental health services at the local, state, and national levels and secured more than $2 million in training grants from the National Institute of Mental Health for the School of Nursing. Among other firsts, she placed graduate nursing students in community health centers for clinical experience and established a state program for nurses recovering from substance abuse, which became a national model.
Dilday welcomed students and colleagues into her life by cooking Italian meals, singing along (or trying to), and writing poems for them. She was named an honorary alumnus in 1979 and appointed professor emeritus in 1984. Upon her retirement, grateful students established the Rose Dilday Scholarship for graduate students with an interest in mental health or gerontology. Dilday received many honors in her lifetime, including the Award of Honor from the Nurses' Alumni Association in 1988 and the Distinguished Emeritus Faculty Award in 2004.
She continued to write poetry and pursue other interests while living near Emory at Clairmont Place, where several retired nursing faculty and alumni reside. She maintained close ties with her former students, including Betty Daniels 51N 67MN, Sally Lehr 65N 76MN, Claudia Crenshaw 72C 77N 79MN, Carol Bush 67MN 73MA 74PhD, and Nell Rodgers 65N 67MN 74PhD.
"She offered understanding and encouraged us to follow our dreams," said Rodgers in her eulogy for Dilday this past January. "Dear Rose, we are grateful and the better for having known you. We shall miss having you in our lives."—Pam Auchmutey
Memorial gifts may be made to the Rose Dilday Scholarship Fund, which supports graduate students specializing in mental health or gerontology. Gifts may be made online at bit.ly/give-SON or sent to the Office of Development and Alumni Relations, Nell Hodgson Woodruff School of Nursing, 1520 Clifton Road N.E., Atlanta, Georgia 30322. To learn more, contact Margot Early, associate director of development, at 404-727-5291 or margot.early@emory.edu.