Class News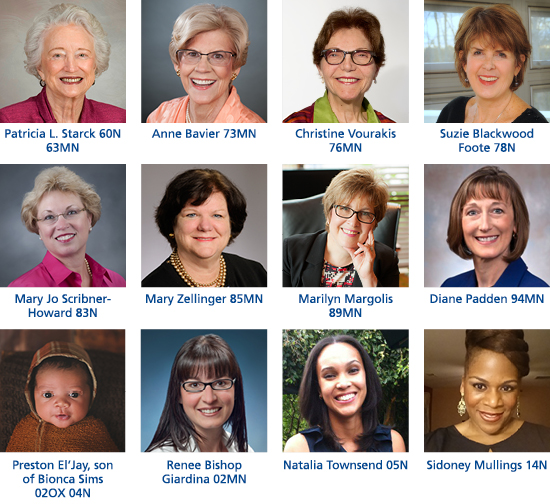 1960s
Dr. Patricia L. Starck 60N 63MN is transitioning to a new career phase after serving for 30 years as dean of the University of Texas Health Science Center at Houston (UTHealth) School of Nursing. After completing a sabbatical, Starck will return to UTHealth as senior vice president for interprofessional education, a role she took on in 2013. Among her many accomplishments as dean are a faculty practice that annually generates $3 million in revenue and the first doctor of nursing practice program in Texas. She also launched the Accelerated PhD Program, designed to grow the number of nursing faculty, and oversaw fund-raising and construction of the School of Nursing and Student Community Center, open since 2004. 
June Mills Campbell 67MN writes that she is grateful for her time at Emory and the learning opportunities she enjoyed. She is now in assisted living, but her daughter lives nearby. Campbell has two grandsons, two granddaughters, and three great-grandchildren.
---
1970s
Dr. Sandra Jones Campbell 70MN received the John & Suanne Roueche Excellence Award from the League of Innovation in the Community College. She was honored for co-creating a civility code of conduct with a class of RN students at St. Petersburg College in Florida. Campbell is now a professor emeritus there and president of Winning Within Inc., a seminar/consulting firm.
Dr. Cornelia Beck Dewees 72MN is a fellow of the American College of Nurse-Midwives. She teaches nurse-midwifery at East Carolina University College of Nursing and has taught at Emory.
Dr. Anne Bavier 73MN joined the College of Nursing at the University of Texas at Arlington as dean. She formerly was dean of nursing at the University of Connecticut and Saint Xavier University in Chicago and assistant dean of development at Emory's School of Nursing. She also directed programs for the National Institutes of Health's Office of Research on Women's Health and the National Cancer Institute. Bavier is president-elect of the National League for Nursing. 
Dr. Christine Vourakis 76MN was named to the 2014 Class of Fellows of the American Academy of Nursing. Vourakis is a Sacramento State professor of nursing specializing in mental health and addictions. She co-edited a landmark textbook on addictions, Substance Abuse: Pharmacologic, Developmental and Clinical Perspectives, and is now editor of the Journal of Addictions Nursing.
Suzie Blackwood Foote 78N established Healing Touch, a private energy medicine practice in Jackson, Miss. Learn more about her practice at  healingbeyondborders.org.
San Harney Short 79N received the Georgia Hospital Association's Lifetime Heroic Achievement Award in 2014. Short is a nurse, diabetes educator, and patient satisfaction champion at Upson Regional Medical Center in Thomaston, Ga.
---
1980s
Dr. Mary Gullatte 81MN was named corporate director of nursing innovation and research for Emory Healthcare. Gullatte formerly was vice president of patient services and chief nursing officer at Emory University Hospital Midtown.
Anna Hollingsworth Smith 82N 85MPH received a master of science degree in traditional Oriental medicine in 2013.
Wanda G. Freeman 83N was certified as a nurse executive by the American Nurses Credentialing Center. She lives in Anderson, S.C.
Mary Jo Scribner-Howard 83N received the 2014 Excellence in Professional Development Collaborator/Advisor/Mentor Practice Award from the Association for Nursing Professional Development. She is a nursing education specialist with Palmetto Health in Columbia, S.C.
Dr. Maureen Vidrine 85N earned her DNP from Brenau University in Gainesville, Ga., in 2013. Her capstone project explored the "Interprofessional education of community mental health treatment team members on the neurodevelopmental implications of childhood maltreatment and trauma." Vidrine provides equine-facilitated psychotherapy with Horse Time Inc. in Covington, Ga,. and serves on the nursing faculty at Brenau.
Mary Zellinger 85MN rejoined the board of directors of the American Association of Critical-Care Nurses. She is a clinical nurse specialist at Emory University Hospital.
Elizabeth Morell Edel 87MN was appointed vice president of perioperative services at St. John's Hospital in Springfield, Ill. She comes to St. John's from Houston, Texas, where she directed surgical services for Texas Orthopedic Hospital. 
Marilyn Margolis 89MN was named CEO of Emory Johns Creek Hospital in north metro Atlanta. She joined Johns Creek in 2011 as vice president of patient services and operations and chief nursing officer. Prior to joining Johns Creek, she was director of nursing operations at Emory University Hospital. She has been a nursing leader at Emory for more than 30 years.
---
1990s
Dr. Mary Foster Cox 91MN joined Francis Marion University in Florence, S.C., as associate professor of nursing.
Dr. Donna Schminkey 93MN/93MPH completed her PhD and is now an assistant professor in the School of Nursing and School of Medicine at the University of Virginia. Her research studies focus on the psychoneuroimmunology of adverse birth outcomes, specifically the impact of intimate partner violence and substance abuse on trophoblastic signaling and pregnancy outcomes.
Dr. Diane Padden 94MN is vice president for research, education, and professional practice with the American Association of Nurse Practitioners (AANP). Padden was inducted as an AANP fellow in 2010.
Nancy Curdy 96MN received a master of science in health care quality and patient safety at Northwestern University. She is director of patient safety at DeKalb Medical Center in Decatur, Ga. 
Tiffany Cheek Holland 99N is associate director of the Atlanta International School. She and her husband, Chris, live in Smyrna, Ga.
---
2000s
Renee Bishop Giardina 02MN works at the Scripps Clinic in San Diego, Calif.
BORN: To Bionca Deann Sims 02OX 04N and her husband, Lanier, a son, Preston El'Jay, on Sept. 24, 2013. The family lives in Covington, Ga.
Tammy Renee Jones 05N is a staff nurse with Delta Air Lines in Atlanta and lives in Fayetteville, Ga.
Natalia Townsend 05N graduated from Georgia State University and is now a certified pediatric nurse practitioner. She works in the cardiac step-down unit at Children's Healthcare of Atlanta at Egleston.
Sarah F. Mitchell 09N works at Children's Healthcare of Atlanta at Egleston and lives in Covington, Ga.
Julia Brainin Smookler 09MN is a nurse-midwife in the Decatur office of Atlanta Gynecology & Obstetrics. She has more than a decade of experience as a labor and delivery nurse and midwife. "No two moms, babies, or births are the same, so it's important to me to individualize care for each mom," she writes.
Dr. Rose Murphree 11MN received her DNP from Georgia Regents University. Murphree directs the Wound, Ostomy, and Continence Nursing Education Center, a continuing education program based at Emory's School of Nursing.
Molly Stoddart 11N works at the Hospital for Special Surgery in New York City.
Dr. Kim Schippits 12PhD was appointed endowed director for nursing education for the University Hospital System in Cleveland, Ohio.
MARRIED: The former Maybeth Marchman 14N and Michael Erwood in June 2014.  She now goes by Graham Erwood.
Sidoney Ann-Marie Mullings 14N is a respiratory medical-surgical nurse with Children's Healthcare of Atlanta at Scottish Rite.