Touching students, touching patients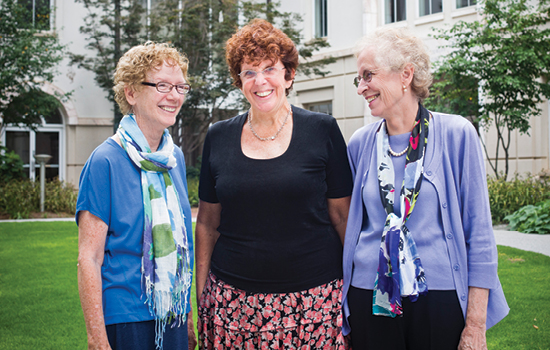 Joyce King, Kathryn Matthews, and Barbara Reeves recently retired from the School of Nursing, but their exceptional contributions will long be remembered. 
Joyce King 95PhD CNM FACNM wove the two strands of women's health and teaching deftly into a 42-year nursing career. She honed her family nurse practitioner (FNP) skills working in public health in rural Tennessee, then chose to obtain a post-master's certificate to practice nurse-midwifery at Emory. Because of a lifelong interest in physiology, she pursued a PhD in the subject and has taught physiology/pathophysiology to every BSN and MSN student since 1993. She also has led Emory's nurse-midwifery and women's health NP programs. She currently practices at a homeless shelter and remains an advocate for women who, like herself, have experienced breast cancer.
"Although I've been teaching at Emory since 1979, I consider myself a clinician first," says King. "I love women's health, and my practice gives credibility to my teaching." It also provides her with stories that students remember and use, notes Maureen Kelley PhD CNM FACNM, clinical professor at the School of Nursing. 
"Joyce is an outstanding educator," says Kelley. "She cares very deeply that students understand the subject matter and works hard to ensure that occurs." 
Among King's many honors are the Emory Williams Distinguished Teaching Award and the Excellence in Teaching Award from the American College of Nurse-Midwives. 
"The highlight of my career has been my relationships with students. I love the positive contact," she says.
---
A nurse since 1968, Kathryn Matthews DNP FNP APRN-BC loves "the connectedness" and purpose she's found in her work. Soldiers returning from Vietnam, some of the first AIDS patients, coal miners, and seniors with chronic diseases are among those whom Matthews has served in her roles as a nurse and FNP in hospitals, the Navy, rural public health districts, and city clinics.  
She has taught at Emory since 1994 and represented Emory Healthcare on a national medical center collaborative to study chronic disease care. She's strengthened the FNP program curriculum and practices at the Emory Clinic in general internal medicine. 
"Nursing is a career of lifelong learning and one where you always have the opportunity to help people," she says. In academic or clinical challenges, her attitude has been, "Give me a chance and I'll do it."
"Matthews is a strong clinician and as a Navy nurse she's seen everything," says Clint Shedd DNP FNP-BC, assistant professor. "Students who rotate through her clinic always gain tremendous experience." 
Her niche is helping patients with chronic disease come to terms with pain, loss, and change. Despite battling a rare form of cancer, she plans to continue her clinical practice after retiring from teaching. 
"Nurses know how to pull resources. They can help patients understand and respond better to their diseases," she says. "I love hearing someone say, 'You really helped me.' "
---
Not wanting to be a schoolteacher or secretary (common career choices for women in the early 1960s), Barbara Reeves MSN RN chose to attend the Johns Hopkins Hospital nursing diploma program. 
She had no idea then that she would become a family nurse practitioner, serve OB/GYN patients in rural north Georgia, or teach nursing for almost 30 years at Emory. 
"I tell students to come into nursing with an open mind," she says. "The FNP role is so broad. It covers chronic and acute disease, pediatrics, women's health, family planning, and prevention. As a result, I've taught almost everything at Emory." 
When Matthews and then Shedd assumed Reeves' FNP specialty coordinator role, both were amazed by her organizational skills and program knowledge.
"Barbara carries so much important information in her head, steered me away from potential problems, and was so generous in helping me," Shedd says. "She cares deeply about everything she does."—Laura Raines