PhD nursing program is a first for Ethiopia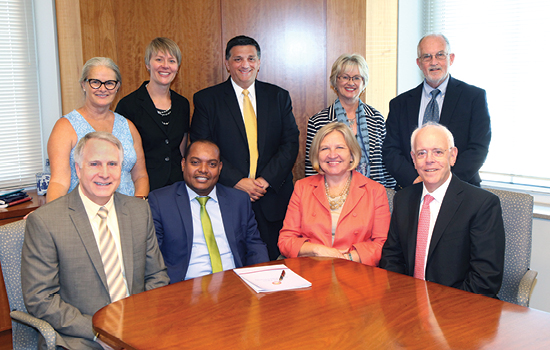 Emory and Addis Ababa University (AAU) signed a memorandum of understanding (MOU) to establish Ethiopia's first PhD nursing program to train health care workers, nurses, and midwives in research. 
The first students began their studies this fall at AAU, where they will study primarily in its School of Public Health and receive AAU doctoral credits for four Emory School of Nursing courses taught via Skype. After their second semester of study, students will visit Emory for a three-week workshop to craft their research proposals, aided by Emory nursing faculty who serve on their dissertation committees. 
A nursing research-focused PhD is indicative of a new direction in national health policy. "Ethiopian health policy used to focus on preventable diseases," says Getnet Yimir, who represented AAU at the MOU signing ceremony at the School of Nursing in June. "The new health policy addresses tertiary care in areas such as noncommunicable disease, trauma, emergency care, and the health effects of aging." 
Part of this commitment, he adds, is to improve the quality of education within the country and prepare nurses to serve with the nation's health ministry, research institutions, and universities. The MOU also lays the groundwork for a five-year partnership between Emory and AAU that may grow further. School of Nursing faculty have collaborated with health and university leaders in Ethiopia for several years through the ongoing Maternal and Newborn Health in Ethiopia Partnership and the Ethiopia Public Health Training Initiative, a Carter Center program that has trained thousands of health workers to serve in remote rural areas.