Flynn externship offers rich experience for aspiring oncology nurses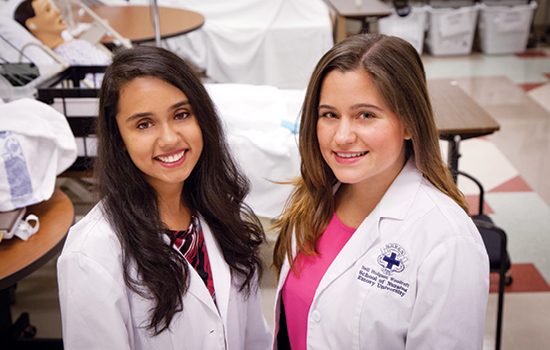 This past summer, BSN students Tahsin Rajabali (above left) and Claudia Garcia immersed themselves in learning about cancer care as the first Emory recipients of the Susan D. Flynn Memorial Oncology Nursing Externship. Both students spent eight weeks at Emory Healthcare and Children's Healthcare of Atlanta, where experienced oncology nurses mentored them in various inpatient, outpatient, and research settings. 
Frederick C. Flynn Jr. established the externships in memory of his wife, a Connecticut banker and mother of two who died of ovarian cancer in 2013. The program was inspired by the excellent nursing care that Susan Flynn received at the end of her life. In turn, the program fosters the career development of future oncology nurses. Flynn plans to expand the program to include nine leading cancer care hospitals and nine of the nation's top undergraduate nursing schools by the end of 2015.
"Real-life, on-the-ground training is crucial to the understanding of patient care," says Susan Shapiro PhD RN, associate dean for clinical and community partnerships at the School of Nursing. "It is through opportunities such as this, coupled with firsthand mentorship from veteran oncology nurses, that equip students for successful careers in nursing."