New ideas to comfort sick children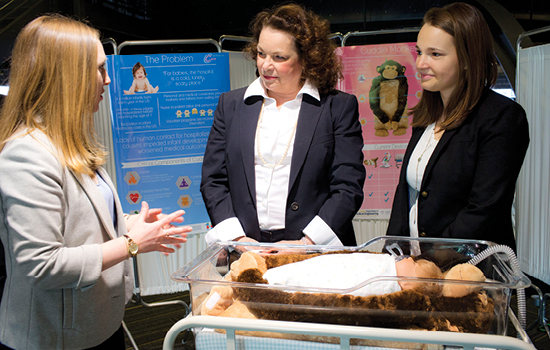 What is suffering? It's a question that inspired a team of Georgia Institute of Technology students to bring a long-held idea to life for Sharron Close PhD MS CPNP-PC, a research assistant professor and pediatric nurse practitioner in the School of Nursing.
Last spring, Close mentored four biomedical engineering (BME) students as they developed a mechanized stuffed animal to comfort sick children 12 months and younger. The students equipped a "Cuddle Care" prototype—a stuffed monkey with arms long enough to bolster or wrap around a child—that breathes, thumps with a heartbeat, and emits radiant heat. 
Close has carried the Cuddle Care idea with her since nursing school, when she cared for a 3-year-old boy with AIDS on an oncology unit. Tumors covered his small body, and his only relief came when Close and others held him. The child's mother, who was HIV-positive and had several young children, rarely came to visit. Close agonized over the young boy's future when her clinical rotation on the unit ended.
"I thought there must be a way to comfort a child who was suffering this way," she says. "I reflected back on what was providing him comfort. As I held him in a rocking chair, I was taking pressure off of his tumors. We were also exchanging heat. I could feel his heat up against my chest, and he was feeling the comfort of my heartbeat and being held and squeezed. He was made to feel safe in the arms of what should have been a parent but was not possible for this little boy."
She thought of developing a device mimicking those sensations that would wrap around a child to provide warmth and comfort. She applied for a provisional patent but put the device on hold for several years until she came to Emory, where the idea resurfaced. Close consulted the university's Office of Technology Transfer, which connected her with Georgia Tech. Students there embraced her idea and made it their capstone project. 
"We wanted to provide comfort to those who need it most," says BME student Matt Kee, who sees great potential for the "Cuddle Care" device in the pediatric health care market. Now under way are a patent application and development of a prototype for testing in the clinical setting.
Managing sex chromosome disorders
Making life easier for children and parents led Close to undertake another project, this time to help families affected by sex chromosome aneuploidy (SCA). 
SCA conditions occur in children born with an abnormal number of sex chromosomes, which puts them at risk of developmental delays, psychiatric impairments, and heart disease. SCA is the most common chromosomal abnormality in humans, occurring in 1 out of 400 live births.
As Close points out, most SCA studies are descriptive in nature, and few offer interventions to help patients and families cope with a challenging behavioral and physical condition. Her project, funded by a Patient-Centered Outcomes Research Institute grant, brings patients and families together with clinicians and researchers to devise ways to help children and parents manage SCA symptoms and cope with the issues they face in their lives. All are meeting in groups and at conferences this year and in 2016. The first conference, held in Baltimore in July, focused on families. Next year's scientific conference will be held in Atlanta and feature experts in SCA, fragile X, and autism from Emory. 
Earlier this year, Close found inspiration for her project during a flight to Denver. An in-flight movie featured a proverb in the credits that read, "If you want to go fast, go alone. If you want to go far, go together."
"That spoke so much to me," Close says. "Hardly anyone knows a lot about SCA. But if we can do this together, we can make deep inroads into understanding SCA and providing help for these patients and families." — Pam Auchmutey