One smart app
Pedia BP proves its worth in detecting hypertension in children
By Pam Auchmutey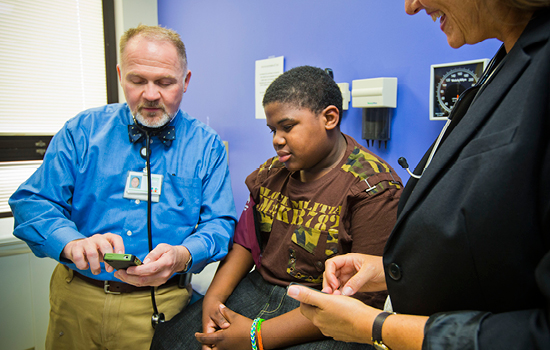 Hope Bussenius 93MN DNP FPN-BC once took flying lessons in a single-engine plane, guided by the charts and maps that pilots then used for navigation. Now she would learn to fly using a global positioning system or GPS, the satellite-based device that simplifies navigation and enables pilots to focus on other cockpit tasks.
Bussenius, an assistant clinical professor and a family nurse practitioner in the School of Nursing, has developed a free mobile app for clinicians based on a similar premise. Called Pedia BP, the app simplifies and speeds up the detection of hypertension in children and adolescents.
Typically, when nurses take a child's blood pressure, they consult a complex set of tables, developed by the National High Blood Pressure Education Program (NHBPEP) Working Group on Adolescents and Children and the Centers for Disease Control and Prevention (CDC), to determine hypertension risk. The tables require nurses to cross-reference multiple factors—including gender, age, and height—to determine in which of four percentile ranges—normal, prehypertensive, stage 1, or stage 2—a child falls for hypertension. On average, consulting the tables takes up 10 of the 15 minutes allotted for screening each child.
Bussenius came up with the idea for Pedia BP while working on her doctor of nursing practice (DNP) under the guidance of Emory nephrologist Donald Batisky MD, director of the Pediatric Hypertension Program at Children's Healthcare of Atlanta.
"He gave me this packet of tables and said, 'I want you to take a look at this to see if you can do anything with it,' " Bussenius recalls. "As I started reading through them, the complexity of the guidelines bothered me. I wondered if there was a way to simplify that model. I started thinking about a smartphone app, not knowing if it would work or not."
To find out, she contacted a coding expert in California, who created Pedia BP within three weeks at a cost of $1,000. Bussenius began using the app in clinical practice in 2012. In a pilot study that summer, Emory nursing students used the app to screen more than 200 children during the annual Farm Worker Family Health Program in Moultrie, Georgia.
"We found from our research that using Pedia BP saves two-thirds of time taking a pediatric blood pressure compared with using the traditional tables," says Bussenius, who co-wrote an article about their findings in the open access journal Translational Medicine in 2013. "It's easier to use, improves accuracy of results, simplifies the process, and saves time, which allows the provider to spend more time with the patient rather than combing through the 1,904 variables in the tables."
In addition to saving time, the app helps ensure that BP screenings are conducted accurately and provides immediate follow-up guidance for children who require monitoring or treatment. To demonstrate, Bussenius uses the Pedia BP app on her smartphone and enters the variables for a 10-year-old whose blood pressure is 120/84.
"Some providers would not flag this as high blood pressure," she explains. "But when you pull all of the different variables together by using the app, you can see that the blood pressure reading falls in the percentile range for stage-1 hypertension. The app also recommends rechecking the child's blood pressure in one to two weeks."
Students who used Pedia BP for the pilot study in Moultrie picked up on several children who needed monitoring and treatment. Of the 230 children from ages 3 to 17 who were screened, 80 percent had normal blood pressure, 10 percent had prehypertension, 6 percent had stage-1 hypertension, and 3 percent had stage-2 hypertension. The results parallel those of a study in Houston, Texas, that screened 6,790 students, ages 11 to 17, three different times from 2003 to 2005. In that study, published in 2007 in The Journal of Pediatrics, initial screening showed BP as normal for 81.1 percent of children, prehypertensive for 9.5 percent, and hypertensive (stage 1 and stage 2) for 9.4 percent.
The findings from both studies are significant, Bussenius notes, indicating that approximately 20 percent of children in each cohort needed to be rechecked, monitored, or put on medication. Both studies also raise concerns about the number of children who are overweight or obese and who are at greater risk for developing cardiovascular disease as adults.
"We're finding that more than 38 percent of children who have hypertension that's unmanaged already have left ventricular hypertrophy or an enlarged heart," says Bussenius. "That's a brand new existence of this condition in children. How aggressively do we manage children who are now at risk? What factors—obesity, family history, diet, exercise, premature births, and drugs—put children at high risk for hypertension? We need more research to catch hypertension earlier so it can be managed."
Bussenius continues to collect more data. In January, she accompanied a group of Emory nursing students on Alternative Winter Break in Haiti, where she travels regularly to teach and see patients at the primary care clinic and orphanage founded by her mother, Twilla Haynes 80MN. The students screened more than 500 children.
"You can use Pedia BP anywhere because the interactive ability is within the smartphone or tablet, so you don't need Internet access for it to work," says Bussenius. "I made sure of that because I wanted to use it in Haiti."
Laura Hilb 10MPH 13N, a student in the family nurse practitioner program, used Pedia BP in Moultrie and in Haiti, where she helped gather data for Bussenius's pilot study of Haitian children.
"Using the app has shown me that more children have pediatric hypertension than we think," says Hilb. "Just looking at a blood pressure value won't tell you what you need to know. You need to incorporate the sex, age, and height to determine the blood pressure percentile, in accordance with national guidelines. We don't have to do this for adults, so we're not used to it. The app will help pediatric patients receive appropriate diagnosis and treatment for hypertension and the many health issues associated with it."
Bussenius has tweaked Pedia BP a couple of times since its debut. Based on student feedback in Moultrie, the app now has an auto-clear button to speed up deletion of data between screenings. The programming change cost $50. Planned upgrades include converting the height measurement from centimeters (used by the CDC) to inches and calculating body mass index.
Thus far, approximately 10,000 users have downloaded Pedia BP on their smartphones and tablets. For those who may question the intent of Pedia BP, Bussenius and Donald Batisky, her DNP adviser, assure them that that this simple technology is not a substitute for critical thinking or hands-on patient care.
"The providers who are using the app love it," says Bussenius. "With time, we believe the evidence will show that clinicians can diagnose pediatric hypertension more quickly and accurately. During screenings, nurses and physicians will have more time to focus on their young patients. In the long run, we can make children healthy by catching hypertension early and treating it successfully."